Miners' tennis drops two matchups at home over weekend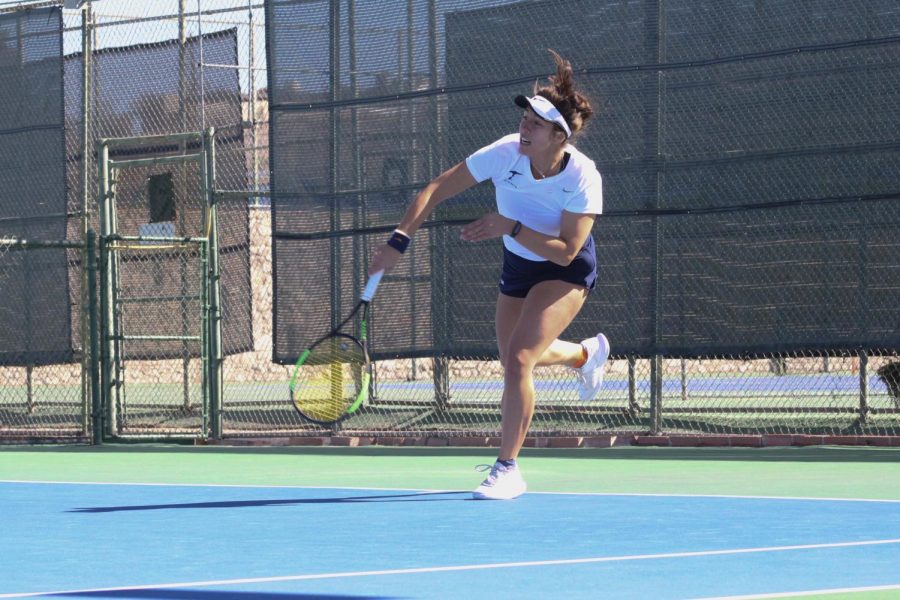 Playing on back to back days, the UTEP tennis team lost matches to the Abilene Christian University (ACU) Wild Cats and the New Mexico Lobos. Neither match turned out to be close as they only scored one point in each.  
On Saturday, UTEP strecthed out a trio of singles matches to three sets while coming up short in all of them versus the Wild Cats. In the doubles opening matches, the Miners lost all three sets and started off in a 1-0 hole as singles play began.  
The No. 1 doubles team of senior Vanessa Valdez and junior Maria Aviega were very competitive in their set 7-6, but the rest of doubles matches were one-sided affairs.  
Valdez as the No. 1 came out strong in her first set winning 6-2 but faltered in the second set 6-3. The third and deciding set was a hard fought 7-5 loss to ACU's Sarah Adams. Junior Erandi Martinez, after losing her opening set, stretched her opponent to three sets, winning the second set 6-4, but came up short in the final set  losing 6-4 in the battle of No. 2 singles.  
UTEP's lone victory of the day was accomplished by junior Lina Sáchica in straight sets 6-1,6-3 in the No. 3 singles. No. 4 sophomore Kathleen Percegona pushed her match to a seventh point in both sets but fell 7-5 in each.   
No. 5 singles player freshman Eve Daniels forced a tiebreaker in the first set but lost 7-6. Daniels never recovered from that close set and lost the second frame 6-2.  
Aviega the No. 6 was the third UTEP player to go to three sets and come away with a setback. After winning the first set 6-2, Aviega lost the final two sets 6-2,6-3.  
"We knew that it was going to be a tough battle coming into this match," UTEP Coach Ivan Fernandez said.  "Abilene Christian has already played a few matches this semester, so they're coming in a little bit more seasoned than we are.  But I really enjoyed watching our girls compete.  This is probably the closest 6-1 score that you're ever going to see.  So many matches went to three sets.  I'm really proud of how the girls fought. If this is a sign of how we're going to compete this season, I think there are a lot of good things ahead for us in the future."   
The second matchup of the weekend was versus longtime rival New Mexico Lobos.  
After dropping the first two doubles matches once again, the Miners found the team in a 1-0 deficit heading into singles.  
Valdez the No 1. was blitzed in the first set 6-1 but came back to force the second set to 7 points losing by two. Martinez lost her match in straight sets 6-1, 6-3 setting the Miners back to an 0-3 deficit.  
Sáchica came through with her second match win of the weekend and is currently 3-0 as the No. 3 singles player. With a dominant 6-2,6-0 victory, Sáchica is undefeated as a Miner in solo play.  
Daniels came out strong forcing her opponent to a seventh point in the first set of her match but failed to score a single point in the second set, losing 6-0.   
"It was another tough day," Fernandez said. "We are fighting on every court and we're up on many courts and just couldn't close it out. We are young and learning with every match. I'm extremely proud of Lina (Sáchica), who was able to close out her matches both days. She is showing great energy, and I hope the rest of the team can match that in the matches to come."  
The Miners go on the road next weekend to play two matches in Logan, Utah. UTEP plays at noon Feb. 6 versus Idaho State and noon Feb. 7 against Utah State.  
Michael Cuviello may be reached at [email protected]