Interactive book club aims to promote leadership among students
The Student Leadership and Inclusions Program at UTEP promotes critical thinking with its interactive book program, "Powerful Pages."
Every semester, a book is chosen and members of the program attend a biweekly meeting where they discuss the assigned chapters and host fun leadership activities.
This semester's book of choice is "How I Resist: Activism and Hope for a New Generation" by Maureen Johnson, with sessions taking place at the Union Building East, room 309, from 1 p.m. to 2 p.m.
This program aims to promote crucial leadership skills among students as well as strengthening confidence and critical thinking.
"This program is both essential and necessary for college students to be empowered leaders," said Julianne Flores, Coordinator for the Student Leadership and Inclusions Program. "Powerful Pages is a welcoming space for students to have dialogues surrounding conflict resolution, team building, and connect with other leaders on campus."
For more information, refer to the flyer below.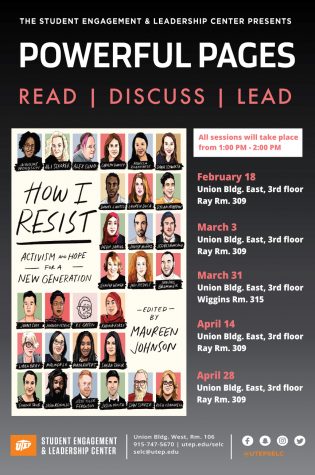 All classifications are invited and encouraged to participate in the program.