'Dr. Skateboard' teaches physical sciences through comics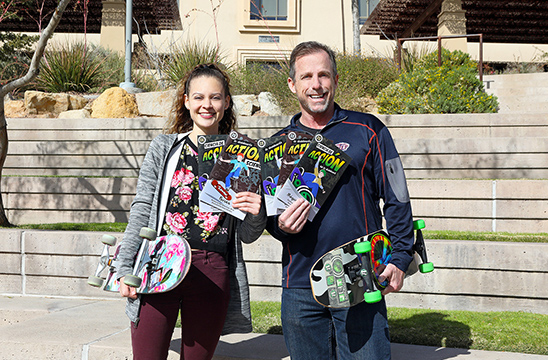 William Robertson, professor at UTEP's Department of Education, who usually goes by Dr. Skateboard, turned himself into a character in his graphic novel, "Dr. Skateboard's Action Science," first published August 2019. The comic aims to explain physical sciences to all audiences in a format they can enjoy.  
"I had this idea of doing something that would be more interesting to young people and that's where the graphic novel came in," Robertson said. "And what I found is that it's really interesting for everybody — young people and older people alike. I think it's just a medium that really speaks to people."  
Robertson has practiced skateboarding since he was 13 years old, when he lived in Richmond, Virginia, and has participated in competitions, which took place in a beach that was a couple hours from the town he lived. Skateboarding also allowed him to travel throughout the East Coast and California during his early teens. He was even even elected into the Freestyle Hall of Fame in 2010, according to his website.  
"It was just something I wanted to do with my friends," Robertson said. "It was just fun, we started doing it and then skateboarding got real big at that point."  
Even though Robertson has broken his wrist and ruptured the ligaments of his knee before, he never gave up on skateboarding, which he still does to this day after more than 40 years.  
"I had more injuries as a wrestler than I did in skateboarding. I think I've stayed pretty resilient in it," Robertson said. "I think the main thing too is in getting older in the sport. I've had to do things like wear my helmet and things like that now, but I continue to do it."  
Using his longtime experience with skateboarding, Robertson has crafted presentations for middle and high schools since he graduated from college, including motivational presentations and action science demonstrations, according to the Dr. Skateboard website.   
"As a young person, I did a lot of demonstrations in fairs and street shows," Robertson said. "I was interested in being a teacher one day and I was thinking of things that could be interesting to do in schools. I thought of this idea of presenting sort of a motivational program using skateboarding."  
Another element that he incorporates in his graphic novel and presentations is bicycle motocross (BMX), which is a sport Robertson only knows through second-hand experience since he does not practice it himself.  
"I'm not really a BMX rider. I have a bike, but I don't do tricks on it. I'm a skateboarder," Robertson said. "As part of my team under the banner of action science, our demonstration team, we use skateboards and athletes, both on skateboards and BMX bikes. We have people who ride ramps, who do flatland tricks, who ride rails … for both skateboards and bikes."  
In order to create the comic book, Tania Sanchez, a UTEP mathematics alumna who Robertson met while skateboarding, contributed her drawing skills and, with the help of Creative Studios, Robertson was able to publish the first two volumes of "Dr. Skateboard's Action Science," "Simple Machines" and "Forces," in both English and Spanish. The team first made an electronic version which they later printed in different places with money that came out of pocket.  
"We self-published it … We took our file and we had them printed at different print shops around town," Robertson said. "The main thing was to try to print them so that people could have this physical media … We've also made it available through a creative commons license so people can use it and share it electronically."  
Robertson teamed up with educational organizations, such as the Gear-Up Program, which helps distribute the comics to area middle schoolers in different places, such as the Ysleta Independent School District.   
Robertson plans to finish the last two issues of "Dr. Skateboard's Action Science" in both English and Spanish as he works on ways to further incorporate the comics as a tool for educating people on physical sciences at different levels, especially those who learn in different ways from others.   
"I think the bottom line is, really, to help people who may not be reached by education in traditional ways; to give them opportunities that would interest them. In middle school, it's really important that students are engaged in things that they'd like to do and they're motivated about their learning," Robertson said. "My hope is always that these graphic novels, the videos, the demonstrations, the things we do with teachers, pre-service teachers and in-service teachers, and the work we do in the community can help that process, so that someone who's smart, but maybe doesn't learn in a traditional way, might be attracted to this and realize that the things they're good at can help them in their education, whether it be skateboarding or not."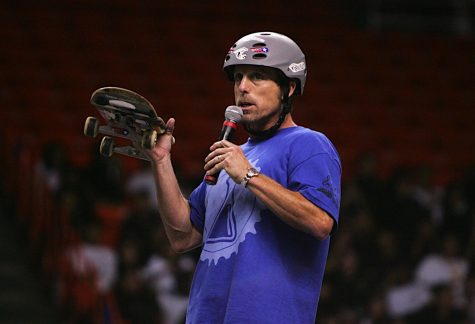 Alexia X. Nava Carmona may be reached at [email protected]
About the Writer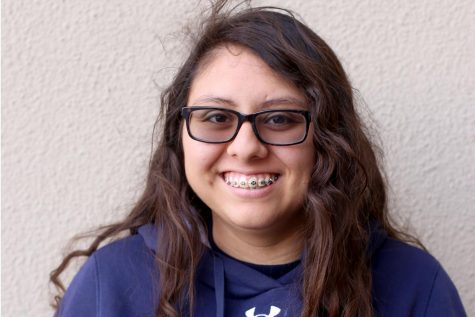 Alexia X. Nava Carmona,
Alexia Xiomara Nava Carmona is a junior majoring in Multimedia Journalism at UTEP and copy editor at The Prospector, the university newspaper. She is in...