Tennis starts off season with win
UTEP tennis shut out the University of Western New Mexico Mustangs for the third straight year by a score of 7-0.   
Coming off a 7-14 season, the Miners have eight new faces on the tennis roster after losing three players to transfer, including all-conference selection freshman standout Kristen Prelle to Arizona. The only holdovers from the previous team are senior Vanessa Valdez, junior Erandi Martinez and sophomore Kathleen Percegona.  
The day started off shaky for the Miners with the No. 1 doubles team of Valdez and freshman Elena Dibatissta losing a lopsided 6-1 set to the Mustangs duo of Camila Gomez and Julia Tozzi. The No. 2 double team of  freshman Eve Danials and junior Lona Sachica easily won their match 6-1. Closing out the doubles point with a 6-1 set win for the match was junior  Maria Aviega and Percegona. The 2-1 set victory sealed the doubles match for a 1-0 lead.  
All six Miner singles players won every set of their matches. Valdez won her match 6-3, 6-3 in the battle of number ones. Valdez takes over as the top singles player on the team after being the No. 2 most of last season. Valdez was 8-16 in singles play but was the best doubles player last season with a 17-11 record, including 11-4 with Prelle.  
Taking over as the No. 2 Martinez dominated her opponent for a 6-1, 6-2 victory. Martinez was primarily the No. 3 the past two seasons and compiled an 8-9 record in dual meet action. As a freshman, Martinez was 20-10 for the Miners in match play.  
No. 3 Sachica easily won her match 6-2, 6-0. A two time All Mid South Conference selection transfer from Lindsey Wilson College, Sachica is a strong addition to the Miner nation after going 12-3 in dual play, including winning her final seven matches last season.  
Newcomer Eve Daniels from Manchester England might have been the most impressive of all UTEP players as she only allowed one point in her first match as a Miner versus WNMU's Julia Terrazas 6-0, 6-1.  
Percegona, a former top-ranked Brazilian junior player, was victorious in her match 6-3, 6-3 as the No. 5 player. Winning her first match as a Miner, Dibatissta from Agrigento Italy, beat Emma Oropeza 6-3, 6-3 to close out a 7-0 team victory for UTEP.  
"We started out a little slow at No. 1 doubles, but two and three really stepped it up and won fairly easily," UTEP Coach Ivan Fernandez said. "The first match is always a tough one, just because we're trying to get the nerves out of the way and get the cobwebs out.  But we really came together as a team and were able to win all six singles.  I'm really proud of this group and I really do feel that as the season goes on, we're just going to get better and better."  
Fernandez is entering his third year as a tennis coach for the Miners after eight years as head coach at I-10 rival New Mexico State. After this weekend's victory, Fernandez has a 14-28 record as a tennis coach for UTEP.  
The Miners (1-0) will next take on Abilene Christian noon Saturday, Feb. 1, and rival New Mexico noon Sunday, Feb. 2, at the El Paso Tennis & Swim Club.  Admission is free for all UTEP home tennis matches.
Michael Cuviello may be reached at [email protected] 
About the Writer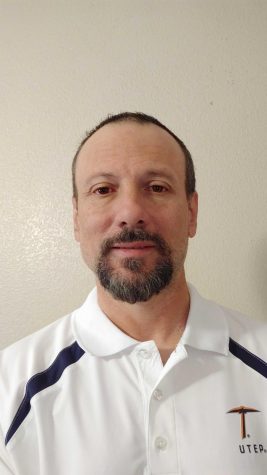 Michael Cuviello
Michael Cuviello is a multimedia journalism student at UTEP. He currently serves The Prospector at Sports Editor and reporter. During the summer 2020,...