San Elizario is a hidden gem of history, culture and art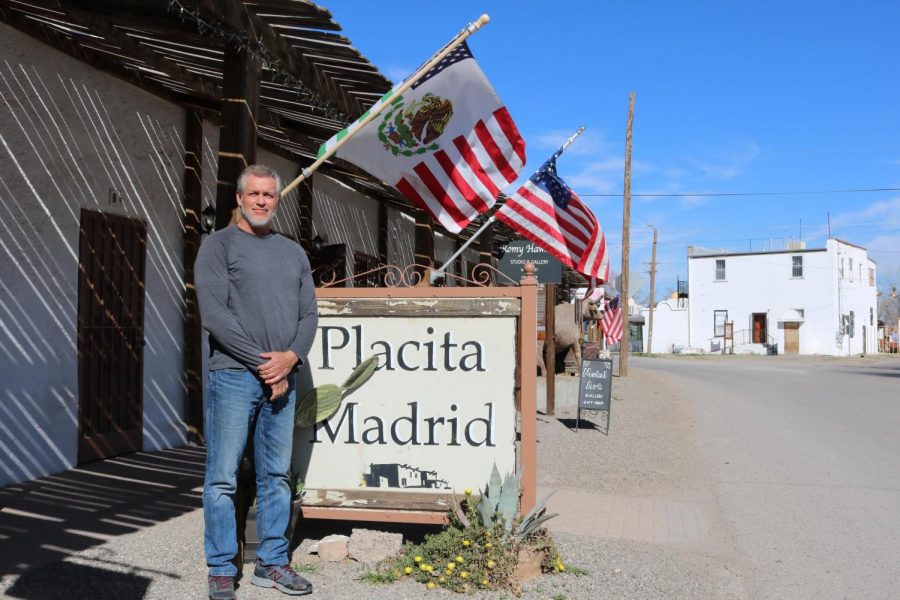 A quiet and peaceful place full of history, art and culture is located only about 17 miles east of El Paso and it's the West Texas town of San Elizario.  
"San Elceario" was the first name of this town, named after the French patron saint of the military, San Elzear, according to the National Park Service. San Elizario's structures date back to 1598, when Spanish conquerors took control of the area. Many of these structures today are used as exhibits for internationally recognized artists.   
While San Elizario teaches visitors all about its historical and cultural heritage, this magical town also showcases its unique art that people from all over the world come to enjoy.  
Placita Madrid, located on Main Street in San Elizario, is one of the most visited places in the area. It houses the artwork of esteemed local artists such as Alberto Escamilla, Juana Romo, Roberto Dozal and Rommy Hawkins.   
Visitors can also purchase mugs, key chains, ornaments, posters and postcards at Placita Madrid.  
Escamilla has been an artist since 1978 and about 10 years ago, he opened his own art gallery in San Elizario to foster the arts in the community.  
"My goal has always been to bring art to everyone, to show them the beauty of art and what is behind it," Escamilla told The Prospector.   
Escamilla's next-door neighbor is Dozal, a UTEP graduate and portrait specialist.  
"San Elizario Art District is a growing community after (experiencing) difficult times," Dozal said. "We (are) still here and young people can come and see this place. To know that you can make a living as an artist."   
In the same building, Romo exhibits her artwork in a tearoom where acoustic jazz and bluegrass music is featured the first Saturday of each month.   
The event is free, welcomes all ages and offers everyone free appetizers. Attendants only pay for their refreshments.   
"We do these types of events so more local people can come and learn about our history,"
  Romo said. "Most of our visitors are from other countries."  
Across the street from Placita Madrid is a restored, historical building owned by local artist Gaspar Enriquez.   
Enriquez was born and raised in El Paso's Segundo Barrio. He owns an art gallery in San Elizario where he features his work. Enriquez identifies as a Chicano artist and most of his art focuses on the Chicano and "cholo" lifestyle.   
"I used to teach at Bowie High School and most of my students were from Segundo Barrio," Enriquez said. "I knew what it was (like) to grow (up) there, the difficulties and obstacles."  
Erica Murrill, born in El Paso and raised in Ciudad Juárez, is the owner of the coffee shop, Cafe Arte Mi Admore. The coffee shop is also an art gallery where Murrill showcases her oil paintings, mugs, coasters, note cards and magnets. When her store is not too busy, she paints small canvases.   
"This is a magical place, outside of the city, a quiet place. It is very relaxing to see the cotton and nuts crops," Murrill said. "I wish more people came to visit this place. There is so much history and art to learn and explore, only about 30 minutes from the city." 
Murrill's work is inspired by women and vibrant Mexican colors. She features Frida Kahlo in many of her pieces, as well as important Mexican historical figures, such as the revolutionary general Pancho Villa.  
Mathew Duran, a criminal justice senior at UTEP visited San Elizario Art District for the first time.   
"I like this place. It is nice that you can just park and walk from one side to another side. It is very beautiful and peaceful," Duran said.   
Diana Esquivel, a physical therapy assistant from El Paso, has visited the area before because of work but never stopped to admire the art and the cups of coffee from Cafe Arte Mi Admore.  
"Este lugar me recuerda a los pueblitos de Mexico, muy acogedor, muy encantador. Además, el café sabe muy delicioso, pienso venir más seguido," Esquivel said.  
("This place reminds me of the small villages in Mexico, very cozy and enchanting. The coffee here is also delicious, and I plan on coming back more often," Esquivel said in Spanish.)  
Maria Ramos may be reached at [email protected]