UTEP football adds 11 recruits on national signing day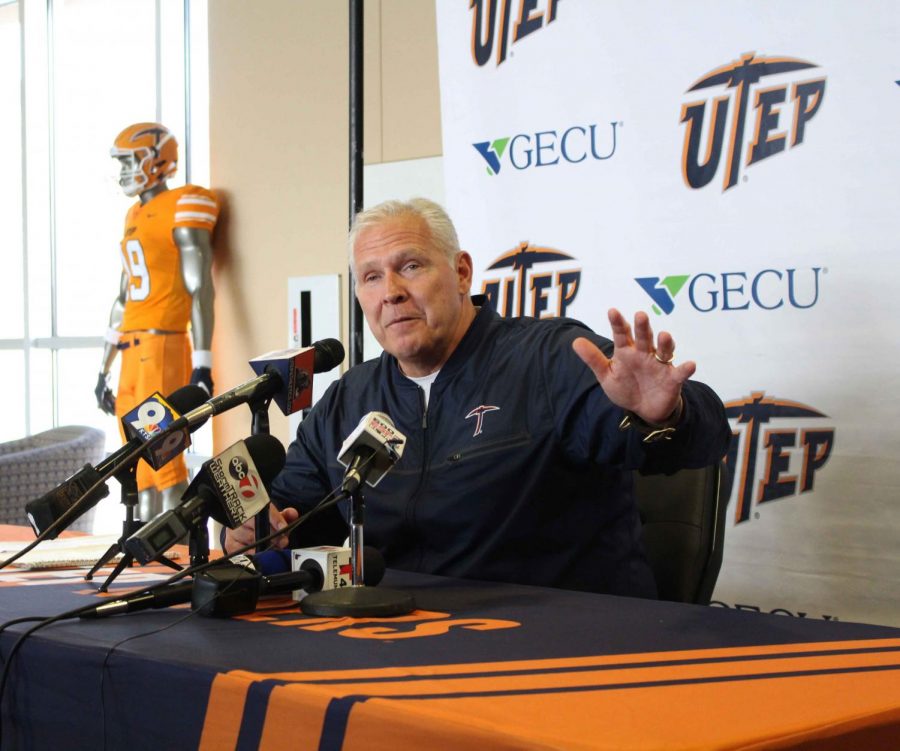 Miners Coach Dana Dimel announced the signatures of 11 players during the early signing period that began on Wednesday. This season was the first time that UTEP has made any announcement during the early signing period of its incoming recruits since the NCAA adopted the policy in 2017.  Last season outside of the assumption that Parkland High school running back Deion Hankins would attend UTEP, there were many more questions than answers on early signing day.
In the biggest signing of the day, running back Willie Eldridge (5-11, 190) out of Cypress Ranch High School in Houston bolsters the running back corps. Considered a three-star football recruit from 247sports.com Eldridge rushed for more than 900 yards and 12 touchdowns as a senior and spurned offers from higher-profile teams, such as Texas Tech and Brigham Young.
Bolstering the defensive line for the Miners was the signing of defensive tackles Dresden McIver (6-0, 278) from Veterans Memorial High school in San Antonio rated as a three-star prospect, Kilgore College's Kelton Moss (6-2, 295) and Iowa Western's Keenan Stewart (6-2, 300). Moss was a second-team junior college all American while Stewart played locally at Jefferson High school.
Adding to the defensive line depth, the Miners also added two defensive ends in Jadrian Taylor (6-1, 235) from Kilgore College and Deylon Williams (6-2, 245) from Independence Community College. Taylor had 6.5 sacks last season for Kilgore and Williams was second on his team in tackles for loss with 15.
These additions to the defensive line, according to Dimel, will allow the Miners to play more four-man fronts in its defensive scheme that could not be used last year due to lack of personnel.
At linebacker, the team added another player ranked as a three-star prospect with Independence College's Tyrice Knight originally from Lakeland, Florida. Knight originally had offers from Bowling Green and South Florida but ended up going to school at Independence Community College in Kansas playing for one season. Knight excelled as a playmaker with 58 tackles, four passes defended and five interceptions including two returned for touchdowns. The signing of Knight could be of the most significant early impact of all the signings with playmaking ability sorely missed in the linebacking group since the graduation of A.J. Hotchins.
"Tyrice will be a guy that will be immediately a big part of what we are doing here," Dimel said.
Two players were added to the secondary in Dennis Barnes (5-11, 170) of Fort Scott Community College and Verenzo Holmes (5-11, 190) of Northwest Mississippi Community College. Holmes originally signed with Ball State University out of Grovetown High School of Grovetown, Georgia, as a three-star recruit where he was all-state and one of the best sprinters in the state. Playing 11 games and starting two as a true freshman at Ball State, Holmes redshirted his sophomore year before transferring to Independence.
The offensive line saw only one signing in Ian James (6-5, 275) out of Aubrey, Texas High School. Dimel praised his athleticism and wingspan.
UTEP added another potential quarterback to the mix in Khalil Warfield (6-2, 205) out of Antonian College Prep in San Antonio.  Warfield spurned an offer from Conference USA rival Southern Mississippi to sign with the Miners, as a senior Warfield had 2671 yards and 30 touchdowns as a dual-threat quarterback and has played linebacker in the past. Dimel said that Warfield will get his first looks at quarterback but can play a multitude of positions on the football field.
Of the 11 signings, seven were community college transfers and four were high school seniors. Only three players were added to the offense while eight were added on the defensive side of the ball.
"We put a lot of focus on the defensive side of the ball with this early signing period," Dimel said on Wednesday afternoon. "We should end up with eight midyear junior college transfers and all eight of them will be on the defensive side of the football. We started off with our concerns about trying to create a better pass rush on the edge. The whole athleticism of our team has improved immensely with this signing class."
At this point, 247sports.com has the UTEP class ranked as the 130th best in college football which is not good considering there are 130 division I colleges. New Mexico, New Mexico State and the University of Ohio are the only. UTEP was also ranked last in the conference in recruiting class so far out of 14 teams.
As bad as this early ranking sounds, one must remember that UTEP has never been a big player in the early signing period and expects to make key additions in the February signing period. This offseason is probably the most critical of Dimel's tenure at UTEP and will most assuredly seal his fate on the direction forward for Miner football.
| | | | |
| --- | --- | --- | --- |
| Name | Position | Hometown | Previous School |
| Kelton Moss | DT | Jonesboro, La. | Kilgore College |
| Jadrian Taylor | DE | Lufkin, Texas | Kilgore College |
| Ian James | OL | Aubrey, Texas | Aubrey HS |
| Keenan Stewart | DT | Cedar Rapids, Iowa | Iowa Western CC |
| Tyrice Knight | LB | Lakeland, Fla. | Independence CC |
| Willie Eldridge | RB | Cypress, Texas | Cy Ranch HS |
| Verenzo Holmes | DB | Grovetown, Ga. | NW Mississippi CC |
| Khalil Warfield | ATH | San Antonio | Antonian College Prep |
| Deylon Williams | DL | Smyrna, Tenn. | Independence CC |
| Dennis Barnes | DB | Jefferson City, Mo. | Jefferson City HS |
| Dresden McIver | DT | San Antonio | Veterans Memorial HS |