SGA in brief: Nov. 21 meeting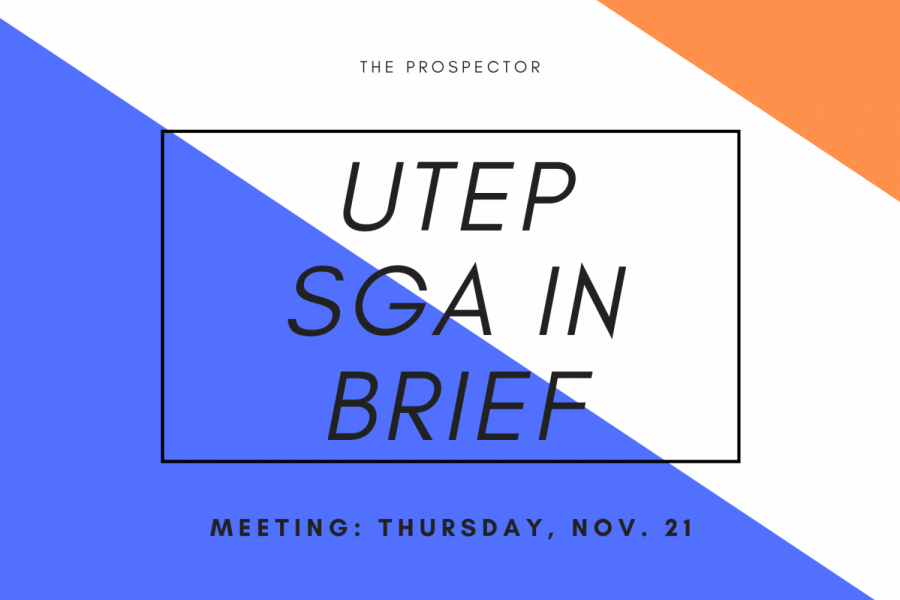 The UTEP Student Government Association's Nov. 21 meeting featured a number of bill reports, greenlit special projects and an unforeseen announcement for senate members, most of who were dealing with something like this for the very first time.  
UTEP SGA impeachment 
SGA Attorney General announced to the senate that, after recent charges were filed against Senator Karen Muñoz, the judiciary committee will commence the inquiry of her impeachment.  
Charges against Muñoz include violations of the constitution and by-laws, which are the association's established rules of self-regulation. Upon reviewing the document divulging the charges, Catie McCory-Andalis, SGA advisor, associate vice-president and dean of students, deemed them worthy of examination and authorized further investigation.    
After Senator Juan Martinez raised parliamentary inquiry as to whether the issue could be sorted the same day, the attorney general explained that according to the by-laws, proceedings can transpire only at the following senate meeting after the impeachment charges have been brought to light, since they had been recently filed. Vice–President of Internal Affairs Amey Gomez explained the linear procedure for impeachment as presented in the by-laws upon which all senate members must abide by which goes as follows:  
Thursday

,

 Nov. 21: Charges were presented. 

 

Friday, Nov. 22: The law states that a special select judiciary committee will be selected by lottery at the next 

special 

senate session. This means that every

 senate member,

 with the exception of the accused

,

 will write their name down to be randomized in a jar where the student secretary will select five names

 

from

. 

 

Thursday, Dec. 5: Because the regularly scheduled meeting subsequent to the lottery 

would be

 Thursday, Nov. 28

,

 which lands on Thanksgiving, the following meeting is 

deferred

to take place Dec. 5, where the committee is to report its findings to the senate.

Friday, Dec. 13

: The findings must be presented to the senate in th

is

 fina

l 

hearing.

 According to the attorney general, this concluding stage of the impeachment process is open to the public. 

 
The impeachment hearing lands on the week of finals, which many senate members worried about due to its inopportune timing. Senator Juan Martinez moved to suspend the timeline.  
"I don't think it's fair for any of us … to have that stress added on, especially because of the charges," Martinez said.  
The motion was not acknowledged on the grounds that it'd be unlawful to extract only one excerpt of the constitution for suspension. The senate's presence is still mandatorily being requested the week of finals in order to meet quorum. Gomez assured that this process is set up to ensure a fair trial.  
Senator Natalia Dueñas inquired as to why Muñoz was up for impeachment to begin with to which Gomez replied she could not provide specifics at this time and she would take no further appeals or questions as she moved to close discussion.  
Martinez moved to appeal the decision to forbid further questions on the grounds that, "Impeachment is a process that is incredibly concerning and if we have questions we should be able to ask them, especially of the chair, considering many of us have never gone through an impeachment proceeding."    
Some senate members asked if the particulars of this matter should continue to be streamed on the SGA Facebook live feed or whether they should move to executive session.  
"This is open records, anyone at any given time can come in and check regardless if we have the Facebook live on, minutes are still being taken," said Jessica Martinez, SGA president. "People can always come and look at our minutes. So regardless of what is going on, it's all open records."  
Minutes are the documentation recorded of the formal meeting which can be accessed by anyone, including non-attendees.  
Responding to the senators' questions, Gomez assured the senate that she was understanding of their inquisitions and concerns but was simultaneously trying her best to adhere to procedure and allow for due process. She also mentioned that the charge does not necessarily suggest a definite removal and that it could sway either way.  
Of the possible outcomes, the impeachment could be voted on or against and it is even possible for Muñoz to resign herself. It is a state of affairs that momentarily remains under deliberation and development. 
Special Projects: Office of Scholarships survey, finals care packages  
With each academic school year, UTEP's Office of Scholarships is seeing a recurring increase in the number of appeals for scholarship recipients.  
The office requires full-time enrollment to consider a student qualifying of a scholarship and that is presumed to be an attributing factor in this escalation of appeals.  
Senator Matthew Garcia and Senator Nakul Karle, representing the graduate students, received approval for a tabling event to provide a solution-oriented survey aimed at scholarship recipients. The date for this event is still subject to confirmation.    
Senators Consuelo Gonzales and Jordan Dominguez will be preparing care packages for finals week in attempts to boost morale.  
The special project was approved to include articles meant to aid in alleviating some of the stress that comes coupled with finals such as snacks, pencils, pens, tea, gum and even scantrons. The care packages will be distributed the day prior to Dead Day on Dec. 5 at UTEP's Union Building to 150 students on a first come first served basis.  
Last semester was a successful turnout with the preparation of 100 bags, all distributed within the first fifteen minutes.    
President's report 
SGA President Jessica Martinez expressed her gratitude towards the efforts that made the first responders appreciation event possible and successful. She also stressed the importance of meeting quorum for the special session held Nov. 22. They met with the Student Government Association of the University of Texas of the Permian Basin. The University of Texas at San Antonio, UT Arlington, UT Rio Grande Valley and UT Dallas also tuned in to see if the joint resolution aligns with their views. 
As of Nov. 22, during the second reading of the joint resolution between UTEP and UTPB to "condemn the racist violence and domestic terrorist attacks that took place on Aug. 3 and Aug. 31, 2019, in El Paso, Texas and Odessa, Texas" both Student Government Associations signed and approved the resolution.  
Supreme Court report 
UTEP's College of Education will be giving study resources to students taking the certification exam for the first time and awarding fee reimbursements to those that pass it on their first attempt. To be certified to teach in the Spring of 2020, the certification exam must be passed by Wednesday, Nov. 27.  
For the Graduate School, graduate students' requests were addressed by the dean to include a circulation of surveys and the inauguration of the Grad Hub.  
The surveys will be conducted some time during the beginning of the Spring semester to assess 40 graduate students' stress levels and any other suggestions, such as advantages or even any grievances they may have for the department.  
The Grad Hub inauguration is tentatively set for Dec. 6 and will reveal a section of the third floor in the university's library entirely devoted to graduate students as some simply need a space to study and others are teaching assistants without offices of their own in need of a space to get together with their students.     
Senator Alizera Mohammadi met with the dean of UTEP's College of Engineering and addressed issues that senators and students suggested, including issues with travel funding and internship opportunities. A follow-up meeting has been scheduled in two weeks to assess any advancements.   
New business: Bill appropriations 
$400 

were approved to 

defray the expenses of one student traveling to Las Vegas, Nevada

,

for the American Society of Health-System Pharmacists Midyear 2019 Clinical Meeting and Exhibition

$350 each has been allocated to two students to attend the 

American Institute of Aeronautics and Astronautics

 

SciTech Forum in Orlando, Florida

 

One student was approved $350 for their stay at the Sugar Land Marriott Town Square to attend the First International Orbital Debris Conference

 

The Society of Automotive Engineers 

has been approved $450 to help defray expenses for 25 students to devise and construct a smaller-scale radio-controlled model airplane modeled after the Boeing 747 passenger transportation airplane

 
"We zeroed out the budget for the fall semester," Senator Austin Stephens said. "We saw the last bill on the docket today, the committee did extremely well and is very proud."  
Sasha Minjarez may be reached at [email protected]