UTEP students use social media to connect with the world
A Pew Research Center survey found that smartphone users are more often exposed to people who have different backgrounds and are more connected to friends they don't see in person. 
Students on campus were asked how they used their smartphones and how that has influenced their relationships. 
"My mom met her friend through Facebook. She is from the Philippines and came to El Paso to visit us," said Tracy Martinez, a senior studying organizational and corporate communications. 
With social media outlets like Facebook, the more than 7,000-mile difference between the Philippines and Texas is easily erased. 
"I know there's a time difference, but it's easy to keep in touch with her," Martinez said. "The good thing is that Facebook offers FaceTime. I know FaceTime is usually for iPhone, but this works for people who have other phones that are not Apple. Whatever it is that they've got, it works perfectly."  
The study found that 46% of Facebook users report seeing few or none of their friends in person regularly. With social media apps becoming more inclusive, however, it is easier for people around the world to engage.   
Katya Gutierrez, a senior studying political science, has many social media platforms, including Instagram, Facebook and Snapchat, and uses them to learn about foreign people. 
"I met this guy from Turkey. He travels to Texas often," Gutierrez said. "When he posts videos or pictures about his everyday life, it doesn't seem that different from the one that we have here in the States. That's how Instagram helps me. It makes me see the everyday life of a Turkish person through their social media."  
While some students use their phones for meeting people, many use their phones to stay connected.   
The study also found that 93% of smartphone users used their phones to link with friends and family who live far away.   
"It's really cool that we still write old-fashioned back and forth, but mostly it's off of social media," said Veronica "Ron" Armendariz, a senior majoring in philosophy and psychology.   
Armendariz has traveled to many places around the world, including most of Asia and Sub-Saharan Africa. She not only uses her phone for fun, but for professional work as well.  
"I do (self-promotion) on LinkedIn. That's where you can network more and it's people looking at other people professionally," Armendariz said. "I'm not sure how much I would want to promote myself on my other accounts other than my LinkedIn." 
The research found that 39% of people used their phones to apply for a job and 32% of people used them to buy and sell goods.  
For Martinez, social media is a means to network to an audience further than El Paso.  
"I do photography on the side, so if I had a little business and I felt that I needed to reach my target audience, that would be a great way of doing it," Martinez said. "I could do my own business page and tag it onto my actual page and, since I've got a big following, I could tell my friends, 'Share this with someone.' That will open windows for some people outside of El Paso." 
With phones and social media becoming more expansive, the global community is sure to grow as networks expand and increase.   
Exodis Ward may be reached at [email protected] 
About the Contributors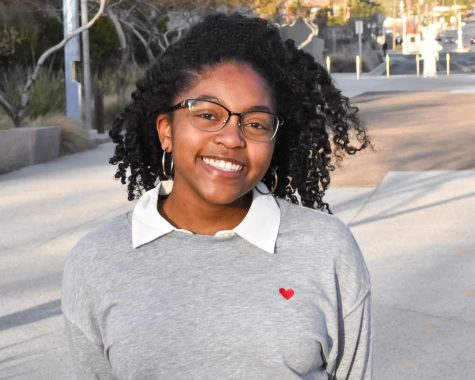 Exodis Ward
Exodis Ward is a Multimedia Journalism major, English Rhetoric minor at the University of Texas at El Paso. She is Entertainment editor at The Prospector,...