UTEP soccer eliminated by eventual C-USA champs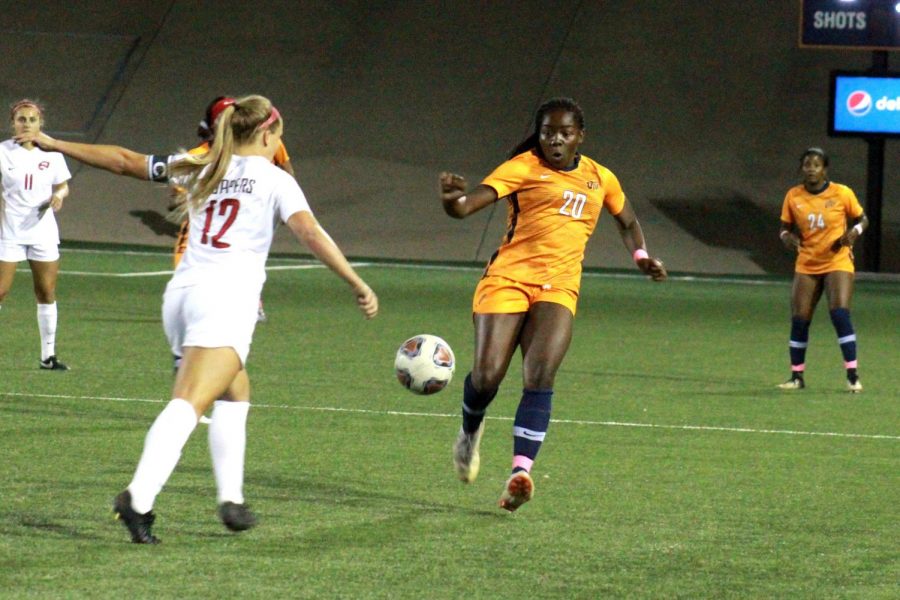 All good things must come to an end.  
Katheryn Balogun's first season as the Miners' head coach has been a successful one by all accounts. The Miners have won three more games than the previous year and had its first conference winning record in five seasons. Losing 3-1 to Conference-USA champion, North Texas put an end to the team's championship hopes. This roster is UTEP's youngest since the year 2000 and has had a better season than the 2000 unit. 
The match versus North Texas was delayed for more than an hour because of weather with UTEP trailed by one goal during the pause. When play resumed, UTEP was unable to score while North Texas added to its lead with a second goal by Berklee Peters. Junior midfielder Jackie Soto scored the only goal for the Miners, her second of the season, at the 24-minute mark. 
UTEP was outshot 22-6 and shots on goal 10 to 3. Freshman goalkeeper Emily Parrot had a career-best 7 saves in the effort. Parrot has 61 saves for the season, which is sixth-best all-time for a Miner freshman. 
"I can't ask for any more from this group," Balogun said. "They gave us everything they had and left it all on the field. We will be back here. Don't count us out!" 
Predicted in preseason to finish 13th in the conference, the Miners exceeded all expectations with a seventh-place finish in the conference. 
Recognized standouts for the season include senior defender Lauren Crenshaw named second-team All-conference and freshman midfielder Tessa Carlin named to the all-freshman team. Crenshaw finishes her Miner career with 16 goals and nine assists. Carlin tied for the Miner lead with five goals this season with Crenshaw and her seven assists ties for seventh-best all-time for a UTEP freshman. 
Two other seniors are departing the soccer program: defender Kori Lewis and El Paso's own midfielder Danielle Carreon. Carreon had three goals in her first season as a full-time starter and finished with seven for her career. Lewis has started all but three games her entire career with 64 games total as a starting defender. A tenacious defender Lewis scored the only goal of her career this season. 
The Miners have a lot of talent to build on from this season and the tournament should prepare the team for future success. 
Michael Cuviello may be reached at [email protected]