SGA in brief: Nov. 7 meeting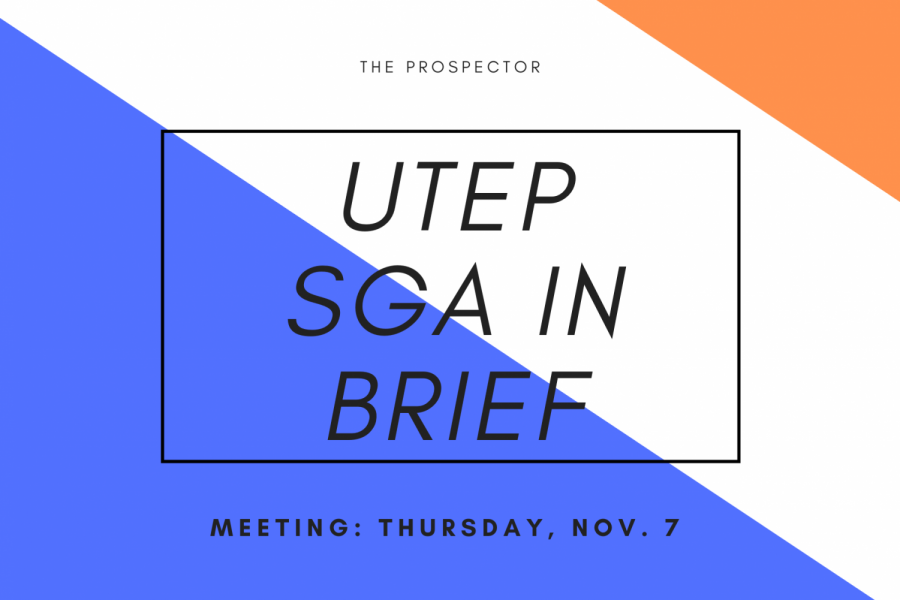 UTEP's Student Government Association talked about its event for first responders, possible changes in the College of Business Administration and a new campaign Thursday, Nov. 7. 
SGA will host an appreciation event for public safety personnel funded by the donation that was given to the organization in September by the UT Board of Regents on Nov. 19. 
Jessica Martinez, SGA president, went to breakfast with chiefs of public safety agencies in the community to personally invite them to the event.  
Students will have the opportunity to write appreciation notes to the first responders from 9 a.m. to 2 p.m. Thursday, Nov. 14, at UTEP's Union East Building.  
Martinez was recently invited to observe an active shooter training held on campus along with 11 local agencies in which five UTEP police officers were being trained to instruct the lessons.  
During the training, they actually tried to capture the events that transpired at the Pulse Nightclub shooting in order to learn how to respond in situations involving active shooters.  
"I want to relay the message to you all that our police department is doing a phenomenal job," Martinez said. "They are out there getting training and using all the resources that they can."  
The college of business extension of SGA spoke with James E. Payne, dean of UTEP's College of Business Administration, about several alterations that could be applied to the college. There was talk about relocating the stock market via television installation to the lobby as an incentive for students to consider investing. They're also discussing the idea of a vending machine stocked with Scantron sheets or, alternatively, supplying them to students free of charge. Being the building that generates the most traffic, Payne most importantly wants to expand and possibly petition for a new one. 
SGA is also debuting a new campaign called "SGA Listens," which will be a survey offered to students who would like to offer any input. Some of the categories included are traffic court, appropriations and anything collegiate specific. Students will be able to remain anonymous.  
Collegiate Graduate Senator Nakul Karle said that this is an excellent idea because, if they have something to show for a comment issued by a student, it's going to "consolidate (their) position." 
Sen. Matthew Garcia, junior, was honored as senator of the month. Garcia managed to accomplish raising ticket sales for the football games from 500 to 1,100, in turn helping uphold UTEP's D1 status.  
Sen. Juan Martinez announced he received a prestigious letter from Congresswoman Veronica Escobar thanking Martinez and SGA for their leadership and efforts in hosting the Town Hall meeting, which she said was by far one of her favorite events. 
Select bills that were approved during the meeting included the allotment of $1,200 toward the registration of 12 students for the 2019 conference of the Society for Advancement of Chicanos and Native Americans in Science. The conference has since passed, but Sen. Austin Stephens clarifies that all SGA funds are treated as reimbursements.  
SGA granted $1,000 for five graphic design students to attend the Adobe Max Conference in Los Angeles, California on Sunday, Nov. 3.  
The Phi Delta Theta fraternity received $800 to defray the expenses of hosting its annual philanthropy event, the 2019 Iron Turkey Run, a race held on Thanksgiving Day.  
SGA approved $1,000 for 20 students of the National Student Speech Language Hearing Association to register and attend the American Speech-Language-Hearing Association Convention in November.  
The Miners Hockey Club received $1,000 to send 14 of their members to games from Nov. 14-17, commencing with UTEP against the Arizona State Sun Devils. 
SGA approved $400 for the construction of UTEP's Rugby Club utility shed, which had been previously debated.  
Previously, Pedro Martinez was applying for a position as Supreme Court Justice but his appointment is now off the table for discussion per unanimous agreement.   
Kitxia Juarez was inducted as legislative assistant to Senator Jacob Morales. 
"I feel as though both my professional and academic values fall in line with that of the associations," Juarez said. "Additionally, I do want to aid Senator Morales in his projects, those of which include, but are not limited to, World Kindness Day and Women Empowerment Movement." 
Luis Marquez-Gallegos is a prospect for legislative assistant to Senator Muñoz, who was not present but did send in a statement that said, "SGA is a great organization that focuses on helping students in the start of their career, I would like to help senators and the entire student body to achieve this task."  
At this time during the meeting, SGA motioned to move to executive session and the press was momentarily dismissed and upon re-entry, the senate moved onto special projects.   
Among some of these projects, SGA will be handing out pie late November for Thanksgiving. There will be frames set up so that students may take photos as well as have an opportunity to jot down what they're thankful for. The budget for this project is still tentative. 
Last week, the association introduced the "Seed Party" which has since undergone a title revision to "Plant your SEEDSoning." A budget of about $93 was approved this week for the clay pots, paint, seeds and soil.  
Sen. Natalia Dueñas, an environmental science major and vice president of the Green Team, explained why this project is meaningful to her.  
"We asked ourselves, 'What can we do to help students be more sustainable?'" Dueñas said. "I consider myself a big sustainability and environmental activist and advocate. I ran with a policy of more sustainable commitment for the students to teach them how to have less of an impact on the earth." 
There is $5,234 remaining in SGA's budget for this semester.  
Sasha Minjarez may be reached at [email protected]