Miners look to rebound from injury plagued season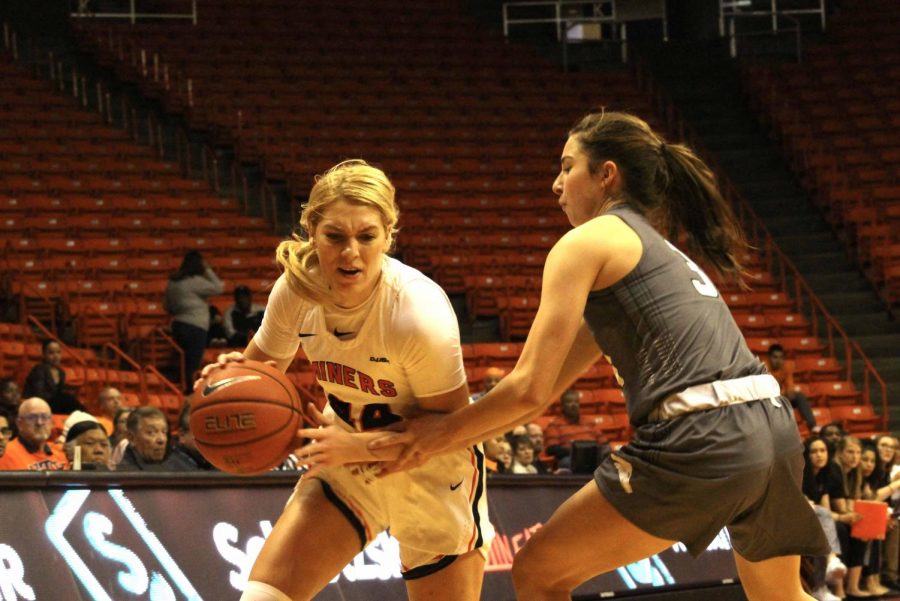 The Miners are coming off an injury-plagued season where Coach Kevin Baker was down to a seven-person rotation with his lineup by season's end.  
In Conference-USA's preseason guide, the Miners are predicted to finish 12th, which is one spot lower than UTEP finished last year. Conference USA also has no Miners listed as a preseason All-Conference candidate.  
The Miners will return three starters from last season after  Jordan Alexander's graduation and Zusanna Puc and Alexa Hoy's  transfers.  
The top returning player is senior forward Katarina Zec, who averaged 10.4 points and 4.4 rebounds a game last season while shooting 42 percent from the field. Zec is a four-year starter for the Miners and will be the undisputed team leader for the team this year. In two exhibition games this season, Zec has averaged 20.5 points a game. Zec would need to be a top contender to make all-conference this season.  
"Zec is unquestionably the leader of the team this year and wants to win," Baker said. 
Returning from foot injury will be senior guard/forward Ariona Gill after missing half of last season. Making her first appearance in a game since last year, Gill seems to be fully recovered from injury and ready to contribute. Gill averaged 8.9 points and 4.4 rebounds per game last season. In the exhibition versus St. Mary's, she had 9 points, 10 rebounds and 2 steals in 24 minutes of action. Defensively, Gill gave an effort that will be  needed this season for the Miners if the team is to have success.  
Sophomores Ariana Taylor and Sabine Lipe also return for the Miners. Taylor, as a freshman, was forced into playing a lot of minutes for the Miners last season and responded with a hard-nosed effort adding 5.9 points a game. Taylor has worked hard in the offseason trimming down by 20 pounds with a concerted effort to improve her game. Her presence will be needed as the Miners have opted to go with skill over size this season. Lipe averaged 13 minutes a game last season with 3.2 points average.  
Seniors Jada Rochelle and Neidy Ocuane return to add depth for the Miners this season. Both players averaged 4 points a game and bring needed experience to a very young team. Rochelle played a key reserve role for the shorthanded 2018 Miners team. Ocuane is currently struggling with an injury and has not played in either exhibition game this season.  
Coach Baker has brought in three top 100 junior college players to the program this offseason. Juniors Tia Bradshaw and DeJaNae Roebuck were part of a Hutchinson team that won 33 games last season and made the national junior college semi-finals. Roebuck averaged 14 points and seven rebounds last year as she was named a junior college All American. Bradshaw averaged 6.9 points and 2.7 assists per game. Rated as the 55th best junior college transfer, Bradshaw brings needed experience to the guard spot. Both  players should be significant contributors this season.  
Junior forward Michelle Pruitt from Miami Dade College is a force under the basket with her tenacious rebounding and is a good three–point shooter hitting 36.2 percent of her shots from that area. 
UTEP also brought in four promising freshmen, including Franklin graduate Katie Gallegos who garnered all–state recognition. Gallegos is expected to contribute right out of the gate at the point guard spot and has looked very composed in both exhibition games. Guard Avery Crouse is a two time all–state player from Sachse High school while averaging 13.8 points as a senior. Forwards Arina Khlopova and Tatyana Modawar round out the impressive freshman class. 
The Miners as a whole have much more depth and added some key pieces to make them competitive in the conference. The conference prognosticators have somehow rated the team worse than last year, which, based on  health alone, would be a hard task. At the very least the Miners should be a .500 team and should be solid in Conference USA. 
Michael Cuviello may be reached at [email protected]