Tooth and Veil hosts tea party for goth community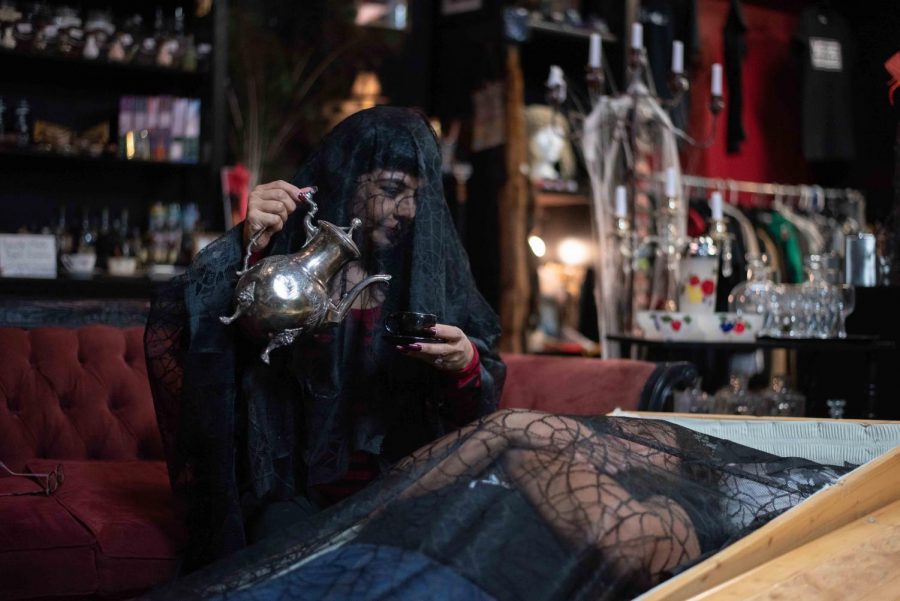 Tooth and Veil: Oddities and Macabre Shop hosted the Halloween Ugly Sweater Tea Party as part of their monthly Mourning Tea parties at its location on 820 Mesa St. Friday, Oct. 25.  
The Mourning Tea parties, which started in March, were inspired by mourning traditions from the Victorian era where women did not leave their house for at least two years, according to shop owner Michelle Bocanegra, also known as "Deady Page."  
Bocanegra explained that because women could not leave the home, "they brought people into their homes and had very elaborate parties." 
The event has different themes, the latest being  "Halloween Ugly Sweater" because of Halloween's rising popularity, Bocanegra said.  
"Halloween has really increased in popularity. People have always loved Halloween but I think, especially this year, you got stores like Target, Walmart, Macy's, a bunch of other different stores like Spirit, and they're all making Halloween sweaters," Bocanegra said. "Not just for Christmas anymore, now (stores) are making Halloween sweaters."  
During the event, the store showcased a small Victorian-esque living room with a wooden coffin prop for attendees to lay in for pictures.   
Beside the set-up was also a snack bar that served sandwiches, candy, cookies, strawberries, grapes and slices of ham and cheese.   
To drink, attendees enjoyed either soda or a mix of hibiscus tea and rum, also dubbed "Christina's Tainted Tea."  
The shop displayed a variety of merchandise, including art made of recycled items and bone-like crafts made by local artists.   
"Most of our artists that are in here, because we have a lot of local featured artists, they come up with (…) recycled art," Bocanegra said.   
 Some of the local art displayed was made by Bocanegra herself. Her art included earrings made from dinosaur toys and lanterns with doll parts. Other artists displayed recycled human bones and human blood.   
 "You got insects, you've got animal bones and you've got human bones, human teeth," Bocanegra said while she showed the featured art pieces. "They get recycled and they turn them into art."  
In the event, the store also displayed an apothecary with different herbs and objects, such as tarot cards, recipes and spell candles.  
"As a witch, it's nice seeing the apothecary and the candles and stuff like that knowing that it's being done properly," said Terilyn Pospesel, a 23-year old tattoo apprentice who learned about the event through her mother, who has been friends with Bocanegra a long time. "It's hard to find."   
The event also attracted the attention of people from outside El Paso. Such was the case of Radha and Ramon who came from Dallas three weeks ago, who knew about the event through Facebook.  
The couple came near 8 p.m. dressed in Victorian attires and took pictures in the scenario as a mourning couple.  
In Dallas, Radha and Ramon participate in charity and fundraising events to help vulnerable populations. 
"We're trying to work with the golf community, particularly when they're doing charity events and we were very involved with a lot of charity fundraising events out in Dallas with the Vampire Court of Dallas, which raises money for women shelters and homeless shelters, animal shelters, a lot of other things, summer camps for disabled children," Ramon said. "We're spooky people that care."  
Other events by the shop include the Witch's Brew, where Bocanegra and other organizers will discuss spells and witches with  a cauldron of margaritas for everyone to enjoy and the Krampus Festivus celebration in December. 
For more information on these future events visit the Tooth and Veil's Facebook page at facebook.com/toothandveilelpasooddities/  
Alexia X. Nava Carmona may be reached at [email protected] 
About the Contributor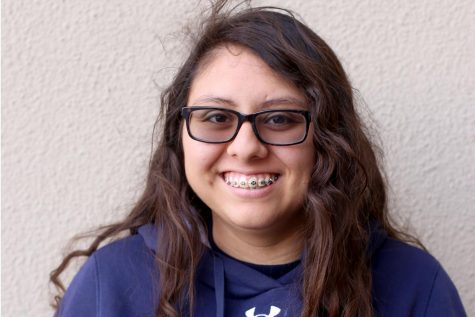 Alexia X. Nava Carmona,
Alexia Xiomara Nava Carmona is a junior majoring in Multimedia Journalism at UTEP and copy editor at The Prospector, the university newspaper. She is in...