Miners sweep Herd in volleyball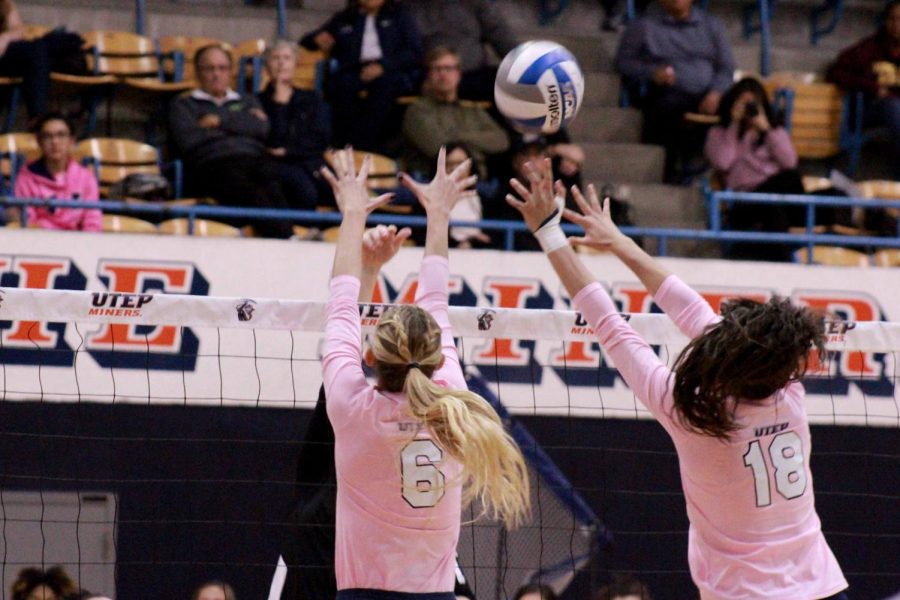 The Miners (10-11, 3-5) took all three sets (25-19, 25-20, 25-23) from the Marshall University Herd Friday evening in a dominating performance for the home team.  
Sophomore Serena Patterson paced the team with a double-double which included 16 kills and 13 digs for the Miners. Junior Syenna Masaki also recorded a double-double with 17 assists and 10 digs.  
After a slow start, which saw UTEP trailing 12-7 in the first set, the Miners took off on a 10 point run. Once UTEP took the lead, it never looked back, winning the first set 25-19.  
Aggressive play at the net from  juniors Anamarija Mikovic and Mallary Yost was instrumental in the first set victory. Mikovic finished the match with 10 kills.  
The Miners took control of the second set midway through with a three-point run. After that point the Miners never relinquished the lead on the way to a 25-20 second set win.  
Marshall was at its most competitive in the final and deciding set. In a match that had nine lead changes the Miners were trailing 23-22 and on the cusp of losing their first set when freshman Jessica Landeros came up big with a game-saving kill to tie the score.   
The Miners would go on to win the next three points to close out the match with a kill by Mikovic, her fifth of the set.  
With 10 wins on the season the Miners have already doubled their win total from last season and are currently tied for eighth in the Conference USA standings. The top eight teams make the conference tournament and the Miners are in contention for one of those spots with six games remaining.  
UTEP has a considerable road test this week  as the Miners will be playing the conference-leading and 23rd nationally ranked Western Kentucky (WKU) Hill Toppers, who are 23-1 overall and undefeated in conference.  
Western Kentucky has a lifetime 8-0 record versus UTEP and has never lost a set to the Miners. 
UTEP plays  two games on the road this week 5 p.m. Nov.. 1 at WKU and 11 a.m. Nov. 3 at Southern Miss.  
Michael Cuviello may be reached at [email protected]