Kanye West praises God in new gospel album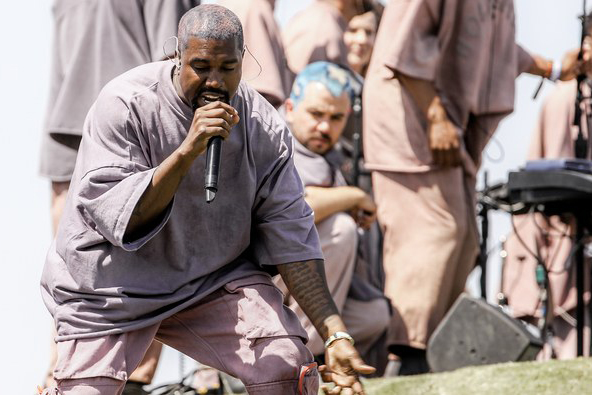 After multiple delays and technical changes, Kanye West released his new album "Jesus Is King," praising God, Heaven and his new path to religion Friday, Oct. 25.  
The American rapper welcomed his ninth studio album with collaborations that included Ty Dolla $sign, Ant Clemons, Fred Hammond and the Sunday Service Choir, a gospel rap group he helped create back in January of this year.  
The 11 songs of the 27 minute–long gospel album stay mostly clear from the topics of fame, sex and partying as the rapper focuses on worshiping love and clarity through religion. 
"I've spread a lot of things," West told Apple Music's Zane Lowe. "There was a time when I was letting you know what high fashion had done for me, I was letting you know what the Hennessy had done for me, all these things – but now I'm letting you know what Jesus has done for me." 
The rapper is reborn through songs that are accompanied by warm rhythms and a dynamic choir, like "Water," which is inspired by the role that water plays in baptisms, a Christian rite that symbolizes rebirth and purification. 
The lyrics "Jesus flow through us / Jesus heal the bruises / Jesus clean the music" are part of the second verse in the song.  
The songwriter recently announced that he will focus on spreading God's name, free from profanity, which he also refrained from in his fourth studio album "808s & Heartbreak" in 2008. 
West stays true to this by including Bible verses in multiple songs, like "Selah" and "On God" where the singer reflects on some of his past controversies like his abandoned 2018 studio album "Yandhi" and the backlash he received on social media for comments he made about the Thirteenth Amendment. 
This is also discussed in "Closed on Sunday," where the rapper talks about not using Instagram and honoring God on the seventh day of the week, as it is described in the Bible. However, the song opens with lyrics that lack creativity such as, "Closed on Sunday, you're my Chick-fil-A," which refers to the Christian fast food franchise that remains closed on Sundays.  
Although the album comes as a refreshing distraction to a world that is currently facing large amounts of hatred, "Jesus Is King" finds itself absent of any mentions of West's own experience with self-discovery, which is often found in spiritual awakenings, making the audience yearn for the vulnerability that the rapper often talked about in songs like "Jesus Walks." 
Nevertheless, the rapper does briefly make mention of his struggles with opioids in "God Is," where West comes to a complete redemption. This redemption and religious path that West has, now more than ever, strongly adopted, is something he understands has caused controversy and has even made him doubt himself. He makes mention of this in his ninth track "Hands On" featuring Fred Hammond. 
"Said I'm finna do a gospel album / What have you been hearing' from the Christians? / They'll be the first one to judge me / Make it feel like nobody love me" are the lyrics West raps, feeling like his mistakes are everyone's main focus as he tries to dive into a religious territory.  
"Jesus Is King" comes to an end with a 49 seconds long song of a verse written by Apostle Paul in Philippians 2:10-11, which reads: 
"That at the name of Jesus every knee should bow, of things in Heaven, and things in earth, and things under the earth; And that every tongue should confess that Jesus Christ is Lord, to the glory of God the Father." 
Throughout the album, West expresses this need for the world to experience a new beginning, similar to the one he claims to be experiencing. 
Anahy Diaz may be reached at [email protected]