Fall celebrations are as diverse as the citizens participating
The many ways Día de los Muertos and Halloween are celebrated in El Paso reflect the dual culture of citizens near the U.S.-Mexico border. 
To get a taste of how the holidays are celebrated, students and faculty on campus explained how they celebrate. 
Just like many others, Alejandra Fanith, a senior majoring in linguistics, celebrates both festivities. 
"We usually stop trick or treating at like eight, so we can go to my great grandmother's house and have dinner, look at photos and remember," Fanith said. "We don't make an altar or give offerings to the dead because we like to think that our family is in heaven and their souls are already at rest, but we talk about them."  
For Fanith, who was born in El Paso and lived in other places before returning, the two holidays have merged.  
 "(It's) more remembering our family and getting to know our history and ourselves, being grateful for the sacrifices our families have gone through and what's gotten us from Mexico to here," Fanith said.  
Día de los Muertos is about remembrance for Fanith and her family, but for others, the holiday doesn't hold such an important meaning. 
 "I didn't really celebrate either (Día de los Muertos or Halloween)," Arianna Parra, a junior major in media advertising said. 
Parra grew up in Mexico and still lives there. 
"We have the tradition to celebrate them at school ─ Día de los Muertos especially. Halloween, I didn't do much," Parra said. "Now, I tend to celebrate Halloween. Día de los Muertos isn't very present in my life anymore because in my family it isn't a tradition." 
While it isn't uncommon to celebrate one holiday over the other, some students never celebrated either holiday.  
Junior Giovanni Velasquez grew up in rural Michigan and never celebrated Día de los Muertos or Halloween. He moved to El Paso in August of 2018. 
"We were the only Hispanic family; we were Salvadoran. We didn't do anything for Día de los Muertos," Velasquez said. "Houses were spread 300 miles apart, so there wasn't any Halloween celebration, apart from buying candy on clearance the day after."  
Though Velasquez has always known about Halloween, he hadn't heard of Día de los Muertos. Even after learning about the holiday, Velasquez doesn't plan on celebrating.  
"I didn't really have any desire to celebrate it then and I still don't. I was hardly taught about my family growing up" Velasquez said. 
Like Velasquez, celebrating Día de los Muertos wasn't big for Aurelia Murga, an associate professor at UTEP. 
"I grew up in a small, rural town in Southwest Texas, we didn't have a lot of Día de los Muertos celebrations," Murga said. "Every year, we would travel to Mexico to place flowers on the graves of my grandparents. In that part of Mexico, close to the border, people didn't necessarily leave goods for their deceased family members at gravesites. It was going to mass, doing the flowers and the cleaning of the gravesite. That once a year tradition, I found it as something my parents did, whereas Halloween became the kids' holiday that I associated with more." 
Murga no longer celebrates either holiday, but Día de los Muertos is something she thinks about often. 
"My parents try to go every year to my grandparent's gravesites. They're reminders of that. But I haven't visited their gravesites in years. I live further away now and I tend to not go to mass anymore."  
Whether one holiday is celebrated over another or the holidays merge to create a hybrid, the celebrations that take place in El Paso are just as unique as its citizens, mirroring the many experiences and stories of borderland citizens. 
Exodis Ward may be reached at [email protected] 
About the Contributors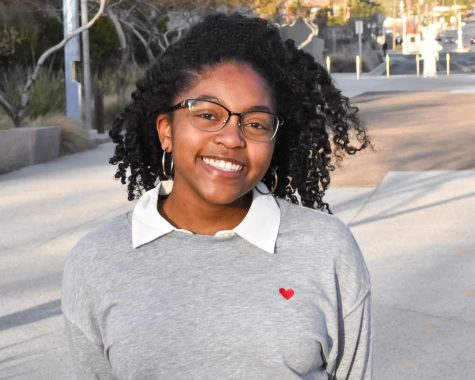 Exodis Ward
Exodis Ward is a Multimedia Journalism major, English Rhetoric minor at the University of Texas at El Paso. She is Entertainment editor at The Prospector,...