UTEP soccer not so golden versus Eagles: Miners fall 3-1 to Southern Miss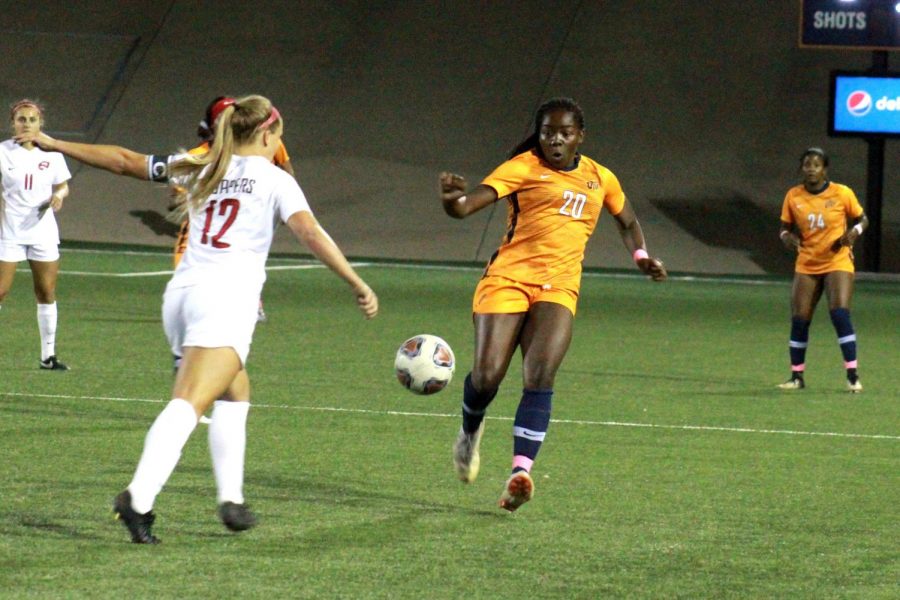 The Miners (8-5-3, 3-3-1) lost to conference rival Southern Mississipi University Golden Eagles (7-8, 2-5) after falling behind 2-0 in the first 15 minutes of the match.The Golden Eagles were able to use the heavy wind at University Field to their advantage as they scored two early goals on the Miners, heavily testing freshman goalkeeper Emily Parrot throughout the initial stages of the match.  
"We didn't come out strong and utilize the wind in the first half," UTEP Head Coach Katheryn Balogun said. "We had to dig ourselves out of a hole. They came out ready to play, and we tried to wish our way through a game."  
Ariel Diaz of Southern Miss scored the first of her two goals at the 5:41 mark of the first half, which set the stage to make the Miners press to try to catch up the whole game. Once the Miners fell by two goals, they dominated possession of the ball for most of the rest of the game, frequently getting the ball into Golden Eagle territory. For all the time on the opponents' side of the field, UTEP only had two shots on goal for the entire game while attempting 14 shots total.  
Pressing hard for the scoring opportunity immediately following Southern Miss' second goal, the Miners had consecutive shots that came nowhere near scoring. For the first half the Miners had nine shots with none reaching the goal.  
At the 53-minute mark freshman forward Tessa Carlin headed a ball into the net for the Miners, only to be overturned by an offsides call on the team. Five minutes later, Carlin put a shot into the net on a well-executed two-pass assist from freshman Lily Marquez and sophomore Nicole Pugsley.  
The Golden Eagles put it away late as Diaz scored her second goal of the match into an empty net as Parrot was drawn far away from the target on a major error for UTEP.  
Overall, UTEP took only one less shot than Southern Miss but had five fewer shots on goal for the match, as the Miners struggled to find net.  
The Miners travel on the road to the East Coast this week. UTEP plays at conference leader Charlotte (11-3, 6-1) 5 p.m Oct. 24.and at Old Dominion (8-3-4, 2-3-2) 10 a.m. Oct. 27.  
Michael Cuviello may be reached at [email protected]