ROTC competes in national race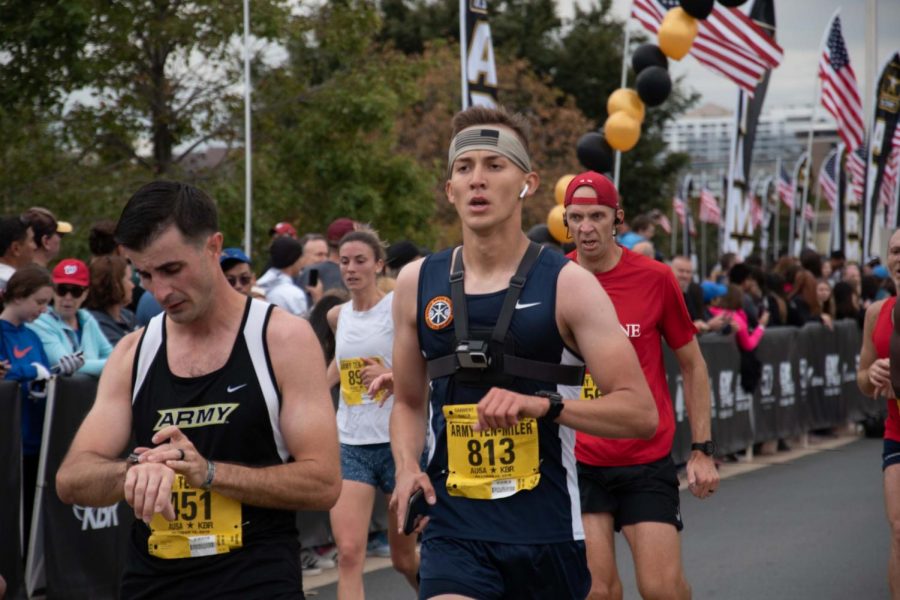 Daniel Rey Perez, Contributor
October 22, 2019
More than a hundred universities and military academies entered the "The Army Ten-Miler" race, including UTEP's Reserve Officer Training Corps (ROTC) Oct. 13 in Washington D.C. UTEP ROTC placed 17 out of 103, finishing with times faster than they anticipated. 
The race's mission is to support outreach, build morale and promote physical fitness.  
The 35th annual Army Ten-Miler (ATM) is a national tradition for many ROTC teams including UTEP's.  
Under the command of team captain Alexander Greenman, a junior studying history, the cadets participated in a race with a year of preparation. 
"Running is my go-to thing when I am stressed, and I love helping my team improve on their run time," Greenman said.  
The eight-runner team consisted of Greenman, junior Larry Pena, junior Berenice Paz, senior Enrique Davila, senior Leo Hapeman, sophomore Leila Sanchez, sophomore Cristian Esparza, and freshman Mariana Ramirez. After placing in the top 17, the UTEP students plan on running even faster in next year's race. 
"The plan is to continue running, to set benchmarks and to track each benchmark in order to increase our speed, even it's just a second. When October comes again next year and we are in D.C, we will be ready to run and demolish that race," Greenman said.  
The need for motivation is stressed heavily when training for the ATM and generally in the Army. The UTEP runners worked hard to draw out that motivation during the grueling 10-mile race. For runners such as Greenman and Hapeman, simply helping the team was enough while other runners found motivation from other places.  
"When I run, I think about the good milkshake I am going to get once I finish and the good food that I am going to reward myself with," Paz said. 
Most of the team at this year's race have never been to the nation's capital before. The race was not only an event in the spirit of competition, but it also served as a highly educational trip for the cadets as well. 
"Our team captain Greenman always made sure that we had a national monument to visit and another piece of history to experience," Hapeman said. 
"I enjoyed learning about all the different cultures and styles of life that are in the city… I learned how different D.C, is from where I am from (El Paso) and I learned about the history of our capital," Paz said.  
UTEP ROTC has already begun training for the next race in 2020.  
Daniel Rey Perez may be reached at prosp[email protected]