Online dating affects students in both positive and negative ways
As the popularity of dating apps continues to increase, Business Insider expects these apps to reach more than 25 million users per month. Tinder, for example, had 57 million users globally, with 35 percent of them being between the ages of 18 to 24, in 2018 according to the Business of Apps.  
 Bumble, a dating app that includes a befriending and a business networking mode, has over 72 million users in over 150 countries, according to Florencia Villa-Ortiz, the app's campus media manager at UTEP. 
The effects these apps can have on the multiple students who use them vary.  
Villa-Ortiz, a 21-year-old nursing junior at UTEP, has benefitted from the app's Bumble Honey Ambassador program, an opportunity for college students to acquire marketing skills. 
"I've loved working with Bumble because I've genuinely gained invaluable marketing experience," Villa-Ortiz said. "I constantly get to interact with a number of kind and empowered people on campus."  
Since online daters tend to be young people, couples that have met online are more likely to be diverse, with the partners having different backgrounds, beliefs and ethnicities, according to a Pew Research Center analysis of survey data from Stanford University.  
However, dating apps can also have a negative effect on its users.  
"I think it's a big distraction and I think it's also a lot of pressure on how you market yourself online on these platforms to maybe get a date," said Adren Warling, an anthropology major and research assistant at UTEP. "I have almost 400 matches on Tinder, I've never met one of them. It's a lot of pressure for a maybe." 
Warling also thinks that online dating has made people more superficial and more worried about how to present themselves to others in a couple of pictures and a brief description. 
"We're marketing ourselves to others and we're also being marketed to. When you look at dating apps, you swipe or you have to do certain things to talk to people. I think it's really (about) how you can sell yourself best," Warling said. "We're losing sight of what it means to be human and, even though we all know we have our own personal flaws, we are in a time where you don't talk about that or, if you do, it's a joke on Facebook. It's a meme." 
Online dating has also affected romantic relationships, making them more short-lived and shallower, Warling explained.  
"Even in my experience on dating apps, it's more, 'Let me meet someone online and talk to them for a little bit and then move on to someone else,' without ever really meeting physically," Warling said. "I think it contributes more to  social isolation and also social apathy." 
On the other hand, Bumble has hosted events for people to meet in person and make the relationships formed through the app meaningful, Villa-Ortiz said.  
"It's been really great working on events where Bumble users can connect face-to-face, not just to meet and talk over the app, but to create genuine friendships and relationships over something interactive and fun," Villas-Ortiz said. "I know that Bumble has helped facilitate over a billion first moves and some amazing success stories have come from them." 
Alexia X. Nava Carmona may be reached at [email protected] 
About the Contributors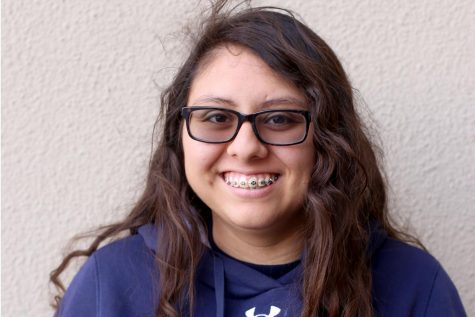 Alexia X. Nava Carmona
Alexia Xiomara Nava Carmona is a junior majoring in Multimedia Journalism at UTEP and copy editor at The Prospector, the university newspaper. She is in...