'Super Smash Bros.' tournament: a virtual fight to the death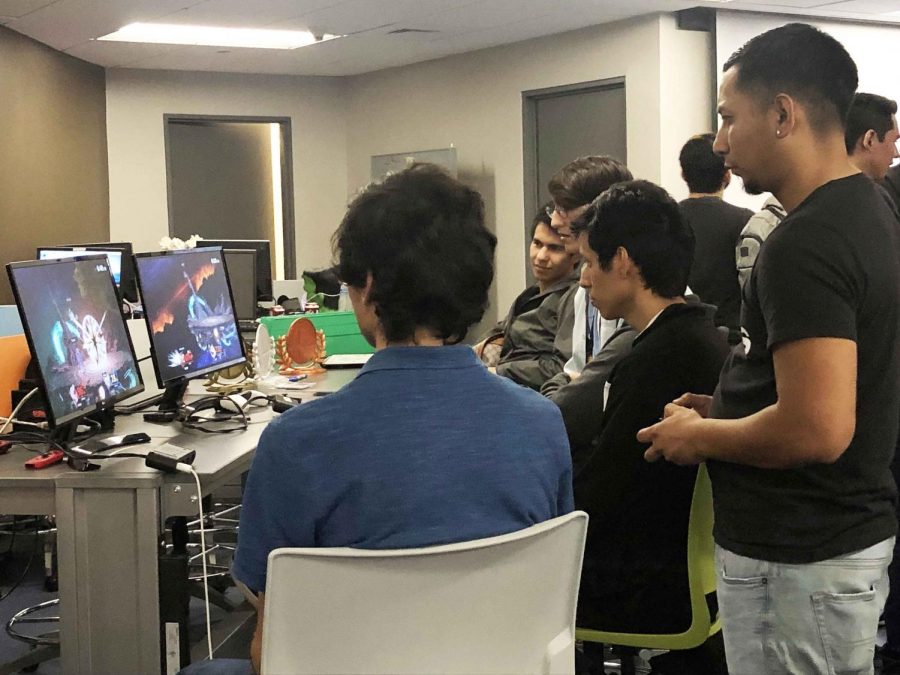 UTEP's Association for Computing Machinery – Women, Women in Computer Science (ACM-W WICS) hosted a "Super Smash Bros. Ultimate" tournament in collaboration with the El Paso Honey Badgers and UTEP's GAIA Makerspace Friday, Oct. 11 at the Undergraduate Learning Center (UGLC) building.  
ACM-W WICS is an academic organization within the College of Engineering whose purpose is to support, promote and empower women in the computer science field.  
ACM-W WICS was established in the fall semester of 2018 and aims to educate all students about the importance of equal representation in the computer science industry through outreach projects and teaching how members can acquire real-world experiences that contribute to the community as well as their own professional development. 
"A group of friends and I joined forces with the previous existing ACM organization and we kind of re-branded it so that it would capture the attention of computer science majors, especially women in computer science and we got a really good response and it grew from the six officers that we started off with to 80 members by the end of the semester," said Mariel Palacios, a senior computer science student and president of UTEP's ACM-W WICS.  
The organization has held a variety of professional development, academic, and social events as well as outreach and community service.  
"To gather funds for the year we try to do fun things with the members," Palacios said. "Last year we got together with ACM and we created the first gaming tournament and it always ends up being really fun, there is a lot of teambuilding involved and the members get to know each other." 
The Super Smash Bros. tournament was held at the UGLC room 202, formerly known as the "ATLAS" lab, which is now a 3D printing lab.  
There were four stations located in the place, with a large projector screen in each station. A total of 40 Super Smash Bros. players registered for the tournament and were automatically arranged through the system with two competing players at a time. 
Super Smash Bros. is a video game crossover published by Nintendo that features various characters from the different Nintendo franchises such as, "Super Mario," "Donkey Kong," "Pokémon," "Kirby," "The Legend of Zelda" and more.  
The gameplay objective is to knock opponents off the stage, where characters have a damage total represented by a percentage value that can rise and give the opponent an advantage.  
The tournament's competitors played two rounds. If there was a tie, the opponents were given a third round and whoever won would move up the chart and play against the next winner and so on.  
Among the participants was Bryan Garcia, a microbiology senior.  
"I found about this event through the Facebook page for El Paso Smash Brothers," Garcia said. "Smash is a really fun game; I came to compete and win!"  
Garcia made it to the last four competing finalists. 
Gamers surrounded the stations as they cheered for their favored competitor. The tournament saw its last two competing players, Sebastian Montes with the username "SEBA" and Christian Huerta who dubbed himself as "G-Dawg" with an intense three-round challenge.  
The resulting winning victor was SEBA.  
The tournament's three finalists were; Carlos Alfonso in third place, Christian Huerta in second place and Sebastian Montes in first place.  
"We're actually looking forward to bringing more people into this scene. We're part of a separate group, El Paso Smash Brothers on Facebook, and we pretty much run our own events for this game," said Montes, a digital media junior. "We run tournaments at least twice in El Paso at the Sunshine party hall, as of now the East side, but we're looking in getting our venue at Top Golf." 
For more information about the El Paso Smash Bros. community, visit the El Paso Smash Brothers ACM-W WICS' Facebook pages for any announcements on upcomoing tournaments.  
"It's been really fun and the community that has been created throughout the entire year with the organization has been rewarding," Palacios said.  
Jaqueline Martinez may be reached at [email protected]