UTEP student leads panel on masculinity, social constructs
Hugo Hinojosa, a digital media production major at UTEP, will hold a student panel called "Masculinidad, derribando constructos sociales," or "Masculinity, knocking down social constructs," at noon Wednesday, Oct. 9, in the Blumberg Auditorium on UTEP library's first floor.   
Hinojosa, 20, started his project about the social constructs surrounding masculinity while taking a women's studies class last semester. He chose masculinity as a topic for his final project of the class.  
"It's a topic that I don't think is very talked about in the feminist movement and it was actually the first topic that appeared in the book, so I thought it was very interesting," Hinojosa said. "I wanted to make an article, because (the professor) gave us the opportunity to do so and, since I am also a photographer, I wanted to take the pictures portraying masculinity (…) on the eyes of a feminist approach."  
Hinojosa did a photo gallery depicting men from the bordering cities of Ciudad Juárez, Mexico, and El Paso, Texas. Since he couldn't exhibit it for the class, he made an independent exhibition in Cd. Juárez and even showcased the photos in "The House 9: Revolt!" back in August.   
"I really liked this project; I fell in love with it. I think it's my little baby," Hinojosa said. "I have been a photographer for four years and this is the first (project) that I'm really proud of."  
Hinojosa then presented the idea to the director of UTEP's Women and Gender Studies Department, Guillermina Gina Núñez-Mchiri, whom he met last semester.   
"It really helps us reflect on the power of images, the power of art, the power of photography, to get us thinking, to get us into a conversation of the pressures that men face and how hard it is to be male when society expects (them) to be tough and rough and be the provider all the time," Núñez-Mchiri said.  
Hinojosa told Núñez-Mchiri about his project and she encouraged him to submit it to the board of the Hispanic Heritage Month event, Hinojosa said.  
"I think the judges from the Hispanic Heritage Month said, 'Yeah, you're in, you can make a panel, you will have two hours and you can do whatever you want,'" Hinojosa recalled.  
Besides showing his art, the idea behind the panel is to open a conversation about masculinity and see other people's experiences with that ideal, according to Hinojosa.  
"Masculinity is something that has been present for my whole life. Since I was a little kid, I was always taught to act like a man and to be like a man; I have been told things like, 'Don't do this, because that's for women,' or 'That's feminine,'" Hinojosa said. "I want to send the message to an audience, not only show the pictures, but actually start a conversation and see what other people have to say about it. If there's someone else wanting to share their experience or their point of view."  
"I think this panel is super important for … not only men living in a Hispanic household, but to women as well because they just want to feel like there's people who support them," said Jacob Morales, a UTEP student majoring on kinesiology and a senator at large in the university's Student Government Association.   
Alexia X. Nava Carmona may be reached at [email protected]   
About the Contributor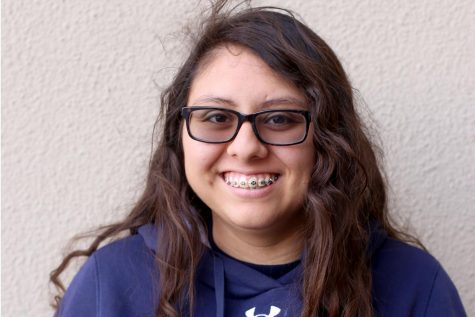 Alexia X. Nava Carmona
Alexia Xiomara Nava Carmona is a junior majoring in Multimedia Journalism at UTEP and copy editor at The Prospector, the university newspaper. She is in...