Missing, deceased Juárez women remembered in art exhibition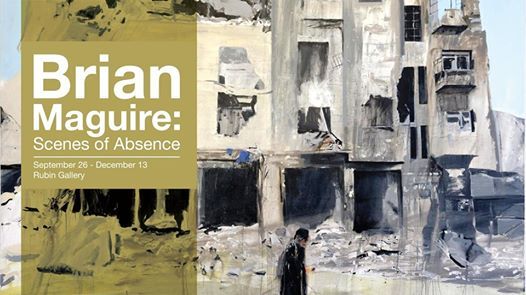 The Rubin Center Gallery hosted an opening ceremony Thursday, Sept. 26, for its latest exhibit that pays homage to the young missing women of Ciudad Juárez.   
The exhibit, titled "Brian Maguire: Scenes of Absence," is described as "an exploration of both violence and the drug trade based in part on Maguire's multiple visits to Juárez over the course of 10 years," according to event details listed on the university calendar. It includes multiple portraits of varying sizes showing the likenesses of Juárez women who have gone missing within the last decade, as well as several larger pieces depicting scenes of violence in an abstract style.   
After reading about the violence in Juárez and the stories of multiple young women vanishing from their homes, Maguire was inspired to paint portraits of them.   
Working thousands of miles away from the subjects of his art proved to be too difficult for Maguire, so he traveled to Juárez.  
"I couldn't do it from a photo or from reading a book,"  Maguire said. "I had to have more direct experience."  
During his time there, Maguire gave art lessons inside a hotel to local orphaned children and continued to meet with the families of the missing women to learn more about their stories.  
"I listened to their stories. I experienced the emotion," Maguire said I took it back with me to the studio and I painted."   
He emphasized that his portraits of the women were painted in celebration of their lives.  
"Each picture was not about the loss of their life, but about the life that was lost," he said.  
Maguire's exhibit was inspiring to many onlookers, including UTEP sophomore Dylan Torres, who described it as "different from anything that I've seen in the past." As an art student himself, Torres felt a strong attraction to Maguire's paintings.  
"My style was already expressive, so I already identify with his style a lot," Torres said. "It's just the content of the painting – of depicting cities that have gone through major crises of violence – that's the crazy part. It's what interested me a lot." 
"Brian Maguire: Scenes of Absence" will be on display in the Rubin Galley until Dec. 13. 
Margaret Cataldi may be reached at [email protected].