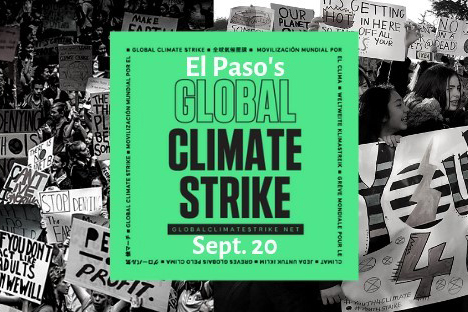 A crowd gathered Friday, Sept. 20, at Memorial Park to rally for environmental justice as part of a global climate strike.
Dozens of citizens — old, young and even some pets — assembled on the lush lawn to listen to the various speakers who highlighted the importance of saving our planet. 
"We are faced with one of the greatest crises of our time. It's very easy for us to feel hopeless and to feel like this problem is too large for us to tackle," said Miguel Escoto, leader of Sunrise El Paso, the local branch of a nationwide movement that advocates to prevent climate change. "This climate strike is just the beginning of an environmental revolution here in the city."  
The topics discussed were both global and local, ranging from the environmental impact of the U.S. military and war to the unsafe levels of smog produced by the Western Refining plant south of I-10. 
Concerning local issues within El Paso, they also touched on some of the resolutions that can potentially improve our conditions, such as transitioning from fossil fuels to clean energy by abolishing natural gas plants within the city and replacing them with solar plants. The proposed Green New Deal was also a popular topic of discussion.  
One El Pasoan decided to attend the climate strike after hearing about it at a concert she recently attended.  
"I didn't know it was a global strike, which is awesome," Tiffany Stevenson, 24, said. "I heard that it was going to be at Memorial Park, which is super close to where I live, so I decided to come by and learn as much as I could." 
Events like this climate strike are important for spreading awareness about environmental issues that the average person might not have heard about. 
"I think a lot of people are aware of climate change, but it's something that is really easy to not think about on a day-to-day basis," Stevenson said. 
With the rapid decline of our planet's environment, it is critical that every person makes a conscious effort to help reverse climate change, be it as simple as reducing one's carbon footprint or becoming a frontline advocate for change.