Miners' turnovers sink improved effort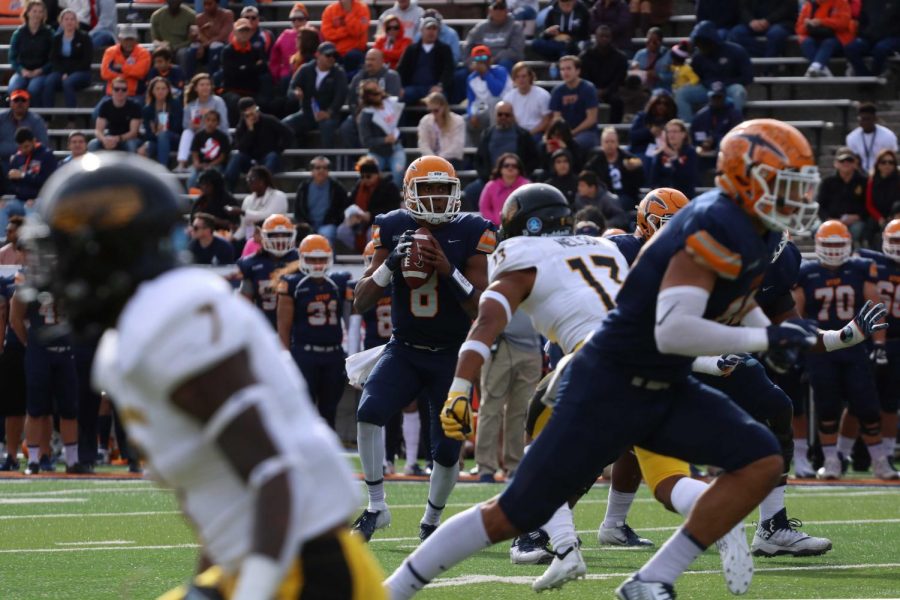 The Miners fought gamely for almost three quarters with an erratic passing game that was compounded by an injury to senior starting quarterback Brandon Jones. Up to this point, they had overcome three interceptions, including one by Jones.
"We've made huge strides as a football team," Coach Dana Dimel said. "When you compare it to where we were a year ago, we played a team in the bottom half of the Mountain West and they blew us out. Today we played a top Mountain West team and there were plenty of chances for us to win."
On the first drive of the day, the Miners took the ball 79 yards on 10 plays and continually punched it up the middle. This resulted in a four-yard touchdown run through a pile of defenders for senior running back Treyvone Hughes against the Nevada Wolf Pack at the halfway point of the first quarter.
After being tied at seven points apiece, the Miners went on to retake the lead in the second quarter with another strong 10 play drive by the offense, capped off with a six-yard touchdown run by Hughes, with his second of the day. This drive would also feature graduate transfer tight end Jess Trussel with an impressive 39-yard reception and a key fourth down, nine-yard reception that took the Miners into the red zone.
Senior quarterback Kai Locksley had been rotating as a starter with Jones but became a solo act when Jones took a hard hit in the third quarter. Locksley had as much success throwing to the other team as he did with his own teammates en route to completing two of six passes for 10 yards with two interceptions.
The major turning point of the game was late in the third quarter with less than two minutes left, the Miners took over at their own seven after a holding call ruined great field position on Senior Walter Dawn's kick return to around midfield. This penalty resulted in a swing of 42 yards in the wrong direction.
Backed up deep in their own territory, only down by a field goal, the Miners started off the drive with a strong seven-yard carry by junior running back Josh Fields. On second down, the line broke down and Locksley took a four-yard sack to set up a long third down, needing sevenyards to go. On the next snap, Locksley was under heavy pressure as he tried to hit his receiver for a first down with a hard fast throw  which resulted in an interception by Nevada at the UTEP 14 yard line.
Four plays later, Nevada's Kelton Moore burst into the end zone from the five-yard line, giving the Wolf-Pack a nine-point lead at 30-21 with 13 minutes left in the game.
Showing great resilience, the Miners moved the ball to midfield on back to back first downs including a key third down pass from Locksley to sophomore wide receiver Tre 'Shon Wolf for 10 yards. The drive came to a complete stall for the Miners on a holding call which backed them up 10 more yards. Now facing 20 yards to go for a first down and no passing game to speak of the Miners were forced to punt with about nine minutes left in the game.
Still trailing by nine points, the Miners made one last defensive stand forcing third and long when the Wolf-Pack struck with a 41-yard gut punch on a pass to running back Toa Taua that took them inside the Miner three-yard line. This drive would end in a one-yard touchdown by the Wolf-Pack's Kelton Moore, his second of the night, to seal the game 37-21.
Overall on the night, the Miners' defense had major trouble containing Nevada's starting quarterback senior Cristian Solano, making his second career start with freshman Carson Strong out of the lineup. Solano rushed for 100 yards on 10 carries and passed for 182 yards.
The defense of the Miners had trouble stopping Solano from breaking out of the pocket for long runs and never put enough pressure on him to get a sack. Solano came through for the Wolfpack with his first career touchdown passes.
Overall, up until the late third quarter interception by Locksley, the Miners were playing on even keel with Nevada who were an eight-win bowl team from last season that also plays in a stronger conference.
The Miners' offense more than doubled from last week's offensive output, gaining 278 total yards including 162 yards rushing, led by Hughes with 80 yards.
"Good things happened when we ran it," Dimel said. "Not as much when we threw it."
UTEP plays at Southern Mississippi at 5 p.m. Sept. 28, in conference play.