'Movie Nite on the Lawn' draws big crowd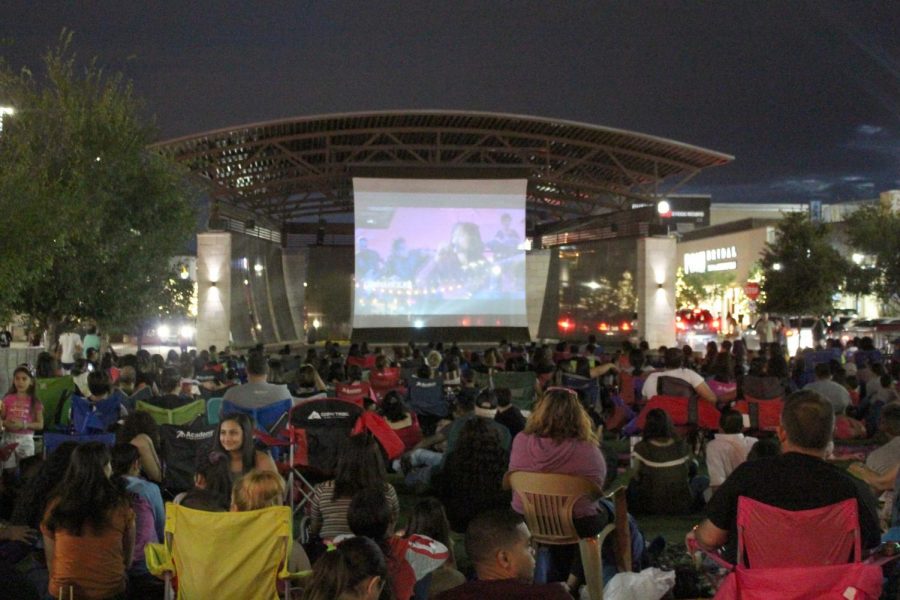 The promise of a good film and a good time is what drew a large crowd to the Fountains at Farah Saturday, Sept. 14 to watch "Selena" at the shopping venue's big screen.  
People of all ages arrived with their lawn chairs, snacks, pillows and blankets as they prepared for the screening of the film to begin.  
The biographical film starring Jennifer Lopez as famous singer Selena Quintanilla, was curated by The Plaza Classic Film Festival in partnership with the Fountains' free movie series, "Movie Nite on the Lawn."  
"I heard about it through Facebook," said Lizeth Ortega, 36, who was accompanied by her elementary school daughter. "It's a really healthy activity to do with your kids. Many times one doesn't have money to pay for other activities, but then you have this event that is free and outside. It's very fun." 
The event is part of the numerous free events the Fountains hosts including, concerts, farmers markets and fitness classes, which are all part of the venue's mission of providing family-friendly events for the community to enjoy. 
"It invites everyone to be a part of something as a community," said Mara Rodriguez who was accompanied by her daughter Naomi Rodriguez ,17, and her daughter's friend Suryrany Hernandez, 16. "It motivates you to do something and sometimes you need someone to bring people together, so this is bringing us together."  
As the sun came down, the screen lit up, and the film began.  
"Selena" is a 1997 film directed by Gregory Nava that highlights the life and career of the Mexican "Tejano" singer Selena Quintanilla before she was killed in 1995 by the president of her fan club, Yolanda Saldivar.  
The film, starring celebrities such as Jennifer Lopez, Edward James Olmos and Lupe Ontiveros, also pays tribute to some of Quintanilla's greatest hits like "Amor Prohibido," "Como La Flor," and "Dreaming of You," which to this day are still played and sung along to, such was the case with Saturday evening's audience.  
"I like how she danced, how she had a good personality, how she was kind and nice to all of her fans. She was a great singer," Naomi Rodriguez said.  
Naomi Rodriguez was first introduced to Quintanilla's music by her voice instructor, and since then has gone on to sing and dance the singer's songs at school events and even traveled to Corpus Christi, Quintanilla's hometown, to celebrate her 14th birthday. 
"I've performed 'Si Una Vez' in front of my school, which was not easy," said Naomi Rodriguez, who is a student at Del Valle High School. "I'm a huge fan."   
Naomi Rodriguez and her family also attended the showing of the film when it was hosted in a similar event at UTEP called "Movies on the Lawn." The choir student said it was Quintanilla's message and talent that drew her to become a fan of the singer.  
"She always seemed to make the impossible possible," Naomi Rodriguez said.  
Although rain sprinkled in the middle of the movie, moviegoers stayed and enjoyed the rest of the night, including UTEP alumni, Andrea Acosta, who was also a fan of Quintanilla. 
"I love Selena. I think she's an icon," Acosta said. "Sadly, she's not here with us, but everyone recognizes who she is, including young generations, which I think is very important. She was honest, loving, crazy, dorky; she didn't care to be someone that she wasn't." 
The film ends with the aftermath of Quintanilla's death, as her family, friends and fans mourn her loss by remembering her songs and all the other things that led her to become a prominent music figure. 
Upcoming movies that will be shown as part of the "Movie Nite on the Lawn" series include "Pokémon Detective Pikachu" Sept. 21 and "Captain Marvel" Sept. 28.  
More details and dates on future screenings can be found at fountainsatfarah.com or the Fountain's official Facebook page.  
Anahy Diaz may be reached at [email protected] 
About the Contributor
Anahy Diaz,
Anahy Diaz is a bilingual, Multimedia Journalism and Political Science student at the University of Texas at El Paso. She contributes to the university's...