Miners' Volleyball loses two of three matches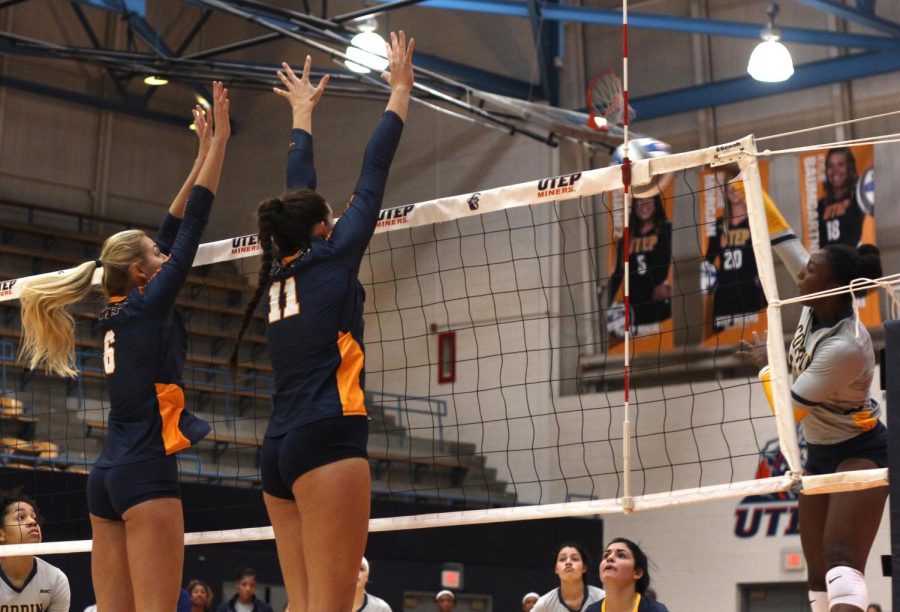 The UTEP Miners volleyball team (5-5) wrapped up a three-match series with a sweep in their final matchup against the University of Montana (0-8) winning in three sets (25-15, 25-18,25-20). 
Junior Cheyenne Jones got to play in front of her hometown crowd in Missoula, Montana as she tied for most kills versus the University of Montana Grizzlies along with sophomore Serena Patterson with 10 kills apiece. 
"I thought it was a good team win. We had six attackers hit for really good percentages. We passed it really well, and we have been passing it really well for most of the year," Coach Ben Wallis said in a press release. "We were relentless in digging, and keeping the ball off the ground, which we hadn't done all weekend. We were a mess defensively all weekend, but today we weren't." 
All three sets started with the Miners taking strong early leads. Patterson and Jones  had five kills apiece in the first set. 
In the final set, the Miners faced their only challenge of the day when the Grizzlies closed the score to one point at 21-20. The miners would go on to score the next four points to shut the door on the Grizzlies in the last set. 
In their matches Friday the Miners lost a hard-fought five-set battle with California State Bakersfield (CSU) (22-25,25-19, 25-17, 13-15) and in straight sets to Montana State (27-29, 22-25, 19-25). 
Against CSU, the Miners carried a 13-11 lead into the fifth and deciding set but lost four straight points to lose the match. Junior Syenna Masaki and sophomore  Kristen Fritsche had 25 assists apiece with Patterson leading with 17 kills.  
After falling behind 10-3 in the first set versus the Montanna State Bobcats, the Miners would come back and tie the game at 12-12 in a set that would have 12 ties. The Miners would battle hard but succumb 27-29 in the opening set. 
The Miners would once again start slow in the second set as they fell behind seven to three . Mounting a strong comeback the  Miners tied the score at 16 but eventually fell 22-25 in a close second set. 
Midway through the third set, the Miners were down by one at 10-11, but a four-point swing run kept them in the final set as they lost 19-24. Junior Anamarija Mikovic paced the Miners with eight kills in this match versus the Bobcats. 
UTEP will compete in the Red Raider Classic Sept. 20-21 at Lubbock, versus Houston, Incarnate Word and Texas Tech in their next three matches.