Miners' soccer unbeaten streak ends at five games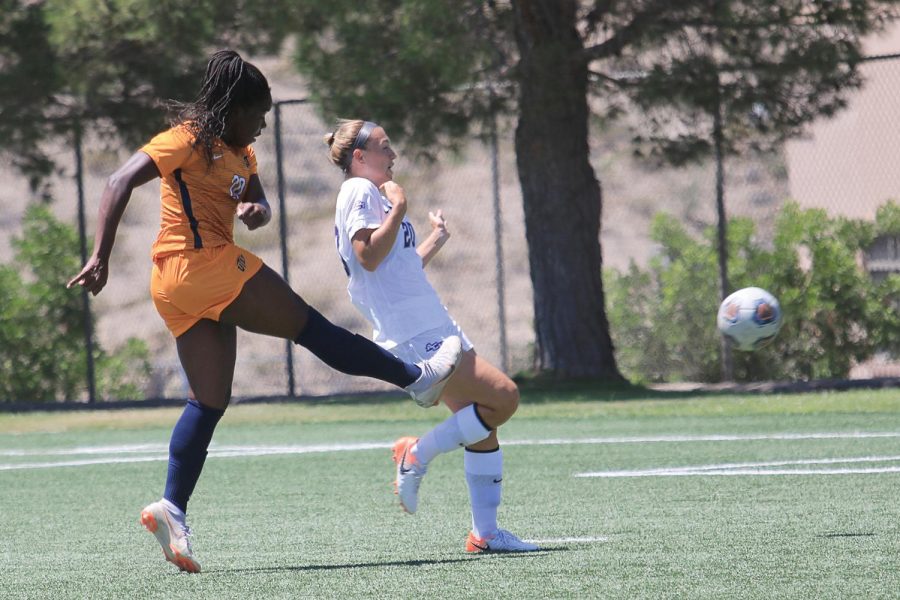 UTEP (4-2-2) fell 2-1 to the  Utah Valley University Wolverines (3-4)  Sunday afternoon after giving up a late goal at the 87-minute mark of the second half.  
Midfielder freshman Jackie Miller scored her first career goal as a Miner at the 28-minute mark of the first half to draw even with the Wolverines. Miller is an El Paso native and a graduate from Franklin High School.  
The match was hard-fought with neither team having many shots on goal as Utah Valley had a five to four advantage with goal shots. Overall, Utah Valley took five more shots than UTEP with both teams having three saves apiece in goals. Freshman Emily Parrot recorded the saves for the Miners. Parrot has started seven of the eight games in goal for the Miners with 23 saves and a 3-2-2 record. 
Earlier in the week, the Miners won a nail biter in double overtime to the New Mexico State Aggies on the road.  
Senior Lauren Crenshaw scored her third goal of the season with three minutes left in overtime to lift the Miners to a 2-1 victory. Crenshaw took five total shots with two being on goal with one score      . 
Sophomore Jojo Ngongo scored her second goal of the year with an assist by junior Adrianna Jimmerson and freshman  Emerson Kidd at the 74-minute mark of the match to tie the score. 
Overall UTEP outshot the Aggies by 11 shots with a 23 to 12 advantage but were unable to capitalize on this effort with only seven shots being on goal. 
The Miners will look to rebound with back to back home games coming up this week. 
At 7 p.m Sept. 17 the team will play University of the Southwest (3-3) and at 11 a.m. Sept. 22  it will start conference play against Florida International University (2-5). 
Michael Cuviello may be reached at [email protected]