Miners place second at Payne Stewart Memorial golf tournament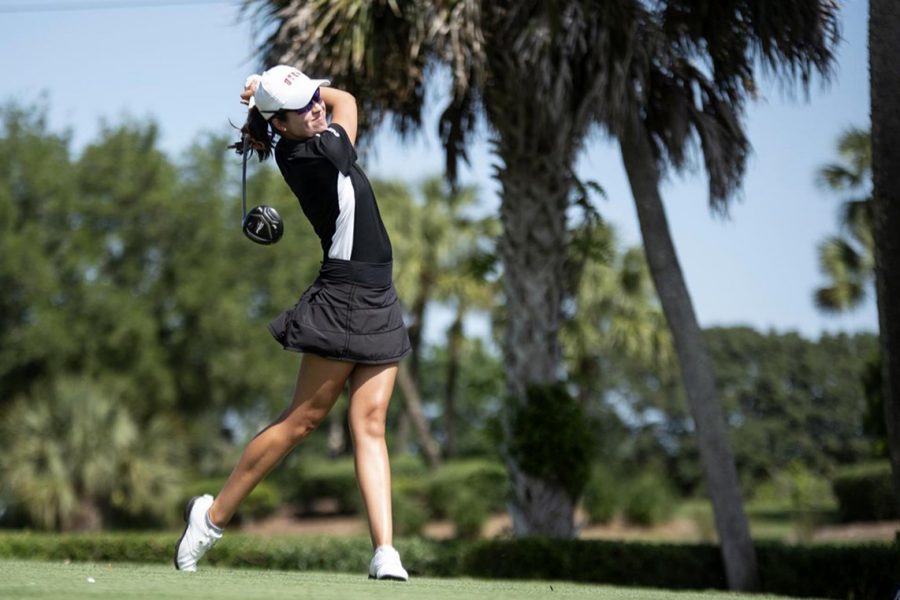 In its first tournament of the season, the UTEP women's golf team  tied for second among 12 teams competing in the Missouri State/Payne Stewart Memorial Golf Tournament in Springfield, Missouri.  
After leading the tournament over the first two rounds by eight strokes, the Miners could not overcome a tournament best score of 276 by winner Oral Roberts University. Oral Roberts shot 16 strokes better than any team in the tournament over the third and final round, which propelled them to victory. 
"For this being our first tournament, I am pretty proud of the team and how they played to open the season," head coach Jere Pelletier said.     
Junior Valeria Mendizabal finished first, garnering her first individual title, with a two-stroke victory over Oral Roberts' Beatriz Garcia. Mendizabal finished one under par with a three-round total of 212 including a tournament best 68 on the final round.  
Mendizabal was named Conference USA Co-Golfer of the week for her victory in the Payne Stewart Memorial. Hailing from Guatemala City, Guatemala, Mendizabal not only won her first tournament as a Miner but shot a career low score of 68 at the college level. Previously, Mendizabal's best finish was second overall in last year's Wyoming Cowgirl Desert Intercollegiate tournament.  
"I am proud of Valeria for winning the individual title. She has worked hard this entire summer and it paid off for her this week," Pelletier said.  
Mendizabal has won numerous tournaments prior to college, including the 2015 Guatemalan Junior Open Championship. 
Junior Audrey Haddad finished sixth, nine shots behind her teammate with a 221 overall. Haddad led the tournament over the first two rounds, but a score of 80 on the final round took her out of contention for a top finish. A day–one score of 68 was a career best for Haddad. 
The Miners next tournament will be Sept. 28-29 at the Wyoming Cowgirl Desert Intercollegiate in Palm Desert, California.