Alfresco! Fridays has final concert of the season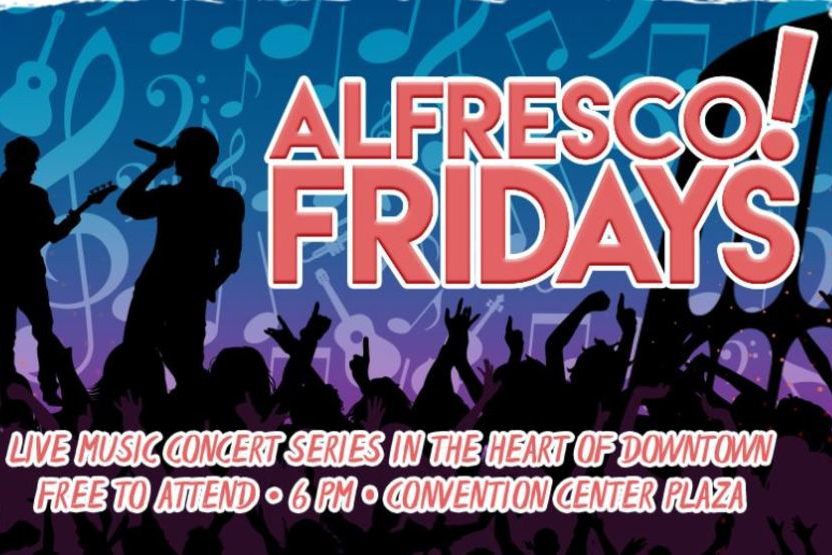 Alfresco! Fridays was a summer concert series hosted by El Paso Live that took place every Friday night at the downtown Judson F. Williams Convention Center. The free concert series ran for four months until its final concert at 6 p.m. Friday, Sept. 6. 
The series showcased a varied mix of music such as classical rock, cumbia, mariachi, jazz, and reggae. The Jarritos Main Stage hosted the Prime 80'Z Aug. 16, Fungi Mungle Aug. 23, Radio La Chusma Aug. 30, and Windy Chicago as the final band of the season Sept. 6. 
"Alfresco is a place where local bands from El Paso perform for free. There's food provided by El Paso Live and Jarritos, who are the sponsors. Sometimes we have vendors," said El Paso Live staff member Manuel Ramos. 
At the last concert, guests began to line up by the Strike Zone food fourt where they were able to enjoy a variety of food like Hawaiian burgers, hot dogs, chicken sandwiches, street tacos, nachos, beer and Jarritos beverages. As guests secured their munchies, the crowd settled by the stage for Windy Chicago to perform.  
Windy Chicago began playing at 6:30 p.m. on the Jarritos stage. The band is an El Paso tribute to the rock band, Chicago, formed in 2004. The members of the band are Jesus Benitez on guitar, Junie Chavez on vocals and drums, Arthur Compean on keyboard, Isaac Gonzalez on lead vocals, Dr. Charles Leinberger and Daniel Rodriguez on trumpet, Marc Moomaw on the saxophone, and Jaime Solorza as bass guitarist.  
"There's various bands and every Friday is something different," said Jaime Medrano who attended the final concert with his wife Loraine. "We enjoy the ambience, especially today that its cloudy and it's not so hot." 
The Alfresco! Fridays series may be over for this year, but El Paso Live will host events throughout the remainder of the year, such as the "I Love Freestyle Music Tour" Friday, Sept. 20 at the Abraham Chavez Theatre.  
For information on Alfresco! Fridays and El Paso Live events, visit elpasolive.com.