UTEP SGA receives $10,000 donation following mass shooting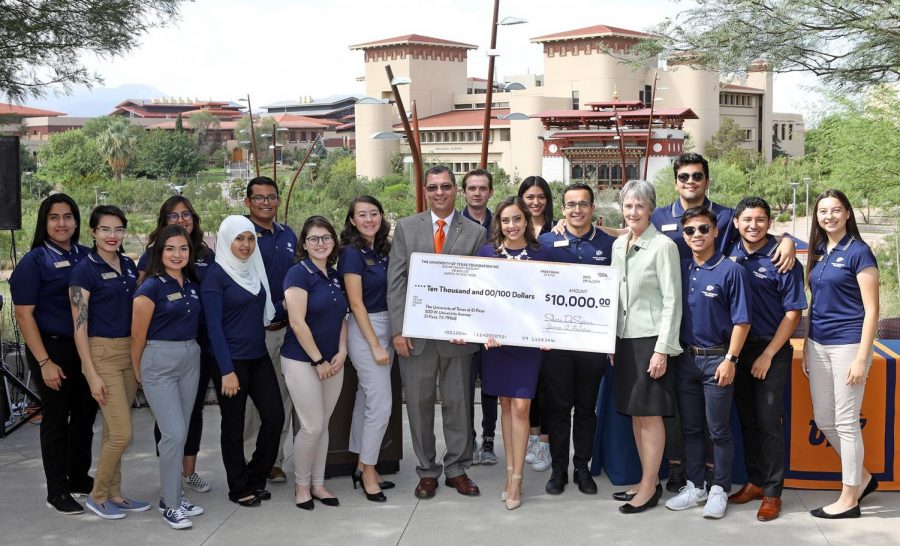 UTEP's Student Government Association hosted a press conference Monday, Sept. 16 outside the patio of the UTEP dinner theatre, where they received a $10,000 donation from the University of Texas System Board of Regents after the mass shooting that took place Aug. 3 at the Cielo Vista Walmart.  
"The intention of the board is to acknowledge the tragic events that happened here in El Paso," said Student Regent Daniel Dominguez, who was present at the Sept. 12 SGA Senate meeting where the news was first announced.  
The Board of Regents, the governing body for the University of Texas System, granted the money to SGA for them to decide on the best way to help the El Paso and UTEP community cope with the recent tragedy that left 22 dead and many more injured.  
"The board felt it was the least we could do to try to help recognize, not just the community of El Paso, but the UTEP community," Dominguez said. "There were several people from UTEP as first responders, the campus police were one of those. The board wants to recognize these efforts from the university community.' 
SGA may create a first responder appreciation event with the money. However, the event is still in its early stages of being organized.  
SGA also plans to donate the remaining funds to the El Paso Community Foundation and other local organizations. 
"If you see any (police) around, thank them for their work," said Jessica Martinez, SGA president. "They don't get told that a lot." 
Anahy Diaz may be reached at [email protected] 
About the Contributor
Anahy Diaz,
Anahy Diaz is a bilingual, Multimedia Journalism and Political Science student at the University of Texas at El Paso. She contributes to the university's...