Lana Del Rey's new album portrays powerful paradoxes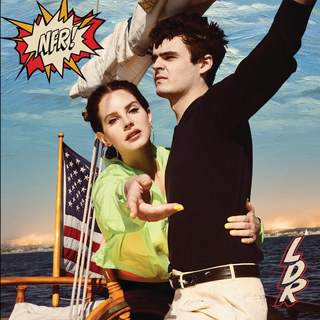 Bryan Mena, Entertainment Editor
September 10, 2019
A "dangerous hope" and a "man child" are only two of the many powerful paradoxical themes seen in Lana Del Rey's sixth studio album, "Norman Fucking Rockwell!" (NFR!), released Aug. 30.  
Del Rey and American producer Jack Antonoff co–wrote the album with additional contributions from Zach Dawes, Andrew Watt and Rick Nowels. 
Stylistically, NFR! features elements of soft-rock and folk-rock, simple piano chords, and silky vocals. Del Rey's new album radiates an all-too-familiar vintage aura that makes it blend in with the rest of her discography. 
The album marries profanity-laced love songs like "Fuck it, I love you" with tender lullabies like "Happiness is a butterfly" to put together this trove of anthems for the hopeless romantic next door. NFR! symbolizes rose-tinted shades meant for gazing at the pain that comes with romance. 
The title track "Norman Fucking Rockwell" refers to the 20th century painter, Norman Percevel Rockwell, who was known for his portrayal of American idealistic culture through his artwork.  
The American aesthetic has typically been a recurring theme throughout Del Rey's artistic career as demonstrated in her music videos like "Ride" and songs like "Looking For America." Del Rey has taken ownership of this culture, so her embrace of Rockwell makes sense. However, it has a deeper purpose than to just flaunt her signature aesthetic. 
"If we look back into U.S. history, generally Norman Rockwell's artwork was known for capturing good ol' fashioned American ideals and every day American life," said Elizabeth Martinez, a UTEP mechanical engineering student. "However, the whole album depicts Lana's catalyst that things aren't always great as they seem in a pretty picture." 
The lyrics for the title track begin by positively describing Del Rey's hypothetical partner as someone "wild" and "fun," but the romantic pain kicks in with "Your poetry's bad and you blame the news / But I can't change that, and I can't change your mood, ah." 
This agony over a seemingly inconsolable lover has been expressed in previous songs like "Shades of Blue" where Del Rey wrote "But I can't fix him, can't make him better / And I can't do nothing about his strange weather."  
It is a heartbreaking sentiment that she commonly expresses in her music, presumably why Forge Media refers to Del Rey as a "sadcore superstar." 
Behind Del Rey's serenades of picture-perfect American cities like Hollywood and Brooklyn, are haunting reminders of "how empty these places can be," according to Apple Music – another paradoxical theme using her beloved America as reference. 
In NFR!, Del Rey pays homage to Venice Beach in Los Angeles with "Venice Bitch." The commentary the song makes is that America completes itself with its differences, like an imperfect "American-made" couple who complement each other.  
This can take on several different interpretations: How the political chaos of the country is remedied by its vibrant and diverse cultural scene or how America's vain obsession with fame and living fast-paced is remedied by living in the moment where "you just crack another beer", like mentioned in the album's eighth song "How to Disappear." 
Either way, Del Rey's new album attempts to redefine the American stereotype portrayed by the visual art of Rockwell. Rockwell illustrates what America ought to be, while Del Rey sings what America really is.