Miners' offense struggles versus Red Raiders in 38-3 loss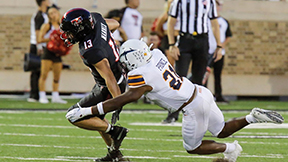 UTEP Miners struggled all night on offense versus Texas Tech Red Raiders, scoring only three points while managing 131 yards with just 54 of those in the passing game.  
Averaging just mor than two yards per offensive play, the Miners only score was a 45-yard field goal by sophomore Gavin Baechle with roughly five minutes left in the game. 
The Miner rushing attack, which produced 288 yards on the ground against Houston Baptist, could only muster 77 yards on 38 carries versus the Red Raiders. 
In the passing game, the Miners had their lowest output since the 2017 matchup versus Middle Tennessee State where they passed for 48 yards.  
Overall, the 131 yards total offense were the fewest number of yards for the Miner offense since a 2009 matchup with University of Texas at Austin, in which they gained only 84 yards of total offense.  
UTEP Head Coach Dana Dimel said the team never got into a rhythm throughout the game, but he was pleased that they avoided any serious injuries. 
Both senior UTEP quarterbacks played and neither had much success in the passing game. Brandon Jones was four of 12 passing for 21 yards and recently re–instated Kai Locksley was three for seven for 33 yards. Locksley added 21 yards on the ground and had a 25-yard completion negated by a holding penalty in the fourth quarter. 
"We have two quarterbacks that can play and two quarterbacks that bring something different to the game," Dimel said.  
Even though the score did not reflect it, the Miner defense acquitted itself with a solid effort, limiting the Red Raiders to 426 yards of total offense. The Red Raiders tallied 691 yards of total offense the previous week versus Montana State. Last season, Texas Tech averaged 485 yards a game.  
The secondary made some critical plays in the game that kept the score from being much worse. Junior Josh Caldwell and sophomore Justin Prince were standouts for the Miners with 17 combined tackles. Also, Caldwell broke up up two passes. 
"If we play defense like we did tonight we will have a good season," Dimel said to UTEP Athletic's Director of Broadcast Jon Teicher on KROD's "Voice of the Miners" after the game.  
Offensively, the Miners only broke into Red Raider territory twice all night resulting in two field-goal attempts with the team converting only one of those.  
Penalties were once again a problem for UTEP with nine for 70 yards after having 75 yards of penalties the previous week versus Houston Baptist. 
Miners fall to 1-1 on the year with the loss to Texas Tech. 
The Miners will take on the Nevada Wolfpack (1-1) – who lost 77-6 to the Oregon Ducks this weekend – at 6 p.m. Sept.21 at the Sun Bowl in El Paso. 
Michael Cuviello may be reached at [email protected].