Miners volleyball take two out of three matches in I-10 Challenge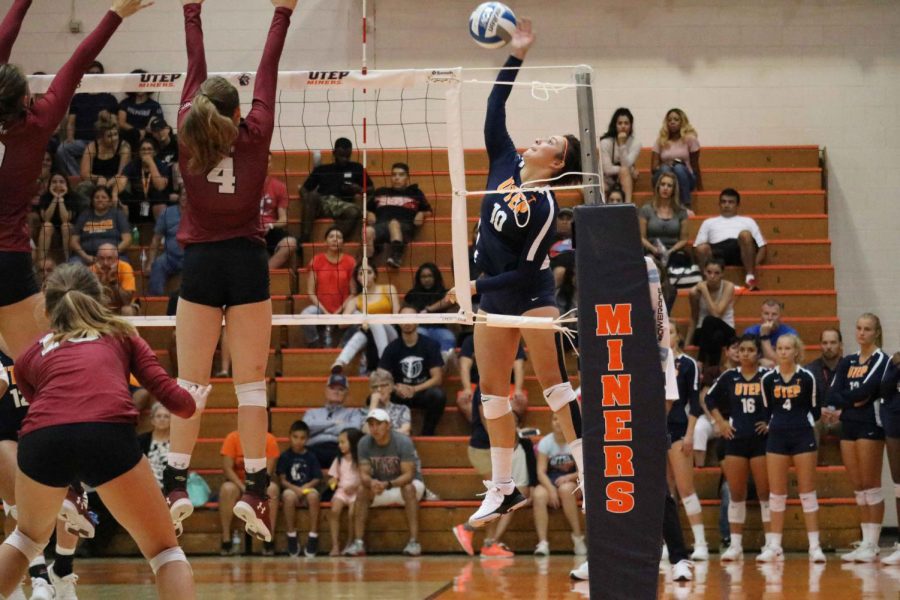 The UTEP Miners opened their season in the I-10 challenge with their best performance to start the season since 2011, winning two games in their opening weekend.
In the first matchup of the weekend on Friday night the Miners lost in three straight sets to Tulane (25-11, 25-18, 25-18). A 16-2 run in the first set completely closed the door on the Miners in the opening set as they lost handily to the Green Wave.
The Miners were much polished in the second match as they took on the Louisiana Ragin' Cajuns and proceeded to sweep them in three highly competitive sets (25-20, 25-21, 25-20).
Juniors Cheyenne Jones, Anamarija Mikovic and freshman Irbe Lazda all posted eight kills apiece against the Ragin' Cajuns.
In the first set both teams were tied 13 times until the Miners took the lead 20-17 before finishing out the first set with a victory.
The second set was much of the same with no team able to mount any separation until sophomore Kristen Fritsche scored an ace that took a lead of two points at 20-18 for the Miners. The Miners closed out the set winning by 4 points.
In the third set, the Miners trailed by five points early before taking the lead 19-18 en route to a five-point victory.
The final match of the weekend was played Saturday against Incarnate Word with the Miners being pushed to five sets, winning three of them. Cheyenne Jones had a career-high 24 kills and four blocks against the Cardinals.
In the second set, the Miners were dominated by Incarnate Word as they lost 25-14.
The third set had the Miners coming up short after pulling within two points, losing 25-21. Falling behind two sets to one, the Miners were dominating the fourth frame 24-17 until the Cardinals scored six unanswered points to close the gap to one point. UTEP pulled out a two- point victory to force a fifth set at 25-23.
At two sets a piece, Incarnate Word ran out of gas in the final set losing 15 points to one.
Sophomore Alex Torres had a career high 26 digs, 13 assists and four service aces to help lead the Miners to victory in the final match against Incarnate Word.
"We got solid contributions from everybody; we were relentless defensively…Everyone chipped in," Miners coach, Ben Wallis, said.
The Miners' next match will be at 10 a.m. Sept. 6 against Coppin State at home.