Conversation Series: UTEP community learns how to cope after tragedy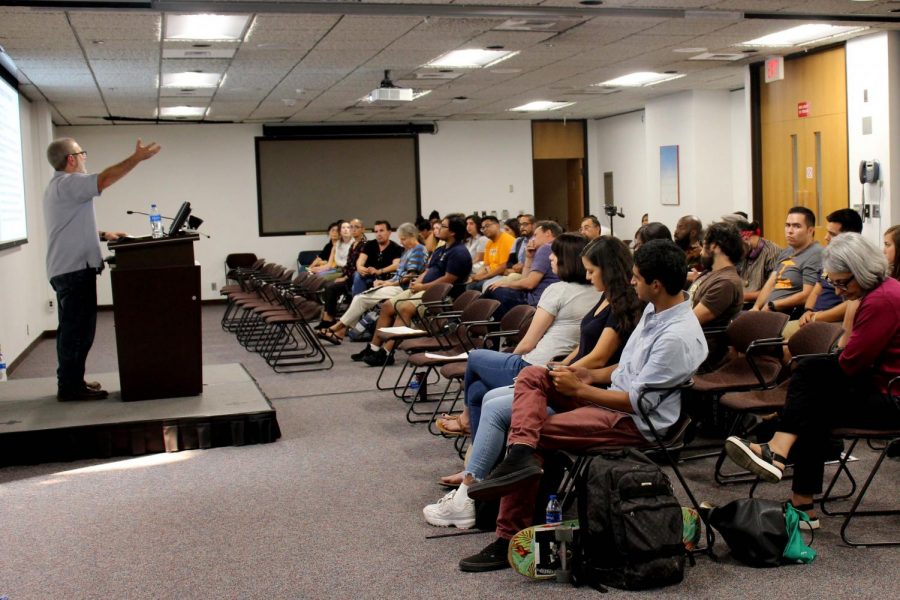 Guillermina Gina Núñez-Mchiri organized "Trauma, Resilience & Resistance," an event Aug. 27-28 in which people came together to learn about working through trauma and discuss the ways that they can help make a change in their community at the Blumberg Auditorium in UTEP's library.  
Following the mass shooting in El Paso in early August, in which 22 people died and many more were injured, UTEP students began pouring into the office of the director of the Women's and Gender Studies program, Guillermina Gina Núñez-Mchiri, asking about the university's resources to cope with the recent tragedy. 
During the summer, Núñez-Mchiri taught a class on death, dying and bereavement.  
"I've introduced readings from other cultures on how people from other parts of the world cope with grief and here we are, experiencing this in our city," Núñez-Mchiri said. "I was really stunned by that overlap, that connection I had as a professor."  
Núñez-Mchiri felt a sense of responsibility for her students and community and began contacting her colleagues and peers to look into a way to help students process their feelings in a safe and collective environment.  
From educators to organizations, Núñez-Mchiri received an overwhelming response as many began offering to help.  
The series was comprised of individuals with varying degrees of expertise educating, supporting and encouraging open discourse.  
Multiple people held a workshop in which attendees were asked to reflect and recognize the ways that white supremacy had affected their everyday lives called "Engaging Against White Supremacy in Classrooms and Communities: Having Critical Conversations".  
The workshop focused on encouraging the community to engage in crucial conversations about their experiences with discrimination based on categorization by ethnicity, gender, religion and identity.  
UTEP student Damaris, who decided not to give her last name, gave an account of her experience with discrimination after being stopped by soldiers while driving in Mexico.  
"I was asked why I was driving alone (by the soldiers)," Damaris said. She added that the soldiers followed by saying, "'Do you know what happens to women who are alone? They disappear.' The way he said it was very threatening." 
Gabriela Castañeda of the Border Network for Human Rights presented "A Positive Vision of the Border: The New Ellis Island" and talked about the organization's objectives. 
"The mission of the organization is to educate, organize and invite people to participate so that they can make changes in their community to where every single person is equal in dignity and right," Castañeda said.  
Núñez-Mchiri presented "Death and Bereavement on the U.S.-Mexico Borderlands" and discussed coping mechanisms as well as the importance of being there for each other as the city grieves.  
"Te acompaño en tu dolor," she said. "I'm with you in your pain." 
Núñez-Mchiri also added how to talk to people who have been affected by the tragic incident. 
"Do not say they are in a better place, please don't say everything happens for a reason," Núñez-Mchiri said. "Say instead, 'I am here, let me know if and when you need me, let me know if you need a meal or someone to walk with you, to watch your babies so you can sleep today … you're not alone.'"  
Pamela Johnson Angeles hosted "Dance Movement & Sensory Healing," demonstrating the properties of healing through the power of motion and expression. Students sat on tapestries and held hands to find solace in connectivity. 
"The events of August 3 were a big shock to me; it's been a lot and I think this has allowed me to view things positively and productively," UTEP student Derek Hernandez said. "It's a nice experience to be able to share your feelings with other people so you can work through those feelings. It's been healing." 
Hernandez works at Horizon High School, the same high school that Javier Amir Rodriguez, 15, one of the shooting victims, attended. Hernandez said the event has prepared him and eased his fears about not knowing how to "function and respond." 
"I'm healing, I'm learning, I'm preparing," Hernandez said.  
Núñez-Mchiri said this two-day workshop is the beginning of the community's healing process, as it will serve as an open invitation—a call to action—so that we may remain vigilant and restore safety in El Paso.   
Sasha Minjarez may be reached at [email protected] 
Related upcoming events and additional resources:    
El Paso Firme: Action Against White Supremacy (an exercise of collective compassion and solidarity.) 5 PM – 12 PM, Sep 7, Ascarate Park 
Miner Support Group Talk with Us: Coping Together, 4 PM – 5 PM, Sep 3 – Sep 6, Union West, Rm 202 
Teaching Tolerance (tolerance.org) 
Facing History and Ourselves (facinghistory.org) 
Not in Our Town (niot.org)