Miners Quarterback Rundown Day One: Brandon Jones' long journey to division one starter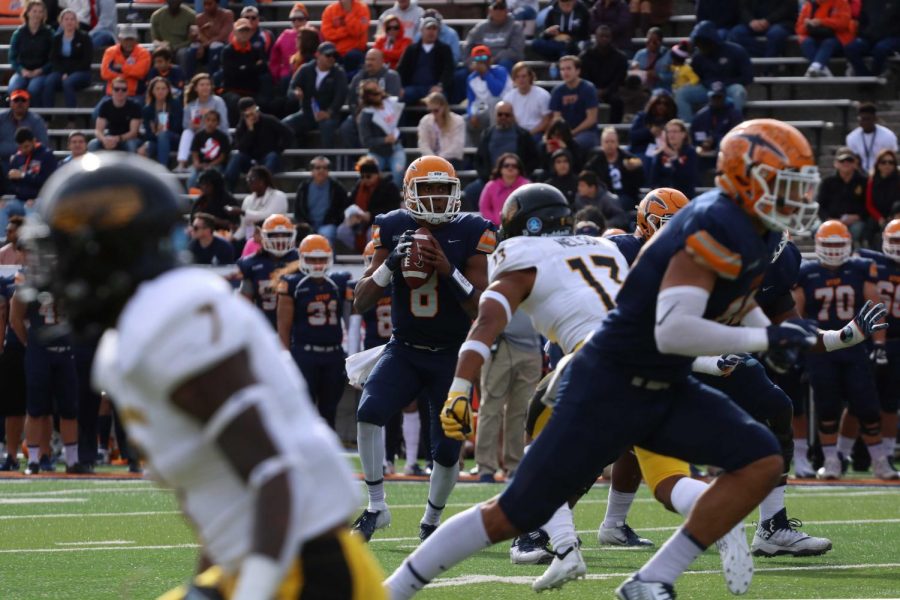 Editor's Note: This article is the first in a series of seven profiling the  UTEP's quarterback's on the roster.
The UTEP Miner football team recently added  junior college transfer quarterbacks Gavin Hardison of New Mexico Military Institute and Isiah Bravo of Cerritos College. This move now brings their total of quarterbacks on the roster to seven, including the currently suspended Kai Locksley, who is still facing charges for driving while intoxicated, possessing less than two ounces of marijuana and unlawful carrying of a weapon as well as making a "terroristic threat" 
Senior Brandon Jones is the likely starting quarterback game one against Houston Baptist  Aug. 31. Jones led the team in passing touchdowns with four which matched the previous season leader of four by former Miner Ryan Metz. Continuing the trend of four touchdown seasons would sink the Miner's offensive hope passing success this year, and put much more pressure on the running game. 
Jones is now with his fourth college since graduating from Bakersfield Christian High School in Bakersfield, California.
At Bakersfield Christian High School,  Jones threw for 54 touchdowns, and had 4,365 passing yards as a junior, and followed that up with 3,565 yards through the air  and 36 passing touchdowns in his senior season.
 Jones then started his college journey, which would include three colleges before UTEP. Ventura College was his first college football experience where he shared quarterback duties with Ty Gangi, who was ranked in the top 350 nationally by Max Preps and would later go on to play at the University of Nevada starting for two seasons.
 In his freshman season at Ventura College, Jones  threw for 1,261 yards, 11 touchdowns, and seven interceptions in nine games played. The next stop for Jones was San Diego State, which football-wise was uneventful never playing for the Aztecs.
The third pit stop for Jones was Bakersfield College for the 2017 season, where he played in 11 games as a starter and led them to a 7-4 record. Jones threw for 1,246 yards, 11 touchdowns, and three interceptions while completing 62.7 percent of his passes. 
The final stop for Jones is our Miner football team, where he impressed incoming coach Dana Dimel enough to bring him onto the team in August of last year, as an experienced backup.  Dimel had confidence that his experience would be useful with the inexperience at quarterback outside of Ryan Metz last year. 
"What he brings to the table more than anything is that for a guy who gets limited reps, he is really cerebral for what he does, very poised with what he does," Dimel said.
Last season for the Miners  Dimel's instincts turned out to be correct as both quarterbacks ahead of Jones had injury-plagued seasons, and Jones ended up playing in six games for the team. In the seventh game of the season, at the beginning of the second half, Ryan Metz was injured on a 10-yard run at the six yard line of the Louisiana Tech Bulldogs.
 Coming into his first game for the Miners in the red zone while trailing 17-7 Jones scored on his first play from scrimmage with a six-yard run. 
The rare feat of scoring in his first play ever for the Miners had Jones showing the composure that Coach Dimel had confidence in when he brought him to UTEP.
 Competing against one of the best teams in Conference USA, Jones indicated that he belonged on the field at the highest level of college football and was not out of place competing against a team that would go on to an 8-5 record and win their bowl game.  
Jones would go on to score another rushing touchdown of 1 yard as the Miners would end up losing a close game on the road at Louisiana Tech 31-24.
 Finishing the game with two rushing touchdowns while throwing for 98 yards and completing seven of 15 passes, Jones more than stood his own in a big matchup. 
The following week Jones was again called upon after an injury to a Miner starting quarterback when Kai Locksley went down in the second quarter versus the University of Alabama Birmingham down 10-0. 
Jones' first drive was far from the fairy tale beginning he had the previous week; he took over at the opponent's 38-yard line and proceeded to go three and out as the Miners were forced to punt. The Miners would go on to be shutout 19-0 as Jones would pass for 49 yards on five of nine passing and 26 yards rushing.
 The best performance of the season for Jones would be against Western Kentucky, where he completed 14 of 25 passes for 340 yards with two touchdowns and two interceptions along with 30 yards rushing. This passing performance by Jones was the most passing yards by a Miner since Jameill Showers in 2013 versus Colorado State with 365 yards.
 For the season, Jones would have 673 yards passing on 49 percent completion percentage with four touchdowns and five interceptions.
Jones enters the 2019 season as, by far, the most experienced quarterback on the roster, with Locksley suspended. The performance by Jones last season ensures that he will get the first shot to be the likely starter of week one for the Miners. The number one strength for Jones seems to be his confidence and his propensity to limit costly turnovers, not losing one fumble last season. Jones has good size and very solid arm strength but his accuracy has not been a strength. The games against Western Kentucky and Louisiana Tech showed promise for Jones that fans hope he continues to display.