UTEP news in brief: Independence Day, 'Hello Dolly!', outstanding faculty, and grants
UTEP to be closed for Independence Day
 The University of Texas at El Paso will be closed Thursday, July 4 in observance of Independence Day.
Regular hours of operation will resume Friday, July 5.
UTEP Dinner Theatre presents 'Hello Dolly!'
The University of Texas at El Paso's Dinner Theatre will present "Hello Dolly!" July 5-21.
The original production starred a succession of Broadway's greatest leading ladies including Pearl Bailey, Ethel Merman, Mary Martin and the original Dolly, Carol Channing.
The musical centers around the comic exploits of Dolly Gallagher-Levi, turn-of-the-century matchmaker and "woman who arranges things."
The show will take place at the UTEP Dinner Theatre, Union Building West, 2nd floor.
Two UTEP professors recognized as UT System Regents' Outstanding Teachers
Two faculty members from The University of Texas at El Paso (UTEP) will be recognized for their instruction in the classroom as recipients of The University of Texas System Board of Regents' Outstanding Teaching Award (ROTA), a UTEP news release said. 
 Martine Ceberio, Ph.D., associate professor of computer science, and Denise Lujan, director of developmental math are among the recognized.
 "I'm so pleased that the UT System Board of Regents has once again honored members of the UTEP faculty with this highly competitive and prestigious award," UTEP President Diana Natalicio said in the release. "This recognition of Dr. Ceberio and Ms. Lujan is a testament to both the high-quality educational opportunities available to UTEP students across disciplines, and the extraordinary work of UTEP's highly committed faculty. We are extremely proud of these two UTEP faculty members whose dedication to teaching inspires students to achieve their highest aspirations."
 The ROTA was established in 2008 to recognize faculty from the UT System's eight academic and six health institutions who deliver the highest quality of instruction in the classroom, laboratory, field and online, according to the release. 
 Each recipient is awarded $25,000 during an Aug. 14, 2019, ceremony in Austin. Since the program's inception, more than 70 UTEP faculty members have received the award.
UTEP professor earns grant to promote Latinx stories
 Humanities Texas recently awarded a $5,000 grant to Kim McKean, assistant professor of theater at The University of Texas at El Paso, to present "En La Frontera: A Latinx New Works Festival" in spring 2020 in partnership with the Chamizal National Memorial, a UTEP news release said. 
 McKean, an award-winning actor and director, is the principal investigator of this project that will celebrate local and national Latinx voices and stories.
 The festival will feature multiple free events for the public to include workshops, panel discussions, networking opportunities, and developmental staged readings of three new plays solicited exclusively for the festival. There also will be a fully staged world premiere of a play written by El Paso/Juárez native Georgina Escobar that UTEP's Department of Theatre & Dance commissioned.
 The one-year grant begins July 1, 2019.
 5 UTEP faculty members recognized for earning national credential for teaching excellenc
Five faculty members from The University of Texas at El Paso were among 22 honorees from The University of Texas System institutions who were recognized for earning a national teaching credential through a UT System initiative to support student success.
The UTEP faculty members recognized for earning the national teaching credential are Yannick Atouba, Ph.D., assistant professor of communication; Elena Izquierdo, Ph.D., associate professor of teacher education; Sabiha Khan, Ph.D., assistant professor of communication; Corrine Peschka, lecturer in developmental English; and Adeeba Abdul
Raheem, Ph.D., clinical assistant professor of civil engineering.
The Certificate in Effective College Instruction is the only nationally recognized teaching credential endorsed by the American Council on Education (ACE).
Participants continued teaching during the 25-week online course, implementing the strategies they were learning into their classes, and subsequently providing reflection and self-evaluation. The modules addressed more than 200 teaching methods aligned with the latest research in cognition and adult learning, according to the release. 
  The faculty members were recognized during a pinning ceremony in June 2019 in Dallas.
 UTEP grant targets opioid abuse in rural Texas counties
 Thenral Mangadu, M.D., Ph.D., associate professor of public health sciences at The University of Texas at El Paso, received federal funding to collaborate with a consortium of community partners on a plan for opioid use disorder (OUD) response in rural communities along the Texas-Mexico border, a UTEP news release read.  
The award is part of a $200,000 grant that Aliviane Inc. received from the Health Resources and Services Administration's (HRSA) Rural Communities Opioid Response Program to establish a multi-sector consortium focused on developing strategies for preventing and treating substance-use disorders, including opioid-use disorder, in rural communities, the release read. 
 The consortium will include Aliviane, UTEP's Minority AIDS Research Center, the Texas Department of State Health Services Office of Border Public Health, and the Center Against Sexual and Family Violence.
 Over the course of one year, the consortium will lead the efforts to conduct a regional needs assessment in Texas Health Service Region 10, which includes Hudspeth, Culberson, Presidio, Brewster and Jeff Davies counties. The consortium will develop workforce, service delivery, and sustainability plans that focus on prevention, treatment and recovery, according to the release. 
About the Writer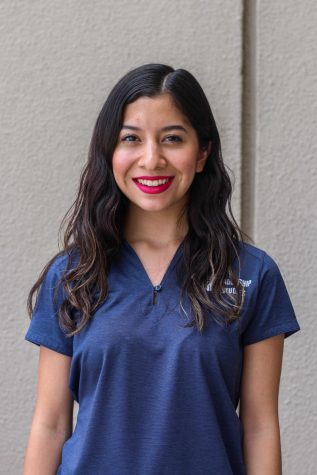 Marisol Chávez, Web Editor
Marisol Chávez is a senior majoring in multimedia journalism with a minor in legal reasoning at The University of Texas at El Paso. She is The Prospector's...