Fourth of July events going on in El Paso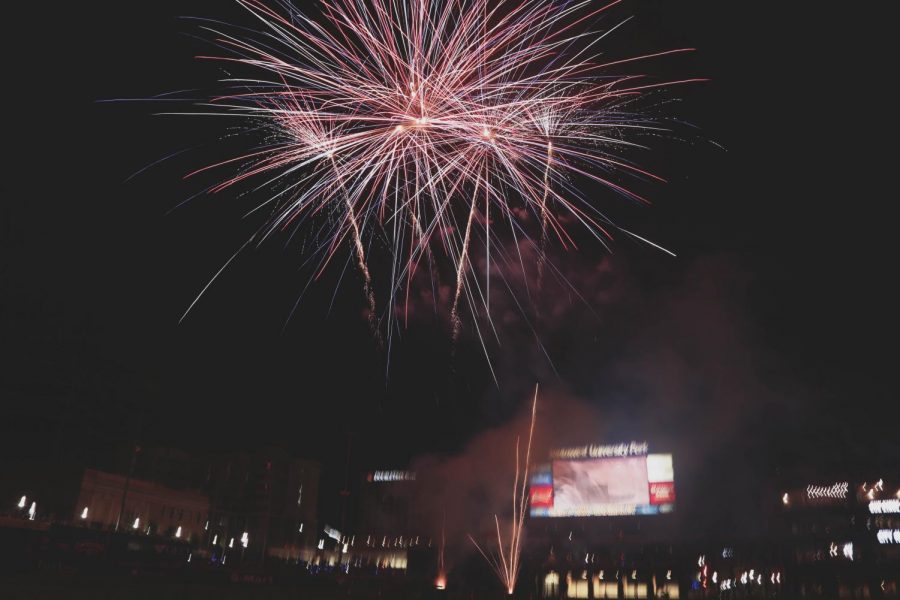 From the  illuminations of fireworks to the pride and patriotism for America's Independence Day, there is something for everyone to enjoy. There are  events happening in El Paso and surrounding areas this holiday and here's how to join the festivities in celebration of the red, white, and blue!   
9:00 p.m., July 4, 2019, Wet-N-Wild Waterworld (8804 S. Desert Blvd, Anthony, TX 79821) 
 Families can gather at Wet-N-Wild to take a heat hiatus and indulge in some grilling, park attractions and  fireworks. The event features a swim up bar, water gun fights and truck bed pools. This year promises to have Wet-N-Wild's largest fireworks show the park has hosted in 40 years.
5:30 p.m., July 4, 2019, Biggs Park (11388 Sergeant Major Blvd., Fort Bliss, TX 79908)  
"Pop goes the Fort" will be a free event open to the public to pay homage to the  soldiers serving at Fort Bliss and for our country. Biggs Park will open at 4:30 PM with a cannon salute to the union taking place at 5:30 p.m.. At 7:30 p.m.  the El Paso Symphony Orchestra, led by conductor James Welsch, along with the USO Show Troupe, will perform a concert composed of patriotic numbers followed by a firework display to bring the evening to a close.  
11:00 a.m. – 6:00 p.m., July 4, 2019, La Viña Winery (4201 S. Hwy 28 La Union, NM 88021)
The whimsy of winery grounds makes a spot for a picnic this holiday. Entry is free and visitors can revel in musical performances, cooling beverages, a  game of croquet or badminton or a glide down the water slide. 
7:00 p.m., July 4, 2019, Abundant Living Faith Center- East (1000 Valley Crest, El Paso, TX 79907)
Abundant Living's east side location will host a free outdoor event following their 7:00 p.m. worship service. The service will conclude at 8:30 p.m. after which the festivities will begin. Children can have a blast in the kid's fun zone and visitors can indulge in  cuisine from a variety of food trucks, with water baptisms on-site and a fireworks display that the faith center delivers every year to draw the evening to a close. 
9:00 a.m. – 12:00 p.m., July 4, 2019, Western Hill Methodist Church, Coronado High School (524 Thunderbird Dr., El Paso, TX 79912, Champions Pl.) 
The Rotary Club of West El Paso presents its 23rd annual Independence Day Parade "Hip Hip Hooray for the USA." The ceremonial grand marshal and executive director of the Sun Bowl, Bernie Olivas will lead the 2.6-mile star-striped affair from Thunderbird Dr. to where Champions Pl. meets Cloudview Dr.    
9:45 a.m., July 4, 2019, Tom Lea Park (900 Rim Rd., El Paso, TX 79902)
The 18th annual Rim Area Neighborhood Parade startss at 9:45 a.m. on Brown St. and Rim Rd., where participation is encouraged. The march will culminate in a neighborhood celebration at the parkand prizes for best patriotic costume will be awarded!
9:00 a.m. – 12:00 p.m., July 4, 2019, Hanks High School, Album Park (2001 Lee Trevino, Dr. El Paso, Texas 79936, 3110 Parkwood St., El Paso Texas, 79925)
Sponsored by the El Paso Del Norte Lion's Club, the 42nd annual Independence Day People's Parade will kick off  at Hanks High School and advance over to Album Park. 
12:00 p.m. – 10:00 p.m., July 4, 2019, Ascarate Park (6900 Delta Dr., El Paso, TX 79905)
Food trucks and live performances will fill Ascarate Park with sights, scents and sounds this holiday, while a fireworks display is set to illuminate the lake. The event is free, however there will be a $5 parking fee. . 
4:00 p.m., July 4, 2019, Cougar Park (10664 Socorro Rd., Socorro, TX 79927)
The Independence Day Extravaganza is a free event that will feature an array of activities to include games, giveaways, rides, food, refreshments and live entertainment.  
6:00 p.m. – 10:00 p.m., July 4, 2019, Ardovino's Desert Crossing (Ardovino's Dr., Sunland Park, NM 88063)  
Diners can treat themselves to an  all-you-can-eat barbecue buffet accompanied by the eclectic sounds of Bosse Band, performing live under a landscape of the surrounding fireworks painting the night sky. (Reservations recommended (575) 589-0653; vegetarian options also available.) 
8:00 a.m., 11:00 a.m. July 4, 2019, Hueco Tanks State Park and Historic Site (6900, Hueco Tanks Road NO. 1, El Paso, TX 79938)
Relish in the beauty of nature this fourth of July with the Hueco Tank's Star-Spangled Hike. The hike allows for the option of a moderately paced hike or a more rudimentary ground-level hike that's fun for the whole family. Entree fee for children between the ages of 2 and 12 is $2 and for ages 13 and over is  $9. Texas State Park Pass holders can benefit from the fees. Reservation required, call at (915) 857-1135. 
7:00 a.m., July 4, 2019, Rudolph Shopping Plaza (3233 N. Mesa El Paso, TX 79902)
The 13th annual Up and Running fourth of July 5k run will start at the Rudolph Shopping Plaza. Registration fees are $20, beginning July 3rd. late fees will be $25 with proceeds going to benefit the Run El Paso Club. All runners will be given patriotic t-shirts.