Chihuahuas look to cure home woes versus River Cats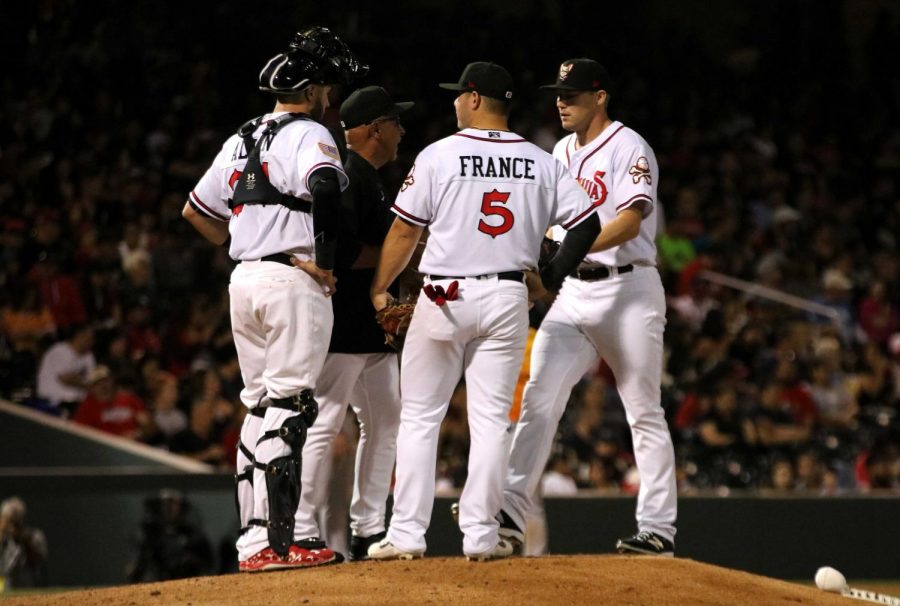 The El Paso Chihuahuas have the second-best record in the Pacific Coast League at 47-29 but surprisingly have been much better on the road than at home. They stand two games above .500 in Southwest University Stadium while 28-12 away from their home confines. The team looks to bounce back from tonight's 7-4 loss to Tacoma.
Starting tomorrow, the Chihuahuas will welcome the Sacramento River Cats and their 39-37 record. The River Cats have been very good on the road with a 22-14 record, but in their previous series with El Paso, they lost three of four games.  Sacramento has lost six of their last ten games.
The River Cats are seventh in the PCL in batting average at .277. Center fielder Mike Gerber leads the team in average, hitting .321 with 15 homers and 43 runs batted in. Left fielder Austin Slater is batting .300 with 12 home runs and 38 runs batted in. Sacramento seems to lead the PCL in name recognition with the grandson of the Hall of Famer Carl Yastrzemski, Mike Yastrzemski, and son of five-time, all-star Tony Pena, Francisco Pena both playing significant roles for the team.
On the pitching side, the River Cats are fourth in the league in ERA with 4.64 runs per game. Overall, they currently have no starting pitchers that have an ERA below 5.34 that have been with the team all season. Recent call up from Richmond Conner Menez has shown promise in three starts with a 3.31 ERA in three starts with no decisions after pitching very well at their AA club with a 2.72 ERA with a 3-3 record. 
Leading the PCL in homers by 33 over the next closest team the Chihuahuas have 166 home runs and are on pace to break the PCL record of 231 set by the Omaha Golden Spikes in 1999.  The Sacramento Solons in 1974 hit 304 home runs, but their left field was less than the 250 feet baseball MLB standard. At a .291 batting average, the Chihuahuas rank second in the league in that category. With eight batters with double-digit home runs, El Paso has wreaked havoc on opposing pitchers. The current home run leader for the team is 2014 second round pick center fielder Michael Gettys with 19. Ty France who has split half of his season with the Padres and the Chihuahuas has 17 home runs in only 34 games with the team while batting .382 with 48 runs batted in. In the last two games, France has two homers and six RBIs wielding the most potent bat in the PCL.
Overall, Chihuahuas are fifth in earned run average at 4.96 runs per game given up with none of their starters that have played a significant role having an ERA below 5.00 and losing two of their better pitchers to the parent club. Dietrich Enns with a 7-5 record and 5.88 ERA has teams batting .280 against him leads the team in victories. El Paso relies on their offense and relief pitching much more than their mediocre at best starting pitching.
Currently sitting at a five-and-a-half-game lead, the Chihuahuas start a four-game home series versus Sacramento tomorrow at 7:30 at Southwest University Park.