Vania Castillo strides into the future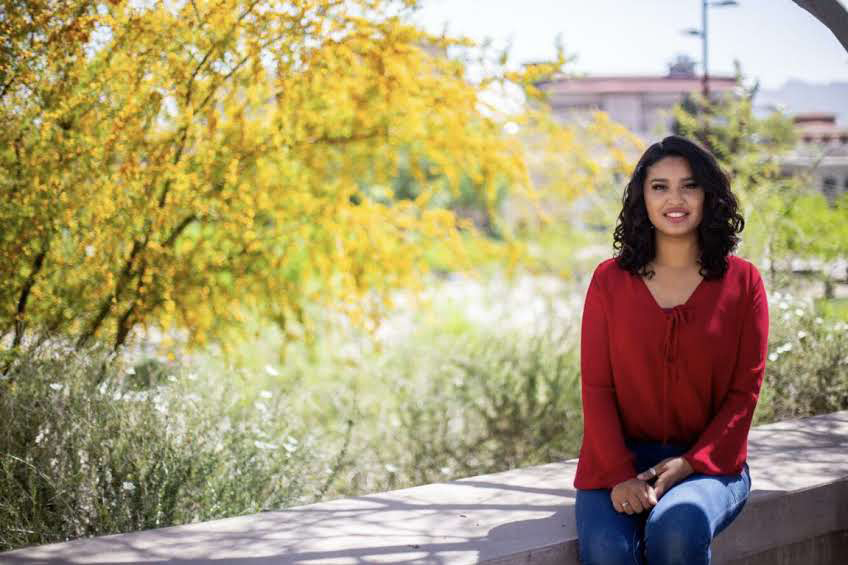 UTEP student Vania Castillo begins to blur the line between her college career and her future as a journalist as she takes part in the VICE Fellowship for Collegiate Reporting. The fellowship was created in early January of the present year.
After VICE asked journalism students to pitch story ideas about mental health, Castillo submitted a story idea about the mental health of undocumented activists.
"Activists, as it is, already struggle with a lot of problems with mental health because of lack of care and just the stress that they're under," Castillo said. "But adding on to that, the fact that these activists are undocumented, just adds a whole other level of stress."
Castillo and three other students were selected for the fellowship's inaugural semester. Four hundred pitches were sent from more than 200 universities across the U.S., according to a public service announcement by VICE.
As Castillo learns about the way that undocumented activists balance their work with their own private lives and the toll that this takes on their mental health, she will be mentored by VICE editor Ankita Rao in order to publish her story by the end of May.
Former SGA senator at large, film director and actor within UTEP's theatre department, intern at both KVIA and KTSM, in which she later got hired to work in production, editing and reporting, Castillo sought out after challenges throughout her college career.
The thing that kept her going was her passion for storytelling.
"I was just really interested in telling people's stories, especially here in the border," Castillo said. "I think there's a very unique perspective on the world and just people in general…I don't know, I just really like going out and meeting different people and hearing what they have to say."
Castillo believes that opening herself and others to different stories can help her grow as a person and, in turn, as a journalist.
As a double major in digital media production and multimedia journalism, Castillo's dream is to combine her love for the two in order to create documentaries that will expose people to a world that is different from their own.
Being an El Paso local, Castillo is set on working on stories revolving around immigration, but is also interested in looking into other marginalized communities.
"I feel like it's important to give a voice to these kinds of people," Castillo said. "Especially living here in El Paso we see a very unique city with people from all different types of economic backgrounds…I think we're lucky in that sense that we get to see all of this."
As she becomes a first-generation college graduate, Castillo recognizes UTEP and its staff having a significant role in the opportunities that she has taken advantage of and the position in which she finds herself today.
"I don't know where I would be without UTEP," Castillo said.
Kim McKean, an assistant professor at the department of theatre and dance, and Ramón Villa, a lecturer at the department of communication, are two particular professors who helped guide her.
"I think (Ramón Villa) really opened my eyes to filmmaking and just putting yourself out there," Castillo said. "Kim McKean has taught me to just observe the world and just to see the human interactions that we have. I would have never thought that theatre would impact the way I do journalism … I'm very thankful to her for that."
Villa, who teaches video production and media scriptwriting courses at UTEP, recalls the times in which Castillo was a student in his classes.
"(Vania Castillo) always had a good intuition about how storytelling works," Villa said. "She wasn't afraid to get into some story elements that were challenging. That's something I found in Vania … she was always willing to challenge herself in what she was going to do."
Her work is also influenced by the electives that she was able to take through the years, such as the Chicano Studies courses that helped her learn about her background which she never learned about in the average history class or book.
As her time at UTEP as an undergraduate student comes to an end, just like almost every other soon-to-graduate student, Castillo is scared and excited for what the future holds.
"I'm terrified. I'm terrified," Castillo said with a growing smile. "Leaving here is definitely going to be very bittersweet. I'll definitely miss the university, but I think that I have definitely gained so many skills here."