Graduate to end season with tourney success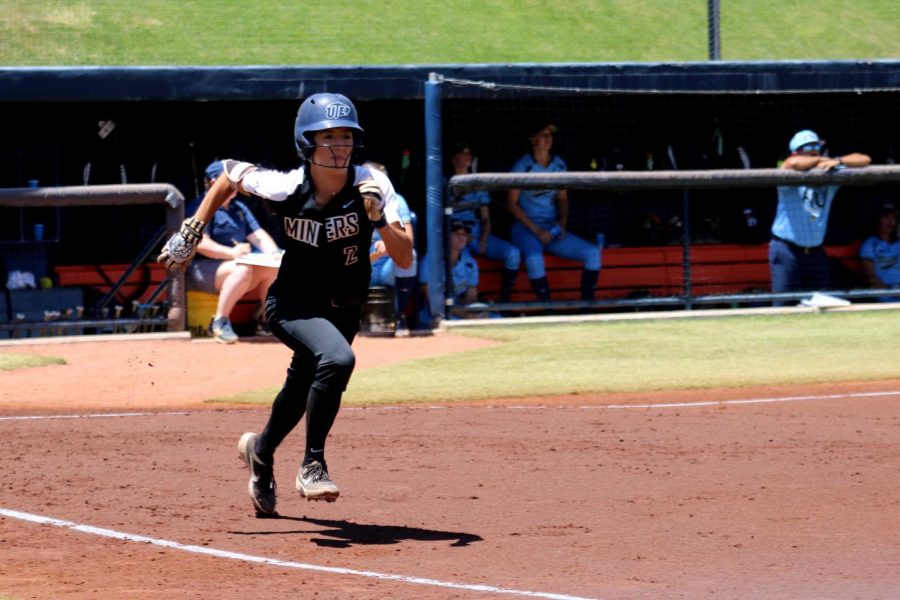 El Paso's own Ariel Blair, a graduating senior center fielder for the UTEP softball team, looks to close out her collegiate career with a second trip to the Conference-USA softball tournament. The Miners clinched the seventh seed in the conference tournament, winning two out of three games versus Florida International University this past weekend. Blair did her part with her first career triple, and the first run batted in this season in the  Sunday matchup against the Panthers. 
The Hanks High School graduate has been a four-year starter for the Miners primarily in center field. At Hanks, she compiled a .510 career batting average and as a senior was named the El Paso Times All-City First Team. As a senior, Blair ranked third nationally in stolen bases with 39, and second statewide with 65 runs scored. The quick-footed Blair was ranked  94th ranked prospect in the state of Texas by MaxPreps, one of the top sources for High School athletics.
During her career at UTEP,  Blair has contributed with excellent defense and is a significant factor on the diamond. Overall, Blair has 23 stolen bases in her career and has stolen 16 out of 17 bases in the past two seasons. Her 10 total stolen bases in 2018 tie for sixth all-time in Miner history for a season. For her career, Blair has 92 hits and 70 runs, to go along with 175 putouts in the field.
Blair said she overcame much adversity to be able to play. She started playing softball at age six and made the varsity team as a freshman. As a sophomore at age 14, Blair came down with a throat infection that turned out to be much worse, with numbness of her hands and feet.
She became paralyzed in her limbs from the elbow and knees down and diagnosed with Guillain-Barre Syndrome (GBS). GBS is a rare neurological disorder which causes the body's immune system to attack part of the body's nerve system, which can result in weakness to paralysis.
Blair recovered from this rare illness and became one of El Paso's best softball players and translated that into an athletic scholarship at her hometown university.
When asked about her decision last year about attending UTEP to The Prospector, Blair said "This is probably one of my best decisions I have ever made. I love being able to wear UTEP across my chest every game and support my hometown."
Blair comes from a family of athletes. Her father, Jason Blair, was a tight end for UTEP from 1993 to 1996 and had 43 receptions for 503 yards along with two touchdowns during his career.
Blair's father was recently named the head coach of the football program at Hanks High School after two seasons as the offensive coordinator, replacing former UTEP assistant Aaron Price. Her sister, Alyesse, is currently on the softball team for Hanks and her mother, Rachel Blair, ran cross country at UTEP and coached at Hanks for five years.
An excellent student, Blair has been named to Conference-USA Commissioner's Honor Roll every season she has been at UTEP. Student-athletes named to the Commissioner's Honor Roll must maintain a 3.0 cumulative grade point average or better.  Blair will complete her bachelor's degree in Health Promotion.
Blair looks to extend her college playing days as far into the postseason as possible. The Miners (17-32, 10-14)  will open versus defending conference champion and sixth seed Middle Tennessee State (27-26, 11-13) in a single elimination game at 2:30 p.m. May 8 in Birmingham, Alabama. All four first-round matchups will be streamed on ESPN +.