Kirsten Prelle gives hope for UTEP Tennis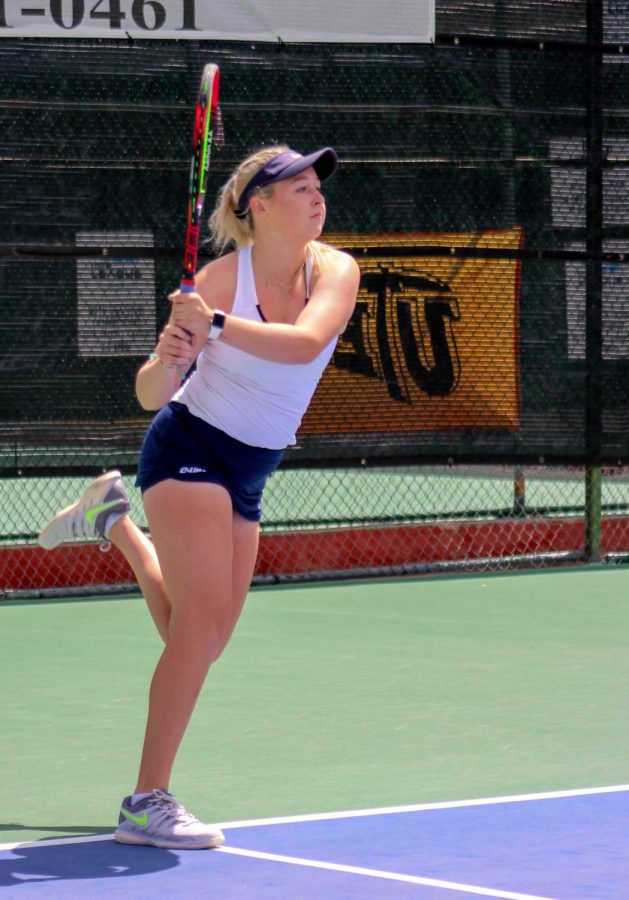 Freshman Kirsten Prelle from Edmonton, Alberta, Canada finished her outstanding freshman season with UTEP's only victory in their opening round loss to Florida International at the Conference USA Championship Tournament last weekend. Prelle lost her first No. 1 doubles match teamed with junior Vanessa Valdez this season in the tournament.
Prelle ended the season with a five-match single win streak in which she only lost one set. This week's match also ended Prelle's six-match win streak in doubles.
Right after being eliminated from the conference tournament, UTEP tennis coach Ivan Fernandez said about Prelle, "I'm super proud of her. She had a great season."
Prelle tied for the lead in No. 1 victories with 12 for the regular season in the conference, and ended the season at 22-8 (13-5 dual meet) overall in singles play and 16-8 in doubles play. Prelle displayed a bright future for UTEP tennis and became part of a young core that should lead to better conference results shortly.
Prelle, based on her record and performance as the No. 1 for UTEP, should make the All-Conference first team and All-Freshman team. Prelle did not crack the rankings of the top 125 ITA which would instantly qualify her for the NCAA singles tournament. Currently, Conference USA has four players ranked high enough to qualify this season. Prelle seems poised to breakout and may be the best tennis prospect since Vivienne Kulicke transferred from Stephen F. Austin State University in 2016.
Kulicke was the only conference newcomer of the year and the only All-Conference USA first team tennis player in Miner history. Kulicke was ranked in the top 125 from Feb. 23 to April 19 in 2016, peaking at 107. Unfortunately, at the end of the season, she did not rank high enough to make the NCAA singles tournament. Kulicke transferred to Southern Methodist University and had to sit out the 2018-2019 season and is currently ranked 118 nationally with a 25-8 record.
In 2005, Prelle's older sister Madison participated at a one-week tennis camp which led Prelle to soon follow in her sister's new passion. When asked by Aurora Banner, a Canadian newspaper who featured Prelle at age nine as their athlete of the week, Prelle stated, "I like tennis because it's not a team sport; it's individual … If you lose, you can talk to yourself because it's kind of your fault."
Prelle went on to win 11 provincial Championship Titles and was a member of Team Alberta for the 2017 Canada Summer Games. Prelle won the 2016 Canadian National Junior Doubles Championship. In her downtime from competing and practicing, Prelle also coaches tennis to juniors and adults in her community, which she has done since her early teens. One of Prelle's most significant factors in choosing UTEP was the weather, which is conducive to playing outdoor tennis all year. Prelle also felt that UTEP would give her a strong academic support.
"UTEP has tremendous support for their student-athletes and I know I will thrive here," Prelle said when she signed with the Miners.
Prelle led the team as a freshman and as their best singles and doubles player on a team that featured two other promising freshmen Rine Nozaki (8-18) and Kathleen Percecoga (5-12). After a year in the system and facing Division 1 competition, Prelle, as well as her young teammates, should only improve and make the Miners a contender in the conference.