UTEP Dinner Theatre set to present Tony Award winning musical 'Mamma Mia'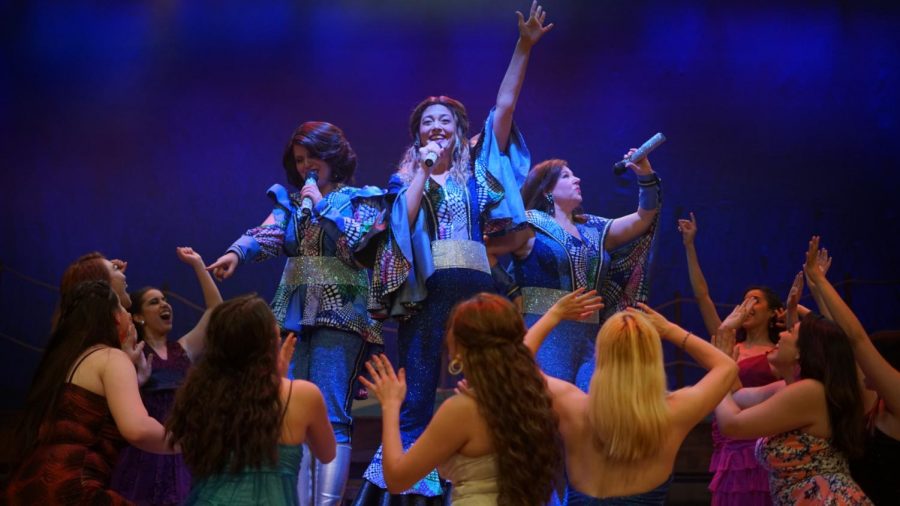 Brianna Chavez, Copy Editor
April 18, 2019
Get ready to dance and jive with Donna and the Dynamos and feel like a "Dancing Queen," during the UTEP Dinner Theatre's production of the popular Broadway musical, "Mamma Mia!"
The Dinner Theatre will present the Tony Award-winning musical April 19 through May 19.
Director of the UTEP Dinner Theatre, Gregory Taylor, told The Prospector this is the first time the show has run at the Dinner Theatre.
"I have been dying to do the show for 20 years, so we scheduled it the minute the rights were released," Taylor said.
"Mamma Mia!" tells the story of a young woman named Sophie, played by Nichole Hardgrove, as she gets ready for her wedding day on a quaint little island in Greece.
Just before her wedding, Sophie sends invitations to three men from her mother Donna's past, Harry (Freddie Nevarez), Bill (Eric DuMond) and Sam (Jaime Barba) without Donna (Megan McQueen) knowing, in hopes that one of them is her father and can walk her down the aisle. 
Through the songs of the 80s Swedish pop group ABBA, "Mamma Mia" tells a story full of love, friendship, and laughter.
"There are a lot of ABBA and "Mamma Mia!" fans out there and so many of our regular patrons, including (myself), have been dying for us to do the show for many years, so anticipation was high," Taylor said.
It's not a rare occurrence for the Dinner Theatre to extend the amount of performances for a specific production, but the Dinner Theatre has already extended the show twice since tickets have gone on sale.
Taylor said that the popularity of the musical created a spike in ticket sales early. He said that tickets are selling fast and while it is nice to have more people enjoy the show, adding any additional performances would be difficult.
"The main pressure an extended run of a show brings is on the performers and crew who have to really work hard at staying healthy and getting rest whenever they can in order to have the stamina to perform the show 23 times for a full month," Taylor said.
"Luckily, everyone who does theatre does it because they love it and it makes it so much more enjoyable when you know your hard work is appreciated by enthusiastic audiences who come out in large numbers to support your art," he added.  
Hardgrove, who is a senior majoring in theatre performance with a concentration in musical theatre, said playing the role of Sophie is an incredible experience.
"It's really an incredible role that's also very complex, we get to go along with Sophie as she's at her highest of highs and lowest of lows, it's really something," Hardgrove said.
Hardgrove has been apart of nine Dinner Theatre productions and said the cast for "Mamma Mia!" is the biggest cast she has been a part of. 
"It's so much fun. Everyone is so excited and ready to work to put on a great show. I also think that this is one of the biggest, most popular shows I've done," Hardgrove said.
"Everyone knows and loves ABBA so there's a certain responsibility in maintaining the songs everyone loves and knows so well."
The UTEP Dinner Theatre experience would not be complete without a delicious meal. Guests can enjoy Chicken Wellington with velouté sauce paired with Pasta Roma and a garden salad with house dressing. Of course, dinner would not be complete without dessert. After dinner, guests will be served apple crisp a'la mode.
Taylor said whether you attend a regular or a matinee performance, attendees are in for a great evening full of entertainment.
"(Mamma Mia!) is a really well written, funny, and touching play filled with songs that will have you tapping along to the beat while you are wishing you could be up on stage busting out your own version of 'Dancing Queen,'" Taylor said.
Tickets for the UTEP Dinner Theatre's production of "Mamma Mia" are still on sale at Ticketmaster locations and online.
Opening night is Friday, April 19 at 7 p.m.
For information about "Mamma Mia!" performance dates and times, ticket prices and the rest of the Dinner Theatre's season visit the UTEP Dinner Theatre website.