UTEP football concludes spring practices, strives to improve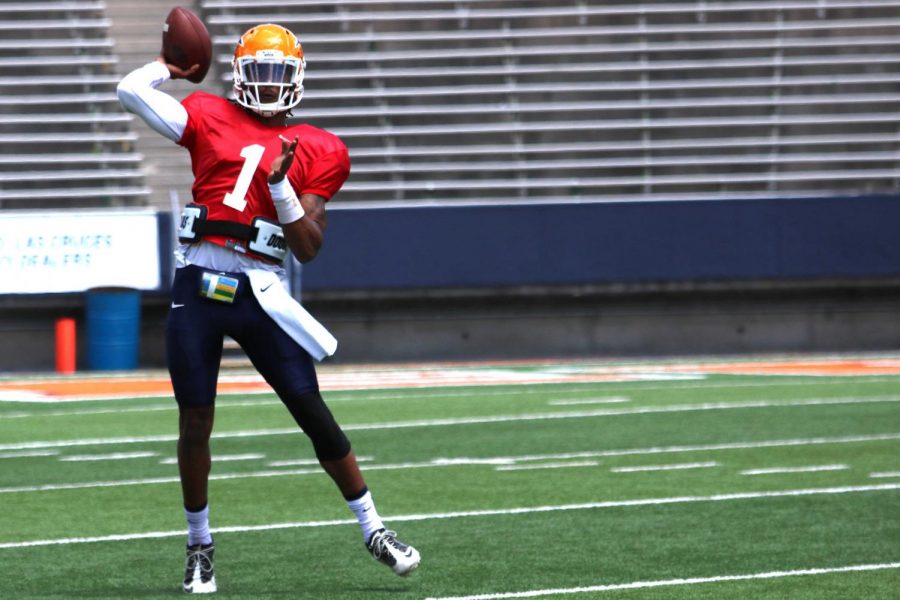 In front of approximately 550 UTEP fans, Coach Dana Dimel and staff put the upcoming season's team on display for the loyal fans. The annual orange-blue spring game is now a thing of the past replaced with what is just the last practice of the year to celebrate spring preparation.
The key to spring is getting players familiarized with the playbook, honing their skills and staying injury free. With few exceptions, they accomplished this goal. Much of this can be attributed to no tackling for the whole spring practice as a concerted effort to reduce injuries.
Injury wise, the team did lose starting running back senior Quadraiz Wadley about halfway through the spring practice to an ankle injury and were down to their fourth-string center.
Junior Josh Fields took the bulk of the carries as the starting back – along with senior Treyvon Hughes playing the role of the power back. Fields, who looked comfortable in the offense, was making nice cuts on the field and should be in a three-way battle for the starting job with Wadly and incoming freshman Deion Hankins.
Senior Kai Locksley entered the spring as the unquestioned starting quarterback and put forth the effort to lead the team and learn the offense. Locksley was not a fan of the tackle-free practice, but he understood the reasoning and said he would have preferred a harder-hitting spring. However, he got the point and understood the logic of the coaches. Locksley, when asked about his recovery from his previous injury said, "This spring is all about gaining confidence in my cutting and I felt good in moving around."
The defensive line stood out versus the second-string offense and will be a strength of the team led by all-conference honorable mention senior Chris Richardson. Richardson continually exerted pressure wherever he was lined up along with fellow senior and defensive lineman Derek Chukwueklu and both should be in the running for all-conference this upcoming season.
The secondary, which was struck by graduation, seems to have found some excellent answers going the transfer route. Junior transfer cornerback Josh Caldwell had a positive practice showing solid coverage skills and an ability to fight for the ball as he has done throughout the spring. Earlier in spring, he had dropped a few sure interceptions in practice but focused on getting better.
"I just want to take my next stage in development and be a competitor on every play," Caldwell said.
Coach Dimel announced the team captains for the year based on teammate vote. Captains on offense are Locksley and fellow quarterback senior Brandon Jones. Offensive lineman Derron Gatewood and Wadley. The defensive captains are defensive back Justin Rogers and Michael Lewis as well as defensive end Richardson. Mitchell Crawford and Keynan Foster are team captains for special teams.
"I told the coaches that was something I wanted to work on, to take on that responsibility," Locksley said.
Dimel said the practice, rather than the annual spring game, is good for fans. 
"For people who really like football, this is better. They get to see all aspects of a practice," he said.
Dimel said dilution of players in a game is an issue for the spring and commented that Locksley seemed much further ahead than a year ago. When asked about promising redshirt sophomore transfer tight end Luke Laufenburg, Dimel only stated that his status was not good and would comment no further. Laufenburg has not been present for spring practice and is a cancer survivor who is currently back with his family.
UTEP will now focus on conditioning until fall practices start up. Their first game of the season will be against Houston Baptist on Aug. 31 in a battle of one-win teams.