UTEP women's golf tees off in Florida for the Conference-USA Championship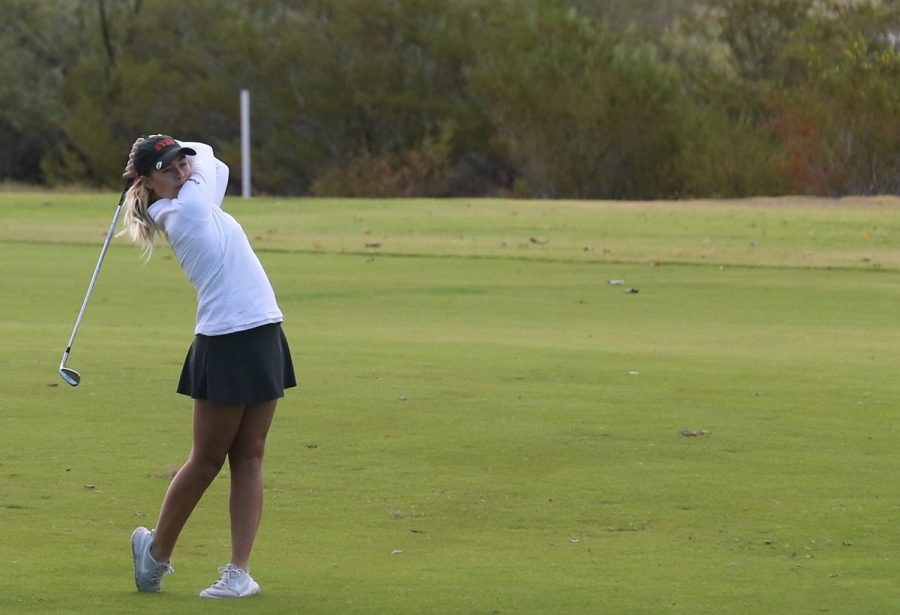 The UTEP women's golf team is looking to build on their momentum from a first-place finish last week at the Wyoming Cowgirl Classic, as they get set to tee off for the Conference USA Championship April 15-17 in Fort Myers, Florida.
UTEP looks to close out one of its greatest campaigns in program history, where the Miners have won a total of four tournaments, including three straight in the fall.
UTEP women's golf Coach Jere Pelletier likes the level at which his team is performing. Pelletier said his team had a slow start to the spring season, but with the win in the final tournament before conference, he feels that his team is back to where it was at during the fall season by taking advantage of course management.
"We just got away from some of the things we've been doing well, such as our course management and decision making," Pelletier said. "We've been stressing that for the whole year. We got away from it. Kind of the last tournament of the fall, and then the first three here in the spring. But talking about it and working at it in practice, we finally got back to what I felt (was) better course management and decision making."
For the last and final tournament, UTEP enters ranked seventh in the league (No. 100 nationally by Golfstat). The highest-ranked teams in the field are No. 40 Old Dominion, No. 57 Charlotte and No. 60 UTSA.
"There's six teams ahead of us that are ranked better than us," Pelletier said. "But golf is if you get hot at the right time. Anybody can beat anybody. So I think we're in good shape. Right now, we're playing well and making good decisions. So I think we'll be really competitive here at the championship."
Lone senior Lily Downs has been what Pelletier describes as a "rock" for his team for the past four years. Downs looks to close out her Miner career on a high note.
"She's worked hard, just keeps improving every year and hopefully she can win this conference championship this year," Pelletier said.
Sophomore Valeria Mendizabal, has stepped up her play recently. In the last two tournaments, she has gradually improved on the green. In the Fresno State Classic, she and Downs tied for 16th place. Just recently in the Wyoming Cowgirl Classic, Mendizabal led the way earning a fourth-place finish.
Mendizabal acknowledges that freshman to sophomore year was a weird adjustment for her, but as of late she feels she has gotten a better understanding of her game, course management and mastered some of the mental aspect of the game.
"I feel this year has been a lot better than last year," Mendizabal said. "… It was hard to adapt from moving to Guatemala to here."
Pelletier's championship lineup will consist of Downs, junior Crystal WU, and sophomores Mendizabal, Audrey Haddad and Taylor Stone.
Pelletier views Downs and Mendizabal as the team's solid base to be competitive.
"Our goal has always been to win conferences, the beginning of the year," Mendizabal said. "So we've been preparing ourselves to do that. I think we have a fair chance to make it possible."
Stay up to date with the Prospector as we provide updates as the UTEP women's golf team competes in the C-USA Championship.