Beto O'Rourke kicks off presidential campaign in Downtown El Paso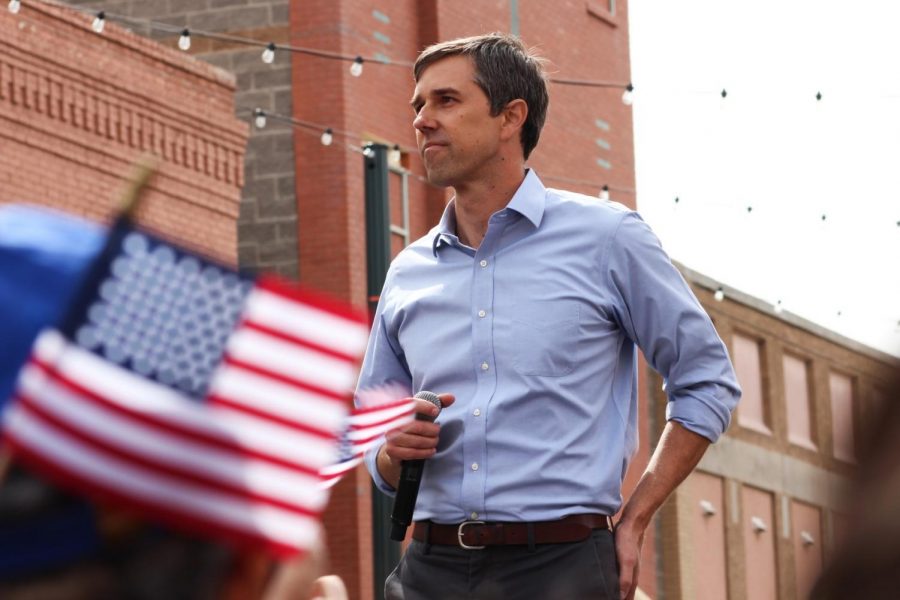 In a sea of thousands of people holding black and white signs that read "Viva Beto" or "Beto for America," El Paso native Beto O'Rourke officially kicked off his presidential campaign Saturday, March 30, in Downtown El Paso.
"It is here, from my hometown of El Paso, that I officially launch this campaign to serve you as the next President of the United States of America," O'Rourke said.
O'Rourke spoke for a total of 35 minutes to about 6,000 people—according to an estimate from the O'Rourke campaign—as he laid down the foundation of his campaign. This included a plan for universal and guaranteed high-quality health care, climate change protections, a new voting rights act, criminal justice reform, such as ending the prohibition of marijuana, immigration laws regarding migrants and asylum seekers, and Dreamers, and the economy of the United States. 
Carlos Chavez, 65, born and raised in El Paso, attended the rally because he wanted to witness history and show his support for O'Rourke. Acknowledging that this is the first and maybe the last time he will ever see anything like this in El Paso.
"I wanted to see the opening of a tremendous presidential opportunity. I'm here to observe history in the making," Chavez said.
For the El Paso rally, there were multiple groups of people that came from all over the United States to get a glimpse of their hope for 2020. People held up signs from Seattle, Washington, Michigan, New Mexico and other places.
Ryan Prochaska, originally from Wichita, Kansas, was in town visiting family and saw an opportunity to see O'Rourke kick off his presidential bid. Prochaska paid attention to O'Rourke's senate campaign and feels he is the perfect fit for this country.
"It's the way he delivers his message. It's very upbeat and positive," Prochaska said. "It's not divisive and full of anger and hate. It's about bringing everyone together. And you know, here we are in a great border town. And, you know, we're all welcome as Americans and that's what we need to do."
O'Rourke is the first El Paso politician to seek the nation's highest office and the only candidate in the race who lives on the U.S.-Mexico border.
The rally was held at the intersection of El Paso Street and Overland Avenue­­—just a few blocks from the Santa Fe bridge connecting the U.S. and Mexico where hundreds of migrants were being held in makeshift camps.
During his speech, O'Rourke took a shot at the president's stance on immigration.
"Let's remember that every single one of us, including those who are just three or four blocks from here, detained under the International Bridge that connects us with Mexico behind chain-linked fence and barbed wire, that they are our fellow human beings and deserved to be treated like our fellow human beings," O'Rourke told his supporters.
Just a block away, in front of the Plaza Theatre, the El Paso Republican party hosted a "Support Trump Rally." Supporters dressed in Make America Great Again (MAGA) hats and clothes to support President Trump and his bid to be re-elected into office.
Gary Gosset, UTEP alumnus and Trump supporter, was one of the protesters that attended the "Support Trump Rally." Gosset said he voted for O'Rourke when he ran for Congress against Silvestre Reyes in 2012, but stated that he wanted to come out and show "everyone in the world that El Paso isn't all Beto."
Gosset said that one of his main concerns about O'Rourke are his "non-American values," and he believes that whomever came out to support O'Rourke hates the president.
"It's just two different kinds of Americans," Gosset said. "Let's see the future one way or the other. I came down here because I don't want everyone in the world to think El Paso is all Beto."
The supporters in favor of Trump held their rally before O'Rourke began his speech. Midway during O'Rourke's rally, members of the Republican party attempted to disrupt the former congressman and his guest speakers, which included his wife, Amy O'Rourke, as well as U.S. Congresswoman Veronica Escobar. O'Rourke acknowledged the dissenters and continued his speech, in which he made a plea for a universal America regardless of party or immigration status. 
"If we are really serious about security, we have a golden opportunity—Republicans, independents, Democrats alike, to work on comprehensive immigration reform, to rewrite this country's immigration laws in our own image with our own values and in the best traditions of the United States of America," O'Rourke said.
Daniella Ramirez, a freshman criminal justice major at UTEP, was a first-time voter when O'Rourke challenged Sen. Ted Cruz for a place in the Senate last November. Ramirez came out to show her support. Ramirez feels that the youth vote is vital to O'Rourke's success as he attempts to get the Democratic nomination for president.
"I think it's so important. I think that's really what's going to put Beto over the top, because I think that older people may favor other parties and I think the youth have really brought Beto to life," Ramirez said.
O'Rourke, who announced March 14 he was running for president in 2020, hosted a series of rallies in the state of Texas Saturday. After El Paso, he visited Texas Southern in Houston and capped off the day in front of the Texas State Capitol building in Austin.
Shortly after the El Paso rally, Campaign Manager Jen O'Malley Dillon (who was President Barack Obama's former campaign manager) sent an email to his press list announcing a goal to raise $1 million online by midnight Sunday, March 30, with the FEC fundraising deadline Sunday evening. Before the deadline, the campaign had grossed over $1,038,595 with a total of 31,741 contributions, per live tracker.
O'Rourke is continuing what made him popular among his constituents in the Senate race by refusing to accept money from special interests groups and PACs. In the first 24 hours of announcing his campaign for president, O'Rourke raised a record-breaking $6.1 million in his grassroots campaign.
On Monday, O'Rourke announced at the We the People Summit in Washington, D.C., that if he's elected president, he'll sign an executive order requiring every single cabinet member to hold a town hall meeting every month.
O'Rourke will continue his campaign trip with a visit to New York April 3 to speak at the National Action Network Annual Conference. Afterward, he will travel to Iowa for a town hall at Iowa State University.