UTEP Football: A look at offense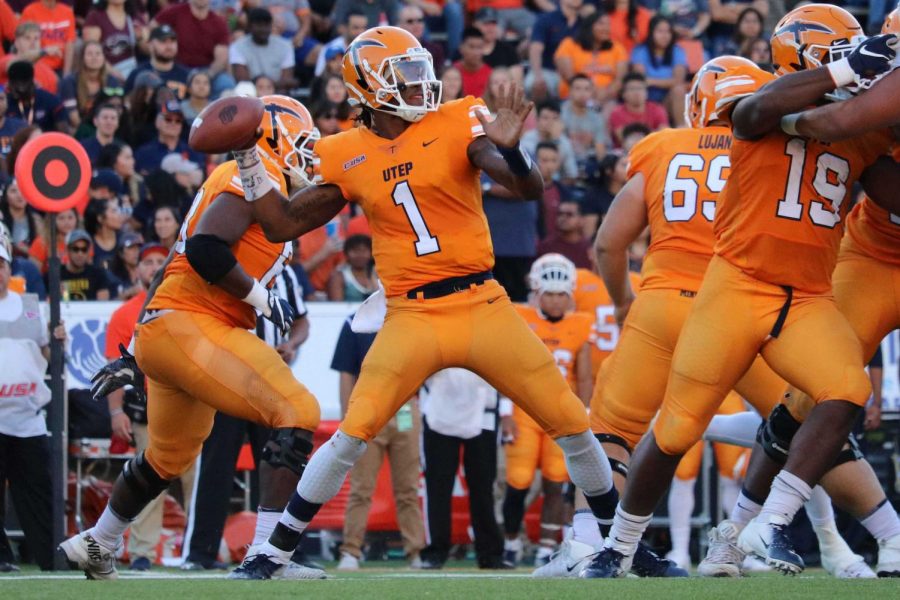 The Miners enter year two of the Dana Dimel era. Its most significant accomplishment last season was the end of a 20-game losing streak and a 1-11 record. Multiple injuries at quarterback and offensive line derailed any consistency or any chance to improve the offense from week to week.
As banged up as the UTEP offense was last year, they have improved from having the worst offense in college the previous year to scoring six more points per game – averaging almost 18 points a game of the prior year's 12 points.
Seven starters will return to the Miners on offense.
Last spring, five guys competed for the starting quarterback job. It would seem this year unless there is a setback, senior Kai Locksley (who had ankle issues last year) is the clear-cut starter with senior Brandon Jones as backup. Incoming freshman T.J. Goodwin of Cypress Falls High School in Houston, Texas is a three-star pro-style quarterback with great size standing 6 foot 5 inches who would seem to be the single-caller of the future.
Dimel seems to want to take it slow with Goodwin and it sounds like he will not be playing at all his first season. When asked about Goodwin, Dimel told The Prospector, "It's too early to say."
"He's sharp. He's quick. He's athletic. He picks up things really quickly. I'm thinking redshirt."We've got to look at Torrez and Brownholtz; we don't want to go into next year with only TJ," Dimel said.
This year's biggest recruit, El Paso's own Deion Hankins out of Parkland High School, will not be on the team until the fall. That leaves the running back job, at least for spring, to last year's leading rusher senior Quardraiz Wadley, who is the only returning running back to gain more than 100 yards rushing last year.  Senior Treyvon Hughes switched positions from running back to linebacker.
Junior running back Joshua Fields is another experienced back and will look to rebound from a massive drop in production after leading the Miners in rushing as a freshman. The battle between Fields and Wadley should be among the most exciting spring battles with Wadley the favorite at this point.
The Miners don't return any receivers or tight ends that caught more than 20 passes last year, but do seem well set with their tight-end duo of junior Luke Laufenberg and sophomore Trent Thompson. Laufenberg has been getting praise for his receiving skills in practice and will be a reliable target for the Miners.
Coach Dimel has stated, "Luke will be more the pass catcher who's a solid blocker, while Trent is the blocker who is a solid pass catcher."
The offensive line was decimated by injuries last year but returns four starters, including sophomore Bobby DeHaro who finished the year as the team's starting left tackle after sophomore Zuri Henry went down. DeHaro started all 12 games for the Miners and earned honorable mention all-conference. Overall, the line should be significantly improved just by staying healthy.
UTEP football spring practice continues with the Miners practicing at 6 p.m. April 5 at Del Valle High School.