El Paso Chihuahuas unveil new menu items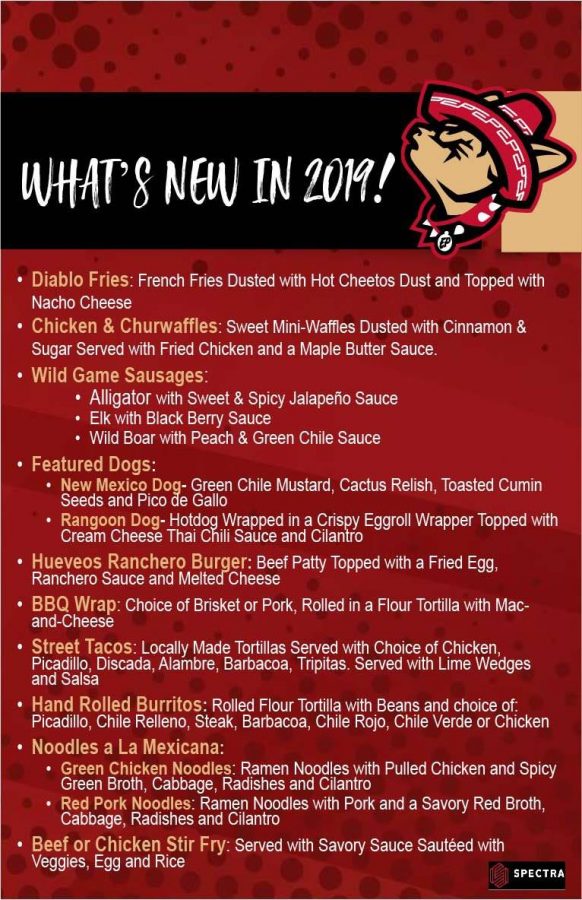 The El Paso Chihuahuas unveiled new menu items for the upcoming season Tuesday, March 19.
One of the elements Spectra wanted to incorporate to this latest batch of new food items is the local flavor of the Borderland.
"What we tried to do with some of our new menu items recently is really lean into our Hispanic roots here," said John Schow general manager of Food Services and Hospitality. "Were in a unique place geographically, where we can do things here that they can't do in other baseball stadiums where we can feature these flavors. "
New additions to the menu vary: from Chicken and Churwaffles, there spin on chicken and waffles with a churro style waffle – huevos ranchero burger, beef or chicken stir fry – Wild Game Sausages that vary from variations of alligator with sweet and spicy jalapeño sauce, elk with blackberry sauce or wild boar with peach and green chile sauce and Noodles a La Mexicana with two options, a green chicken and a red pork ramen soup.
"Our ramen is going to be similar to a mexican asian fusion," Schow said. "Were making the broth, where the red broth (red pork ramen) is seasoned like a menudo paole with ramen noodles with the asian elements as the toppings.
"I'm very excited about that, I've never seen it been done before at a ballpark, well see how it goes."
In addition, the Chihuahuas will now start serving tacos. With your choice of chicken, picadillo, disecada, alambre, barbacoa and tripitas served with lime and salsa. If you don't want a taco you can buy a hand rolled burrito served with beans and a meat of your choice including steak, chile rojo and chile verde.
Two new features dogs will be added to the current selection of hot dogs with the New Mexico Dog, green chile mustard, cactus relish, toasted cumin seeds and pico de gallo. The other addition is until Rangoon Dog, a hot dog wrapped in a crispy egg roll wrapped with cream cheese Thai chili sauce and cilantro.
Last but not least the Diablo Fries which are fries with Hot Cheetos topped off with Nacho Cheese.
These items and past seasons favorite food items will be available on opening day when the Chihuahuas take on Las Vegas Aviators April 4. First pitch is scheduled for 7:05 p.m.