'The Humans' is a 'haunted family drama'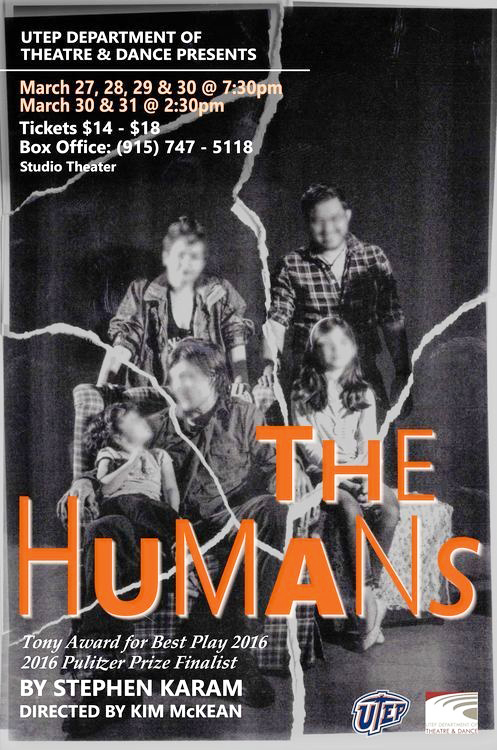 The UTEP Department of Theatre & Dance presents "The Humans" at the Studio Theatre, first floor of the Fox Fine Arts Building, March 27-31.
Originally written by Stephen Karam, "The Humans" has been called "the best play of the year" by the New York Times. It won the 2016 Tony Award for Best Play and was a finalist for the 2016 Pulitzer Prize.
The play follows the Blake family during Thanksgiving dinner at a Chinatown apartment in New York City. Strange things happen that bring secrets and insecurities to light.
"I like to call it a haunted family drama," said Kim McKean, assistant professor of performance of the UTEP Theatre & Dance Department and the production's director.
McKean said the script gained her attention because it so closely resembles life.
"I had never read anything like it. It is written very tightly and succinctly, and written very much as the way we speak today," McKean said. "The nuances and the subtext in the script is so rich, and all of the characters are talking over each other and talking at the same time, just like we do in real life."
Another thing that grabbed McKean's attention to direct the play is the way the characters felt real and relatable.
"These people, these humans, if you will, are so rich, drawn and crafted. They don't feel like stereotypes; they feel like real three-dimensional people. It could be my family or your family," McKean said.  "And I don't think you get that very often – where every single line in the play, every single word is specific and is there for a reason."
With the guidance of UTEP professors, the actors and production designers for the production of "The Humans" are UTEP theatre students, said McKean.
"I'm really proud of that in this show. Sometimes we use community members as well, but in the show, every single actor is a student lighting designer. We have two student sound designers. We have a student costume designer. We have a student makeup designer, a student stage manager."
"The Humans" premieres 7:30 p.m. March 27 at the Studio Theatre in the Fox Fine Arts Center.  There will be showings at 7:30 p.m. March 28-30 and 2:30 p.m. March 30 and 31. 
For adults and non-UTEP students, tickets are $18. For alumni, UTEP faculty and staff, seniors and military, tickets are $15. Students and children ages 4-12, tickets are $12.
Alexia X. Nava Carmona may be reached at [email protected]