UT Board of Regents announces finalist for UTEP president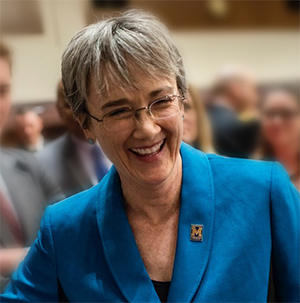 The UT System Board of Regents unanimously selected Secretary of the U.S. Air Force Heather Wilson as the sole finalist for the president of UTEP Friday, March 8.
Wilson will succeed current UTEP President Diana Natalicio who announced her retirement back in 2018.
The Regent's must wait a state-required 21 days before they can appoint Wilson as president.
Wilson is the former university president of the South Dakota School of Mines and Technology, an engineering and science research university. She served as president from 2013 to 2017. Some her accomplishments during her tenure include doubling the universities research awards and the creation of new masters and doctoral degree programs to name a few.
Wilson's work spans beyond education. She served as in officer in the Air Force for seven years. After her service, she she was appointed to the National Security Council staff as director for defense policy and arms control for President George H.W. Bush during the fall of the Berlin Wall and the collapse of the Warsaw Pact.
Wilson is also a former congresswoman. She became the first female veteran elected into congress, representing New Mexico's First District from 1998 to 2009.
Wilson oversees 685,000 active-duty, Guard, Reserve and civilian forces, as Secretary of the Air Force.  According to Reuters, Wilson has resigned from her position as Secretary. She plans to step down May 31. 
President Donald Trump congratulated Wilson on her new position via Twitter.
….as Secretary of the Air Force, and I know she will be equally great in the very important world of higher education. A strong thank you to Heather for her service.

— Donald J. Trump (@realDonaldTrump) March 8, 2019
In a statement, Regent's chairman Kevin Eltife said, "Dr. Wilson's broad experience in the highest levels of university leadership, and state and national government– whether securing federal grant awards, advising our nation's most important national research laboratories, raising philanthropic dollars or running large, dynamic organizations – will help ensure that UTEP continues its remarkable trajectory as a nationally recognized public research institution."
"Most importantly, she is deeply committed to student success and has dedicated her life to enhancing upward mobility opportunities for individuals." 
Wilson graduated summa cum laude from the U.S. Air Force Academy in the third class to admit women, where she was the first woman to command basic cadet training. She then received the Rhodes Scholarship and received her master's and doctorate degrees in international relations at Oxford University.  
The announcement comes after the Regents interviewed candidates during their regular scheduled meeting Feb. 27. The initial vote to selected a finalist for president was expected to be made Monday, March 4. Due to a scheduling conflict, the vote was postponed.
In May 2018, Natalicio announced she would be retiring after 30 years as UTEP's president.
In August 2018, a president search advisory committee was formed and worked to identify and recruit potential candidates alongside a global search firm, Russell Reynolds Associates.
The committee included Board of Regents Vice Chairman Paul Foster, SGA President Cristian Botello and President of the UTEP Alumni Association, Bonny Schulenburg.
The committee met for the first time Oct. 2, where they hosted a town hall meeting in the Fox Fine Arts Recital Hall. At that meeting, representatives from Russell Reynolds Associates explained how the search process would be entirely confidential.
According to UT System Regents' rules and regulations, the selection criteria for the next president must relate to the needs of the individual institution.
A list of candidates made its way up to the Board of Regents Feb. 13. The regents held a special meeting via telephone conference call that day where they discussed possible candidates.  
In 2018, Natalicio told The Prospector during her retirement announcement, "I will be happy to serve as long as I need to in order to make a smooth transition."
She also stated that she would like to see her successor, Wilson, to continue a commitment to access to a public higher education, particularly with low income and underrepresented students.
"Everybody focuses a lot on excellence, everybody wants to be prestigious, everybody wants to rank high, but there's not a lot of focus on access, which is creating opportunities to people who wouldn't otherwise have them," she said. "And I think that public higher education is extraordinarily important because all the data show that low income students don't have access to higher education anymore."