Paul Thomas leads young Miners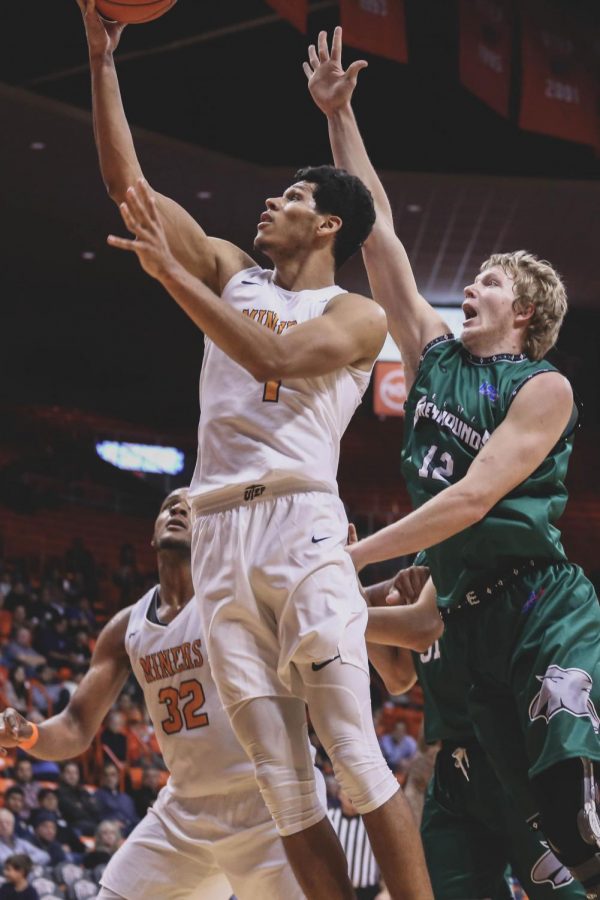 As the only senior member of the UTEP men's basketball team, forward Paul Thomas hasn't had the senior year he'd hoped.
"I think it's been good, you know as far as my development as a player," Thomas said. "Wins and losses may tell a different story, but it's tough with a new culture and a new coaching change (and) the young guys to win a lot of games."
The Miners have an 8-19, 3-13 C-USA record on the season, and for the first time in 21 years (since 1998) the team failed to qualify for conference play.
Thomas said the team has competed in every game – even against powerhouses like Marquette and Arizona. The Miners have struggled on the road (0-12). All wins have been at home. As a senior, Thomas has started 25 games and is averaging seven points and five rebounds on the season, his lowest since his freshman season.
"I don't regret anything about it. I enjoyed my senior season," Thomas said.
As the Houston native reflected on his journey as a Miner, Thomas has fond memories. One of the highlights of his tenure donning a Miner jersey was the 50th anniversary of the 1966 Texas Western Championship team as a freshman in 2016 when the team faced Western Kentucky and the Don Haskins was near capacity. Another moment that sticks out to Thomas was when UTEP ended the then-ranked No. 24 Middle Tennessee Blue Raiders 15-game win streak with a win at home his sophomore season. During his junior season, he recalls hitting the game-winning shot at Charlotte to keep the team's conference tournament hopes alive.
"My time as a Miner has been great," Thomas said. "Lots of ups and downs obviously, but I don't regret one thing about coming here. I've had great times here, great games (and) met great people along the way."
The 6 foot 8 senior has had his share of coaching staffs, having played for a total of three different staffs within four years. But this season was different, where out of the nine-man rotation, the Miners utilized four players that are freshman. Thomas was asked to help set the foundation of being a player that works and plays hard all the time.
"Being the lone senior (I've) seen a lot," Thomas said. "Been through some losing streaks, been through some winning streaks and that's the biggest thing when dealing with the young guys is just to be the same whether you're losing or winning."
Thomas felt at home as soon as he got to El Paso from Houston, Texas. He describes El Paso as a great town that not well known to the rest of the country. One of the reasons why Thomas chose UTEP over other universities was the strong fan base for basketball. The fan base did not disappoint Thomas.
"I love playing for the fans night in, night out. Even when we're losing, it's still a good crowd in there," Thomas said.
Thomas wants to see just how far his basketball journey will continue. If it's playing overseas or attempting to play in a pro basketball league, Thomas wants to play the game of basketball for as long as someone wants him on their team. Once that chapter is written, Thomas would like to be in law enforcement at the federal level. The senior is graduating in May with a degree in business marketing. 
Wednesday's game, as UTEP faces Middle Tennessee, is "Senior Night" for the Miners as they reach the finals stretch of Conference USA group play. Tipoff is scheduled for 7 p.m. at the Don Haskins Center.