Hometown standout excels on field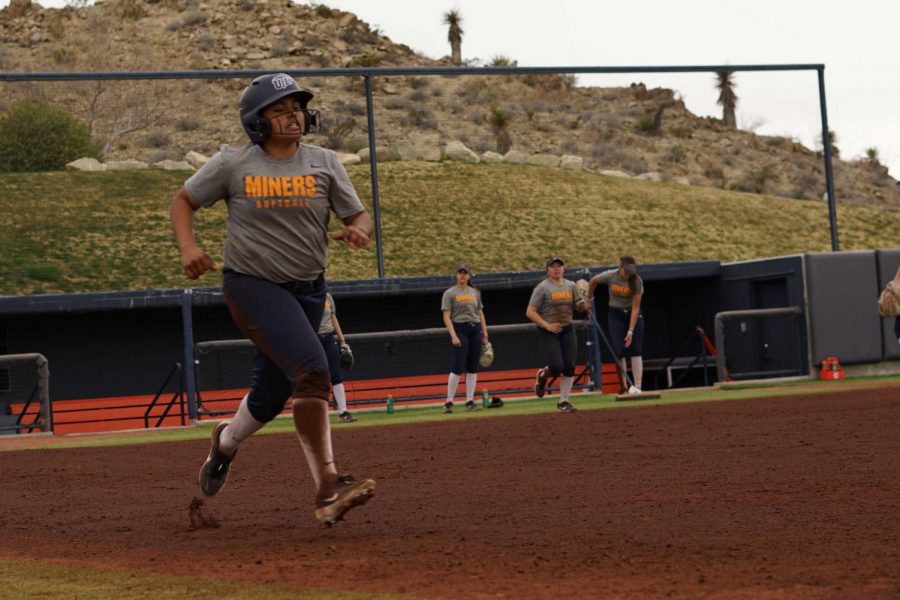 Freshman right fielder Kasey Flores, formerly of Eastlake High made her presence known from game one of the season in the Las Cruces Classic. In her first collegiate game, Flores homered twice and had 7 RBIs. For the weekend she had three home runs and was named Conference USA player of the week. Quite a promising start for the local product but it was not without high expectations.
At Eastlake High School Flores amassed 75 home runs and 283 RBIs while leading the Falcons to the regional quarterfinal of the playoffs. As a senior, she led the nation with 30 home runs and 95 RBIs which earned her a selection on the MaxPreps All- American team and was named the Co-MVP of District 2-5A.
Flores has displayed her power early and often in her debut as a Miner and currently leads the team in RBIs with 17 and is tied for the lead in home runs with senior infielder Courtney Smith with five.  In the Miners matchup against Weber State Flores hit four RBI's, three hits, and a homer leading UTEP to a 17-5 win.
Playing well at the collegiate level isn't easy considering players such as Flores must adjust to many aspects of the game.
"It's the whole scheme and amount of preparation; the pitching at this level is quite an adjustment," Flores said.
Overall the Miners have struggled so far this season with five wins and 13 losses which includes a split of four games this weekend in the University of California at Riverside tournament with wins against UC Riverside and Sacramento State.
Flores believes her most significant contribution to the team is her ability to be a good teammate and support the other players by being excited when they do well.
Considering Flores and several teammates are hometown products, heading back to El Paso is beneficial to friends and family so they may watch and support these Miners.
"This will be very exciting for my family as well as all of the families of the girls from El Paso for their families to finally see them play after all these road games," Flores said.
As the season progress, Flores believes the mentality for the Miners is take the season one game at a time and focus on task at hand and showcase her talents at any position on the field.
"We want to be a gritty team that goes out there and competes for every game, and I will play wherever coach puts me and play my hardest to help the team," Flores added.
UTEP's three-game homestand against Charlotte will have two games on March 9 with the first taking place at 1 p.m. and the other at 3:30 p.m. The Miners last game in the homestand will take place at 12 p.m. March 10 at the Helen of Troy Softball Complex.